Mayor Filner's ex-fiancee: 'We could have done a lot. It's sad.'
Bob Filner enters the San Diego council chambers to announce that he is resigning as mayor as his supporters applaud in the background. He was publicly accused of sexual harassment by many women.
(Don Bartletti / Los Angeles Times)
In the San Diego City Council chambers Bob Filner announces he is resigning as mayor.
(Don Bartletti / Los Angeles Times)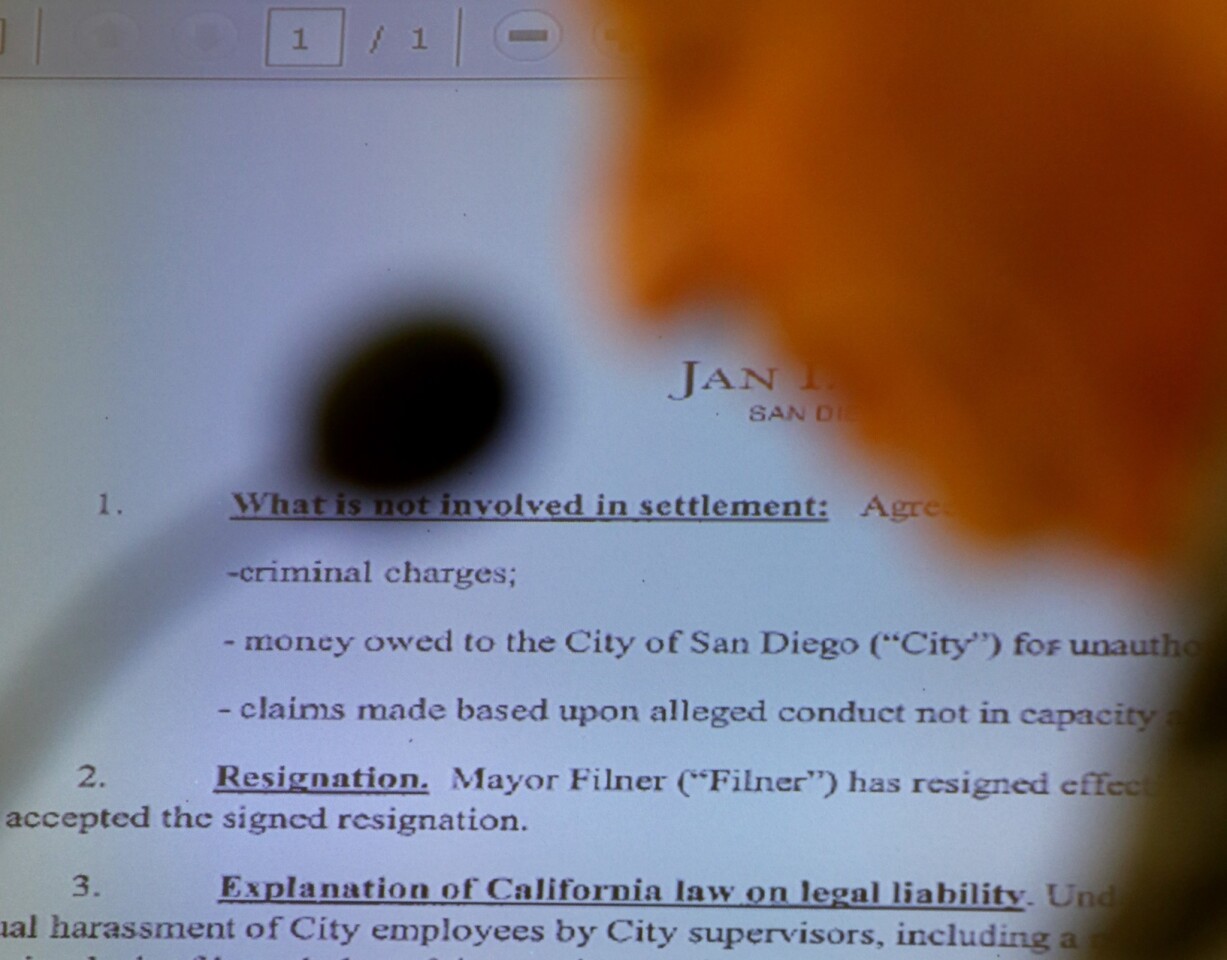 As Bob Filner addresses the City Council, the official San Diego city statement is projected on a screen.
(Don Bartletti / Los Angeles Times)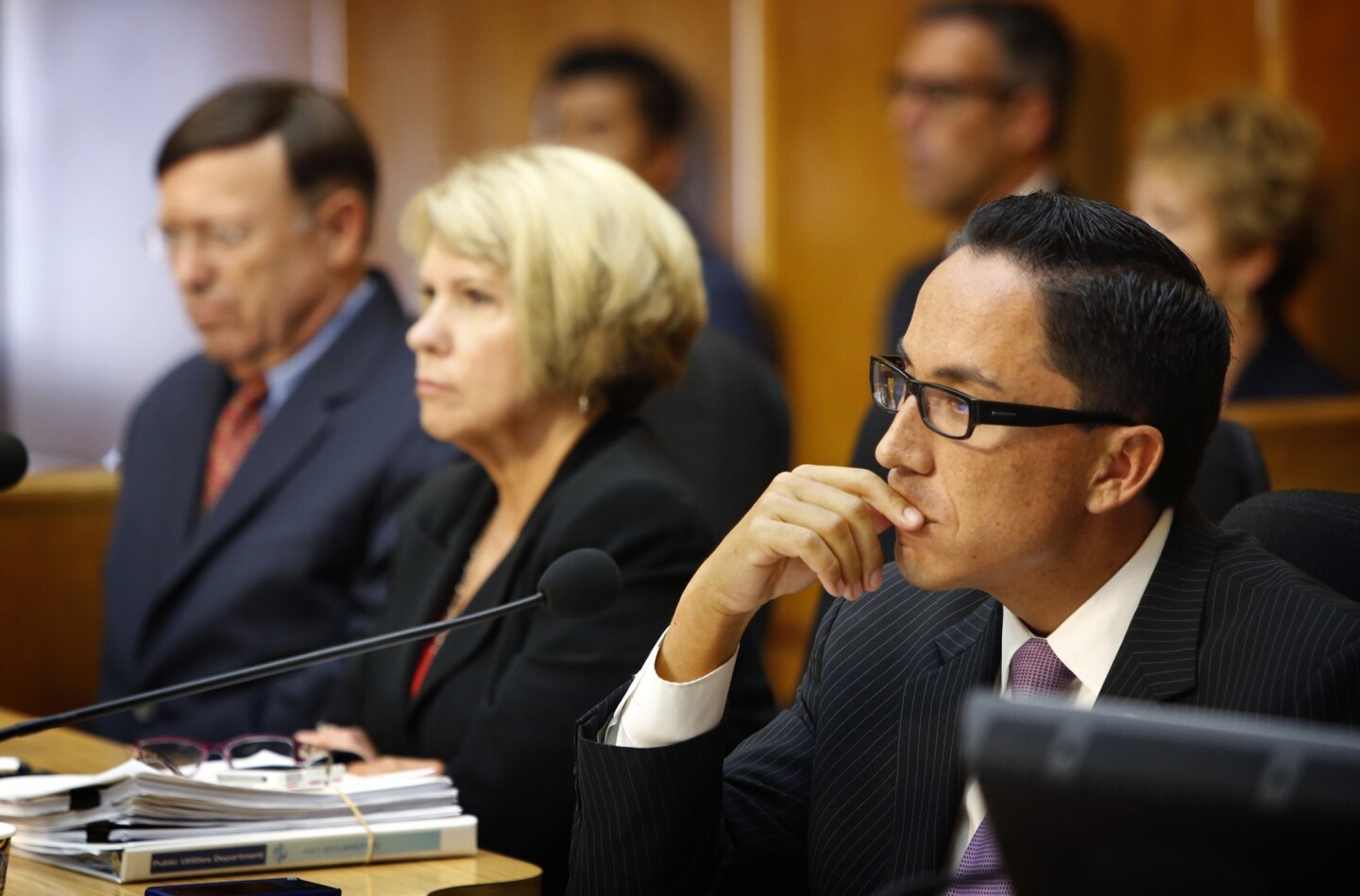 San Diego City Council President Todd Gloria, right, listens to public comment about Mayor Bob Filner during a special meeting in the council chambers. Later in the afternoon, Filner appeared and announced his resignation, with Gloria appointed interim mayor.
(Don Bartletti / Los Angeles Times)
SAN DIEGO--As the City Council prepares Friday to approve a mediation plan that includes Mayor Bob Filner's resignation, his ex-fiancee has expressed not anger but sadness.
Just days before three ex-supporters went public last month with accusations of sexual harassment against Filner, Bronwyn Ingram broke off their engagement.
In an email to friends, she explained that Filner had become volatile with her and she had caught him making dates with other women.
Since then, Ingram, 48, a disability analyst with the Social Security Administration who says she shares Filner's political agenda, has not been seen in public.
But Thursday, she appeared in Los Angeles at a news conference with attorney Gloria Allred, not to announce a lawsuit but to express her hopes that Filner's resignation will "begin to bring closure to this painful chapter for all those involved."
Ingram had campaigned with Filner and after his election had begun leading efforts to help the homeless. Filner referred to her as "San Diego's first lady." Ingram and the twice-divorced Filner were planning an October wedding.
"The platform that Bob and I campaigned on with the emphasis on empowering neighborhoods can and should move forward if that is still the will of the voters," Ingram said.
Friday morning, Ingram appeared on "CBS This Morning" for an interview with Bill Whitaker.
"To have a Democratic mayor in a city that's constantly run by Republicans," she said, "was very exciting to a lot of us and we had big plans."
She said she had not witnessed the 70-year-old Filner engaging in the abusive, harassing behavior that was alleged by 18 women in recent weeks. But she added, "I would find it hard to believe that they were all fabricating those stories."
She was at a loss to explain Filner's alleged misconduct. "I don't know if it has anything to do with sex or love. I think it has to do with power and control, so of course, it feels awful, it feels horrible."
Whitaker asked what she would tell Filner if she could speak to him.
"Why? Why did you do this?" she said. "This was not the plan. This was way off the plan. We could have done a lot. It's sad."
The City Council meets at 1 p.m. to consider the mediation plan sparked by a lawsuit filed by Allred on behalf of a former Filner aide.
ALSO:
Porn filming halted after 28-year-old actress' HIV-positive test
D.A. alleges coverup in sheriff's deputy's alleged beating of inmate
Hannah Anderson texted kidnapper DiMaggio, didn't call, she says
Twitter: @LATsandiego
tony.perry@latimes.com
---
For reporting and exclusive analysis from bureau chief John Myers, get our California Politics newsletter.
You may occasionally receive promotional content from the Los Angeles Times.