L.A. wanted $20 million but settles suit over Da Vinci fire for $400,000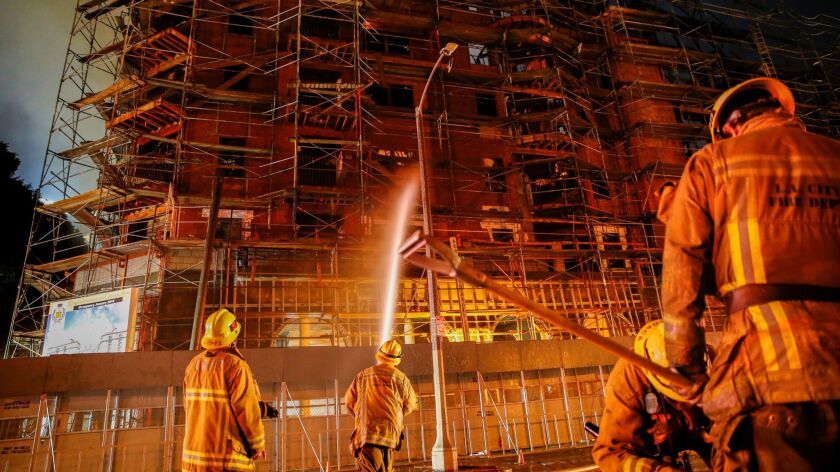 Los Angeles is getting $400,000 to settle its lawsuit against real estate developer Geoffrey H. Palmer over a massive fire at a downtown construction site that damaged city property, city officials announced Tuesday.
The money is a tiny fraction of the $20 million that the city had originally sought in the case for damages tied to the 2014 fire, which sent flames roaring seven stories high, shut down part of a downtown freeway and roused homeless people from their sleep blocks away.
But Rob Wilcox, a spokesman for City Atty. Mike Feuer, said the city believes it has nonetheless recouped all its costs because its total losses were lower than earlier estimated.
"We're pleased that beyond the nearly $62 million paid by the insurance carrier, the city recovered $400,000 from the developer," Wilcox said in a statement Tuesday, calling it "an excellent result for the city."
City lawyers had argued that Palmer and his companies "allowed the creation of a fire hazard" through "improper and defective construction methods" at his Da Vinci apartment complex, which went up in flames while it was under construction 2½ years ago.
The fire engulfed one of the apartment buildings that was being erected alongside the 110 Freeway, raining ash on much of downtown.
The scorching heat also shattered windows, melted computers and set off fire sprinklers in nearby Figueroa Plaza, causing tens of millions of dollars in estimated damage to city property. Several city departments that were housed at Figueroa Plaza were displaced for months, according to a report prepared for city lawmakers.
Federal investigators concluded that the fire was arson, and a man was recently sentenced to 15 years in prison for setting the blaze.
Prosecutors alleged that Dawud Abdulwali, whom they described as a "bandit taxicab driver," had ignited the downtown buildings because he was angry about police killings of African Americans across the country.
But in the lawsuit filed last year, Feuer also laid blame with Palmer, accusing the developer of neglecting to follow industry standards for fire safety and prevention, failing to properly install fire walls and doors, and not having an appropriate water supply to fight a fire.
City lawyers also alleged that the downtown site did not have adequate security measures to stop intruders.
Palmer declined to comment Tuesday, according to a representative at his company office. In legal filings, his attorneys denied the allegations and said there was nothing he could have done to prevent the fire.
The hefty damages were the result of something "so out of the ordinary that prudent individuals would not have anticipated its occurrence," the attorneys wrote.
Los Angeles ended up scaling back its estimates of city damages as the court case progressed.
The Figueroa Plaza buildings "were repaired for considerably less than anticipated," according to a report prepared for city lawmakers. Insurance also covered lost rents for longer than the city had originally expected, the report said.
The Da Vinci apartment complex, one of several that Palmer has developed near freeways downtown, has since been rebuilt and now advertises "luxury apartments" with an indoor basketball court, business center and theater.
Palmer has been a divisive figure in downtown development: Business leaders have described him as a trailblazer willing to build in areas that other developers shunned, playing a key role in reviving downtown L.A.
But he infuriated housing activists by successfully suing to overturn a city policy that required affordable housing in some downtown projects. He also has tangled with historic preservationists and spurred concern about health risks by building massive apartment complexes close to freeways.
Twitter: @LATimesEmily
---
UPDATES:
5:10 p.m.: This article was updated with details of a report on the case prepared for city lawmakers, and additional background.
12:05 p.m.: This article was updated with additional comment from Rob Wilcox.
This article was originally published at 11:45 a.m.
---
For reporting and exclusive analysis from bureau chief John Myers, get our California Politics newsletter.
You may occasionally receive promotional content from the Los Angeles Times.