The worst of California's flu season might be over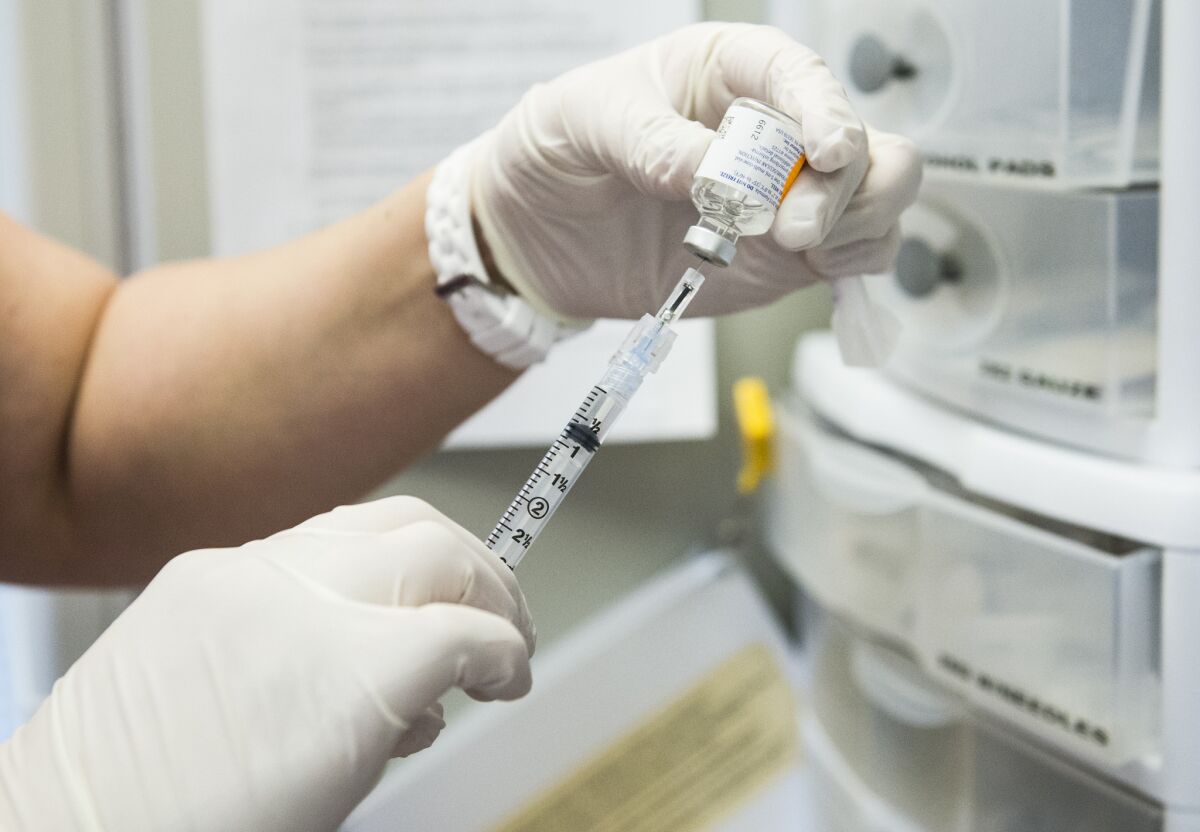 It was just before October that physicians across the nation began warning their patients of a potentially nasty flu season.
For much of winter, however, California appeared to have dodged a bullet. It seemed to be faring better than many other states.
On Friday, California's good fortune was confirmed by new state data that shows the worst of the flu season may have already come and gone.
See the most-read stories this hour >>
Cases and deaths from influenza appear to have peaked in mid-February and are now trending downward, according to state data. Numbers released Friday morning show that 26% of the patients tested came back positive for the flu last week, compared with 30% in the previous week and 31% the week before that.
Experts warn that the flu season is unpredictable, and that another round of cases could erupt in the coming months. Flu season commonly peaks during February, but it's difficult to call the end of the season before summer, they say.
"We're holding our breath and seeing what happens with the rest of the season," said Dr. Robert Schechter, medical officer with the immunization branch of the California Department of Public Health.
By some measures, this year's season in California has been mild. Compared with the last few years, the state has seen fewer total cases and fewer hospitalizations.
Reluctant to pinpoint a single cause, experts suggest several reasons for the lower case numbers:
This year's vaccine is one of the best in recent years. Officials from the federal Centers for Disease Control and Prevention say it's 59% effective. Last year's was 23% effective.
It doesn't appear that new flu strains have emerged this season, so people may retain some natural immunity if they got sick from the same strains last season.
The flu spreads most easily in cold and dry conditions, and California experienced a largely warm fall and winter, punctuated by heavy rains.
Viruses A and B infect people each winter flu season, but B strains typically cause less severe illness. So far this season, 49% of Californians diagnosed with the flu had been infected with Influenza B, compared with 8% last year, and 10% the year prior.
Health officials warn that even in mild years, the flu is a serious illness. New state data shows that 60 people under 65 have died of the flu in California since October.
Officials recommend a flu shot for everyone 6 months of age and older. It takes about two weeks to take effect.
This even applies to those who are healthy and likely to recover quickly, experts say. "You don't want to spread it to someone else who may not be so fortunate if they get sick," said Sadina Reynaldo, an epidemiologist with the Los Angeles County Department of Public Health.
Join the conversation on Facebook >>
Data from Athenahealth, a company that provides online business services for physician practices, shows that flu activity peaked in mid-February not just in California, but throughout the West, a region including Nevada, Arizona, Washington, Oregon and Colorado.
The picture is different nationally. CDC officials said Friday that flu cases are increasing nationwide and activity is expected to continue for several weeks. The season can continue into May.
"We're still climbing in all other regions," said Anna Zink with Athenahealth.
Follow @skarlamangla on Twitter for more health news.
ALSO
Even in peak mosquito season, Zika risk is low in California
Opioids are bad medicine for chronic pain, say new federal guidelines
Riverside County judge throws out rare murder charge against rehab center and employees
---
The stories shaping California
Get up to speed with our Essential California newsletter, sent six days a week.
You may occasionally receive promotional content from the Los Angeles Times.