Bone fragment from ancient 1,500-pound ground sloth unearthed beneath Crenshaw Boulevard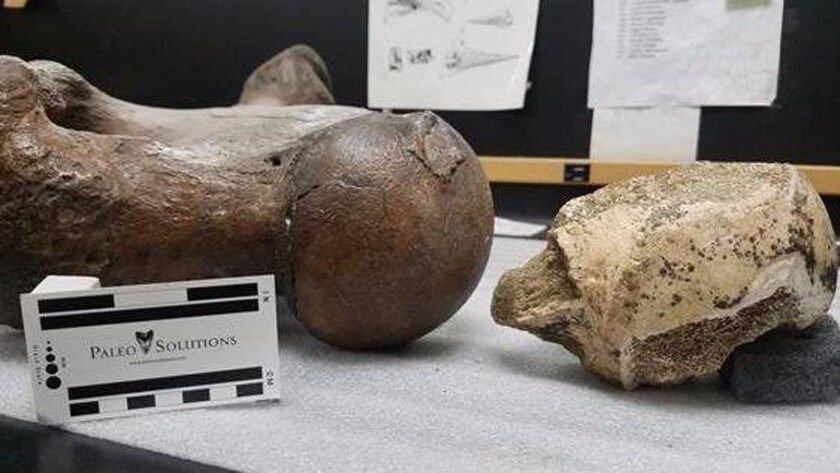 For the third time in six months, crews working on a Los Angeles rail system expansion have unearthed fossils of beasts that roamed the Southland many millennia ago.
On May 16, crews working on Metro's Crenshaw line found a fragment of a bison bone and the hip joint of an ancient sloth 16 feet below Crenshaw Boulevard, officials said on Metro's blog.
The specimens were stabilized and prepared in a lab and formally identified by a scientist at the La Brea Tar Pits and Museum on May 24.
In April, crews working on the Purple Line expansion under Wilshire Boulevard found bones from an ancient camel and mammoth or mastodon. In November, the partial skull and tusk of a mastodon was also found under the Purple Line.
The bones found under Crenshaw Boulevard will eventually be transferred to the Natural History Museum of Los Angeles County or another site accredited for permanent curation, Metro officials said.
Although both fossils are remarkable, Metro officials said the sloth fossil was an "amazing discovery" because they believe it may belong to a Harlan's ground sloth, the largest of three ground sloths found at the Tar Pits before.
The sloth, whose scientific name is Paramylodon Harlani, lived in the L.A. basin 40,000 to 11,000 years ago in the late Pleistocene era and was up to 10 feet long and weighed up to 1,500 pounds, Metro officials said. Many large mammals went extinct in North America more than 10,000 years ago after the last Ice Age.
For breaking California news, follow @JosephSerna on Twitter.
ALSO
More than $1.1 million in taxes, penalties due on controversial Bel-Air mansion
Someone left 15 hedgehogs to die in beach trash can, San Diego authorities say
Wild 'death cap' mushrooms poison 14 people in Northern California
---
For reporting and exclusive analysis from bureau chief John Myers, get our California Politics newsletter.
You may occasionally receive promotional content from the Los Angeles Times.