Fullerton police chief resigns after clash at country music concert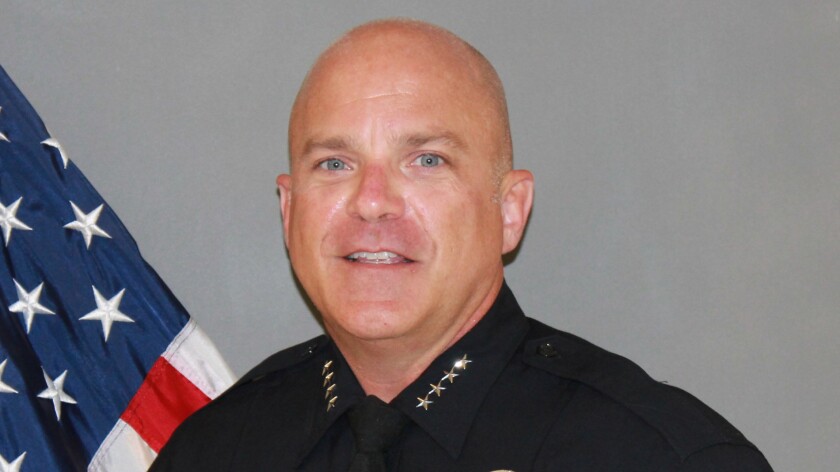 Fullerton city officials announced the resignation of Police Chief David Hendricks on Friday, roughly two months after he was accused of attacking paramedics who were treating his wife during a concert in Irvine.
A statement announcing Hendricks' resignation made no mention of the Aug. 24 incident, which ended with police asking Hendricks and a Fullerton police captain to leave a Lady Antebellum concert at the FivePoint Amphitheatre in Irvine. Stephen Hale, a city spokesman, declined to comment on any connection between the August clash and Hendricks' resignation, describing the situation as a "personnel matter."
Hendricks made the decision to resign and was not forced out, according to Hale.
"I am honored to have had the privilege of leading the men and women of the Fullerton Police Department," Hendricks said in the statement. "I am grateful to the City Council and City Manager Ken Domer for the opportunity to serve the Fullerton community as chief of police."
Irvine police responded to a disturbance at the country music concert at 9:42 p.m. Aug. 24. Investigators said two emergency medical technicians had been treating Hendricks' wife when they had an altercation with Hendricks and Fullerton police Capt. Thomas Oliveras.
Police have not said what sparked the altercation or why Hendricks' wife needed medical attention. Hendricks and Oliveras were ejected from the event a short time later, according to Irvine police.
No one was injured, and police were unable to recover any video of the incident.
The results of the investigation were turned over to the Orange County district attorney's office for review in August. Michelle Van Der Linden, a spokeswoman for the district attorney's office, said the case remained under review Friday.
Oliveras has remained on leave since the August incident, according to Hale. Hendricks had served as Fullerton's police chief since August 2017, after a two-decade career with the Long Beach Police Department, where he rose to the rank of deputy chief.
Fullerton Police Capt. Bob Dunn, a former Anaheim police captain, will continue to serve as acting chief. The City Council will launch a search for a permanent replacement early next year, according to the city's statement.
Twitter: @JamesQueallyLAT
---
UPDATES:
12 p.m.: This article was updated with information from the district attorney's office.
11:05 a.m.: This article was updated with additional information about the August confrontation as well as comments from a Fullerton spokesman and the Orange County district attorney's office.
This article was originally published at 10:40 a.m.
---
The perils of parenting through a pandemic
What's going on with school? What do kids need? Get 8 to 3, a newsletter dedicated to the questions that keep California families up at night.
You may occasionally receive promotional content from the Los Angeles Times.