L.A. sues federal government over threats to withhold funds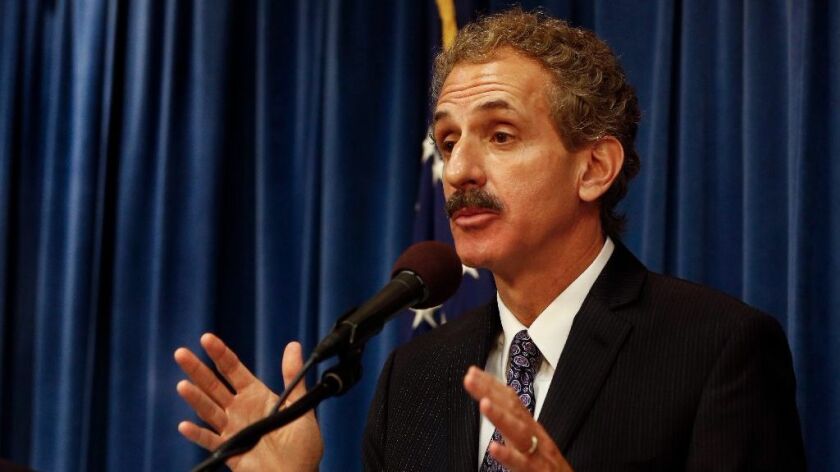 Marking the latest legal challenge to the Trump administration's crackdown on "sanctuary cities," Los Angeles is suing the U.S. Department of Justice over its policy of conditioning federal funds on cooperation with immigration agents.
In a lawsuit filed Friday in U.S. District Court, City Atty. Mike Feuer alleges that the Justice Department decision to tie federal grants to immigration enforcement is unconstitutional.
The lawsuit cites the Community Oriented Policing Services program, which is administered by the federal government and designed to bolster community policing.
L.A. routinely applies for funds through the program and received $3.125 million last year, which helped hire 25 officers, according to Feuer's office.
Now, the Justice Department has changed the terms for cities seeking the funds, the lawsuit alleges. For example, jurisdictions that agree to "focus" the use of grant funds on "illegal immigration" are given bonus points during the application process, according to the lawsuit. That amounts to preferential treatment to those cities, the lawsuit suggests.
A central argument in L.A.'s lawsuit is that the Department of Justice's new policy violates the separation of powers laid out in the country's Constitution, which gives Congress, not the executive branch, control of government purse strings.
L.A.'s lawsuit states that the Justice Department "puts the city of Los Angeles — and other state and local government entities — to an untenable choice: Commit to participating in federal civil immigration investigation and enforcement efforts, or sacrifice funds for public safety and community policing."
Department of Justice spokesman Devin O'Malley cited a recent trend of rising violent crime in Los Angeles and said it was "baffling" that the city would challenge policies he said are designed to keep residents safe.
"Reversing sanctuary city policies is about more than enforcing federal immigration law by detaining criminals here illegally — it's about reestablishing a culture of law and order, where crimes are punished and people are deterred from committing them," O'Malley said in a statement.
Feuer's lawsuit comes after repeated efforts by the Department of Justice to punish sanctuary cities over their immigration enforcement policies.
In January, President Trump issued an executive order stating that sanctuary cities will not be eligible to receive funds from the U.S. attorney general and Homeland Security secretary.
A federal judge in April blocked that order, siding with San Francisco and Santa Clara County, which had filed lawsuits over the policy.
In July, U.S. Atty. Gen. Jeff Sessions launched another attempt to target sanctuary jurisdictions by announcing new rules for cities that receive funds for the Edward Byrne Memorial Justice Assistance Grants program.
Sessions' announcement directly affected Los Angeles, which has received more than $1 million in Justice Assistance Grants each year, including $1.8 million for the 2016 fiscal year, according to the city.
Specifically, Sessions said police would be required to allow immigration enforcement officers access to local jails and provide 48 hours' notice before releasing from their jail someone tagged by federal authorities as possibly being in the country illegally.
Los Angeles police officers object to such requirements. It would extend the time inmates would otherwise remain behind bars, a policy that several courts have ruled unconstitutional.
A federal judge in Chicago last month found that Sessions exceeded his authority in imposing those new standards and issued a preliminary injunction.
Feuer's suit also challenges the "
unconstitutional conditions" placed by the Department of Justice on the allocation of the Justice Assistance Grants program used by the city.
Feuer originally sought to join a San Francisco lawsuit filed in August over Sessions' new rules for the Justice Assistance Grants program.
However, a San Francisco court asked L.A. to refile its lawsuit in Los Angeles. That action now is part of the city's broader suit filed Friday.
Twitter: @dakotacdsmith
---
UPDATES:
Oct. 3, 2:25 p.m.: The article was updated with a response from the Department of Justice to the city's lawsuit.
Oct. 2, 6:50 p.m.: The article was updated with more details about the lawsuit.
This article was originally published at 1:05 p.m.
---
The stories shaping California
Get up to speed with our Essential California newsletter, sent six days a week.
You may occasionally receive promotional content from the Los Angeles Times.