Prosecutors ask LAPD to take another look at shooting of YouTuber outside synagogue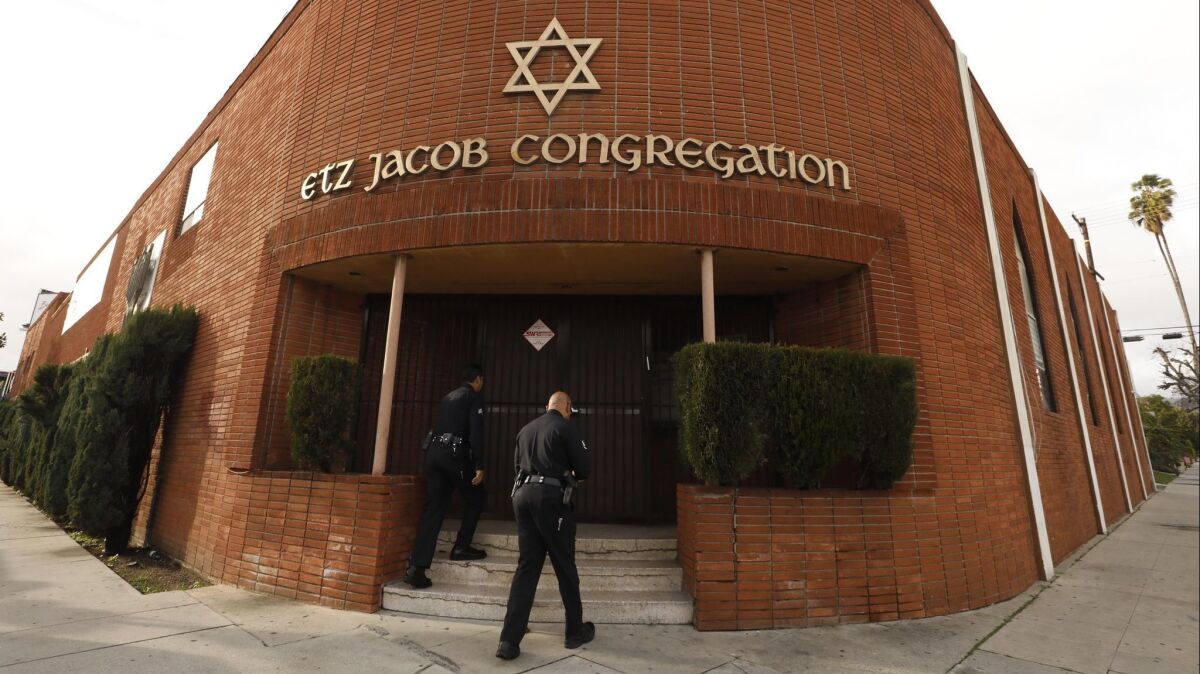 Prosecutors have asked police to conduct a deeper investigation before they decide whether to file charges against a security guard who shot and wounded a YouTube personality during a bizarre clash outside a West L.A. synagogue last week, officials said.
The Los Angeles County district attorney's office referred the case back to the Los Angeles Police Department on Friday, one day after 45-year-old Zhoie Perez, who has gained a measure of notice on YouTube under the handle "Furry Potato," was wounded during an altercation outside the Etz Jacob Congregation/Ohel Chana High School building in the Fairfax district.
The LAPD arrested the guard, 44-year-old Edduin Zelayagrunfeld, on suspicion of assault with a deadly weapon Feb. 14. But prosecutors kicked the case back to the LAPD the next day, said Paul Eakins, a spokesman for the district attorney's office.
Zelayagrunfeld was released from custody Feb. 15, according to online jail records. Perez has not been accused of any wrongdoing, Eakins said.
Perez — a so-called 1st Amendment auditor who often films near sensitive locations while standing on public sidewalks in an attempt to affirm her right to do so — was recording outside the synagogue for about 40 minutes Feb. 14, according to footage she posted on YouTube.
As Perez recorded video, Zelayagrunfeld repeatedly confronted her, asking her to leave and at times reaching toward his firearm.
"Get away from the door," he said shortly before firing, according to Perez's videos. "You try one more time, and I shoot you."
Zelayagrunfeld's gun appeared to be pointed at the ground when the shot was fired.
Perez continued to record after suffering what she described as a "deep graze," and the guard can be heard saying he fired a "warning shot."
A spokesman for the LAPD said the case was "complete" and presented to prosecutors, who had yet to file charges, but he declined to comment further. Zelayagrunfeld is due in court March 15, the spokesman said.
Perez, who has roughly 20,000 subscribers on YouTube, can often be seen prodding sensitive or busy locations in the Los Angeles area in her videos. In recent months, she had confrontations with staff or police near KTLA-TV Channel 5's Hollywood studios and the Islamic Center of Southern California in Koreatown, the latter of which ended in her being pepper-sprayed by a different security guard.
Twitter: @JamesQueallyLAT
The stories shaping California
Get up to speed with our Essential California newsletter, sent six days a week.
You may occasionally receive promotional content from the Los Angeles Times.