How did YouTube personality 'Furry Potato's' trip to an L.A. synagogue end in gunfire?
YouTube personality Furry Potato was shot outside a Los Angeles synagogue Thursday, according to police and footage posted to social media. (Video by Genaro Molina)
For more than 40 minutes, Zhoie Perez filmed the outside of a Los Angeles synagogue, as a security guard whose ire she had drawn trained his own camera on her.
The passive-aggressive standoff that played out Thursday afternoon in the Fairfax district seemed in line with other videos posted to one of Perez's YouTube channels, where the self-described "1st Amendment auditor" often pushes the bounds of her rights in public spaces.
Recent videos show Perez having polite, but pointed, conversations with police in Los Angeles and El Segundo. But as Perez hovered near the gates of the Etz Jacob Congregation/Ohel Chana High School building, the guard she was filming was far less understanding of her political experiment.
"Get away from the door," the guard said in one of two videos Perez posted to her "Furry Potato Live" YouTube channel. "You try one more time and I shoot you."
Moments later, a gunshot was heard, evolving a bizarre situation into a suddenly dangerous one.
Perez was treated for injuries to her leg, and detectives detained the security guard, while a Jewish community that was victimized by violence only a few months ago found itself slightly on edge again Thursday evening.
"When we start getting calls that there's been a shooting at a synagogue, everyone goes into a high-alert state," said Amanda Susskind, regional director of the Anti-Defamation League in Los Angeles. "I think there is a general level of awareness and concern in the community that these things can happen."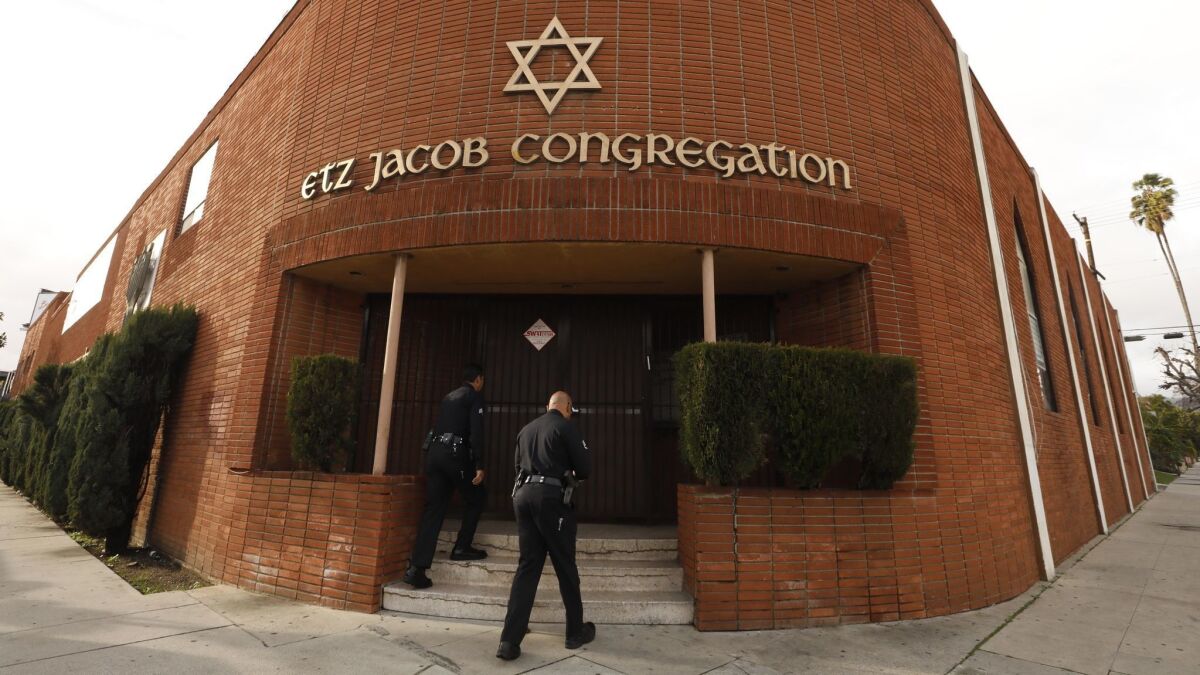 The guard, identified as Edduin Zelayagrunfeld, 44, was detained and questioned by detectives with LAPD's Wilshire Division. Late Thursday, the LAPD said he had been arrested on suspicion of assault with a deadly weapon.
Perez, who limped out of the back of an LAPD cruiser and held a brief news conference hours after the shooting, has not been accused of any wrongdoing, police said.
The 45-year-old internet personality and activist said she was not conducting one of her so-called audits when she crossed paths with the guard.
"I was just filming the exterior of the synagogue here, and getting a lot of, like, the architecture and all that, and the guard came out and just started freaking out, started putting his hand on his gun," Perez said.
LAPD received a call about a disturbance at the synagogue in the 7600 block of Beverly Boulevard about 12:20 p.m., said Sgt. Barry Montgomery, a department spokesman. The call was upgraded to a report of a shooting a short time later, he said.
Perez posted two videos to her "Furry Potato Live" YouTube channel Thursday — one of which has since been removed — that depict a back-and-forth with the guard that lasted more than half an hour. The guard repeatedly tells Perez to go away, and an unidentified passerby also cautions Perez that she might be unnerving people because it could appear she was filming children.
As the minutes wore on, the guard, outfitted in a rain slicker, repeatedly moved one hand toward his firearm. In a second video posted by Perez, the guard's weapon appears to be pointed at the ground before a gunshot is heard.
Perez begins cursing and screaming, and eventually passersby come to her aid as the guard continues to follow her. He repeatedly referred to her injury as a "warning shot," according to the video.
Montgomery said the guard was standing on the synagogue's property when he fired, while Perez was on a public sidewalk. Perez described her leg injury as a "deep graze."
On YouTube, the "Furry Potato" account has nearly 18,000 subscribers, while "Furry Potato Live" has 4,100. Perez, who said she lives in Orange County, has posted a number of other videos that appear to show her prodding sensitive properties, including a U.S. Immigration and Customs Enforcement site and an Islamic center where she also came into conflict with a security guard.
"I create internet content that will hopefully educate people about their rights while holding police and government officials accountable to us. I strive to do this in a fun and entertaining fashion," she wrote on her Patreon fundraising page. "The goal is to help sustain our rights that were given to us by our founding fathers!"
Last summer, Perez was accused of disturbing the peace and causing a nuisance outside a Marine Corps recruitment office in Valenica, said Paul Eakins, a spokesman for the Los Angeles County district attorney's office. She pleaded no contest to one count of disturbing the peace in December and was ordered to pay a fine, Eakins said.
Thursday's shooting came several months after a violent incident at a Hancock Park synagogue. On Nov. 23, police said, Mohamed Abdi Mohamed, 32, shouted anti-Semitic slurs at people exiting Congregation Bais Yehuda before driving his vehicle toward them. No one was injured, but Mohamed has since been charged with attempted murder.
---
The stories shaping California
Get up to speed with our Essential California newsletter, sent six days a week.
You may occasionally receive promotional content from the Los Angeles Times.