Los Angeles barred from enforcing nearly all gang injunctions, federal judge rules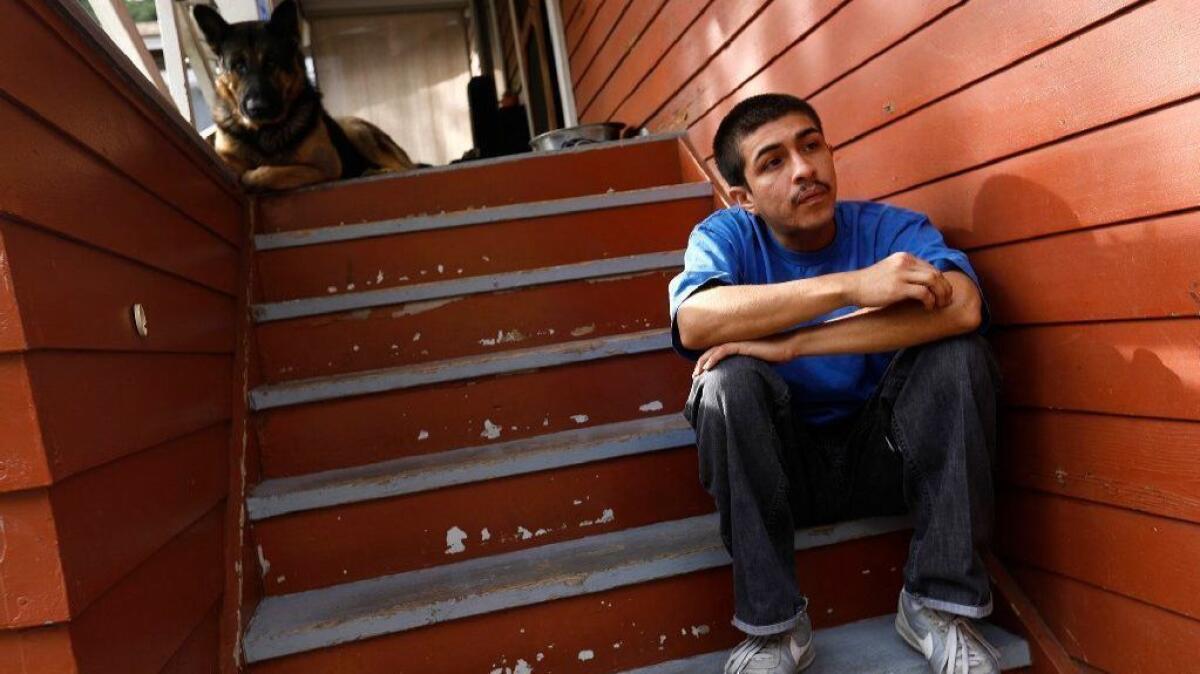 The city of Los Angeles has been barred from enforcing nearly all of its remaining gang injunctions, the latest blow to one of the city's oldest and most controversial law enforcement initiatives.
In a 22-page order issued Thursday, Chief U.S. District Judge Virginia A. Phillips ruled that the American Civil Liberties Union is likely to prove that most of those subject to the remaining injunctions suffered a due process violation, since the city did not give them an opportunity to challenge the civil restraining orders in court.
The order is believed to mark the first time a judge has blocked Los Angeles officials from enforcing the injunctions, which were born from a time in the late 1980s and '90s when gang activity in the city gained national attention. Their use has been credited by law enforcement with helping reduce gang-related crime.
The city's use of injunctions has been under increasing scrutiny since 2016, when the ACLU and the Los Angeles Youth Justice Coalition filed a lawsuit against the city.
Following an audit by the Los Angeles city attorney's office and the LAPD, 7,300 people were released last year from the conditions of the injunctions, which are civil court orders that can restrict someone from associating with friends, or even family members, in neighborhoods considered to be havens for certain street gangs.
Violating the orders can result in arrest.
Since 2000, the city has enforced injunctions against 79 separate gang sets, encompassing roughly 8,900 people, according to the city attorney's office. There were about 1,450 people still subject to the orders after last year's purge, according to a February court filing from the city attorney's office.
Thursday's order prevents the city from enforcing any injunctions that were granted before Jan. 19, 2018, though it can seek new ones provided that officials give targets a chance to challenge the orders in court before attempting to enforce them. Peter Bibring, a senior staff attorney for the ACLU, said the judge's ruling would leave few, if any, Angelenos subject to the orders.
"The court clearly recognizes the way the city of Los Angeles has been enforcing gang injunctions over decades violates due process in a way that makes it likely they will place people on gang injunctions who may not be gang members," Bibring said Thursday. "This ruling marks the end of gang injunctions as they worked in the city of Los Angeles."
In a statement, Los Angeles police officials said they would wait for guidance from the city attorney's office before discussing the ruling.
"As always, we respect the authority of the courts and will follow the court's decision, and will continue to keep the City safe while following the constitution and all applicable laws," the statement read.
A spokesman for the city attorney's office could not immediately comment on the court order.
The Los Angeles Police Protective League, the union representing rank-and-file police officers, said in a statement:
"Appropriately applied, gang injunctions are a valuable law enforcement tool intended to improve the safety of Los Angeles neighborhoods and stem the tide of drug dealing, assaults, and other violent crimes associated with gangs," the statement said. "It's unfortunate that a judge would eliminate this important crime fighting tool instead of working to resolve any issues with its application. We urge the city to appeal this shortsighted ruling."
Thursday's order was an extension of a prior legal victory that the ACLU won last year on behalf of Peter Arellano, a 22-year-old Echo Park resident who claimed he was unfairly named in a gang injunction.
In an order issued last September, Phillips wrote that Arellano was "likely to establish that the city did not provide him with due process in enforcing the injunction against him." On Thursday, Phillips granted a motion seeking to extend that order to all others who were made subject to an injunction prior to this year.
Critics have long complained that the injunctions are overly broad, claiming that thousands of people were unfairly swept up simply because they knew, or were related to, a gang member. Some also contend the injunctions disproportionately target African Americans and Latinos. Many of those included in the orders have never been convicted of a crime.
The ACLU's lawsuit did not contest the effectiveness of the injunctions — which many have credited with helping curb gang crime at its heights in the late 1990s — but challenged the method of obtaining the injunctions as unconstitutional.
This ruling marks the end of gang injunctions as they worked in the city of Los Angeles.
— Peter Bibring, ACLU senior staff attorney
Authorities normally seek an injunction against a gang, rather than an individual, meaning someone can become subject to one of the court orders without being given a chance to disprove his or her alleged gang affiliation in court. Decisions about whom to serve with an injunction are made independently by LAPD investigators and prosecutors.
Only a "handful" of people will remain subject to gang injunctions in the city after Thursday's ruling, Bibring said. Some of the earliest injunctions sought by the city named individual defendants, meaning those people did have an opportunity to object to their inclusion in court and would not have suffered a due process violation, according to Bibring.
Last year, the city agreed to modify some of its policies for future injunctions. Those targeted will now have 30 days to challenge the city's determination of their gang status in court before the order becomes enforceable, city attorney's spokesman Rob Wilcox told The Times last year. Individuals served with injunctions will also be removed from the court orders after five years, unless evidence surfaces that the person is actively engaged in gang or criminal activity, he said.
To read this article in Spanish click here
Follow @JamesQueallyLAT for crime and police news in California.
---
UPDATES:
9:18 p.m.: This article was updated with comment from the Los Angeles Police Protective League, the union representing rank-and-file officers.
5:15 p.m.: This article was updated with a statement from the Los Angeles Police Department and additional background on gang injunctions.
This article first published at 5 p.m.
Sign up for Essential California for news, features and recommendations from the L.A. Times and beyond in your inbox six days a week.
You may occasionally receive promotional content from the Los Angeles Times.