Garcetti orders release of city data, but scope uncertain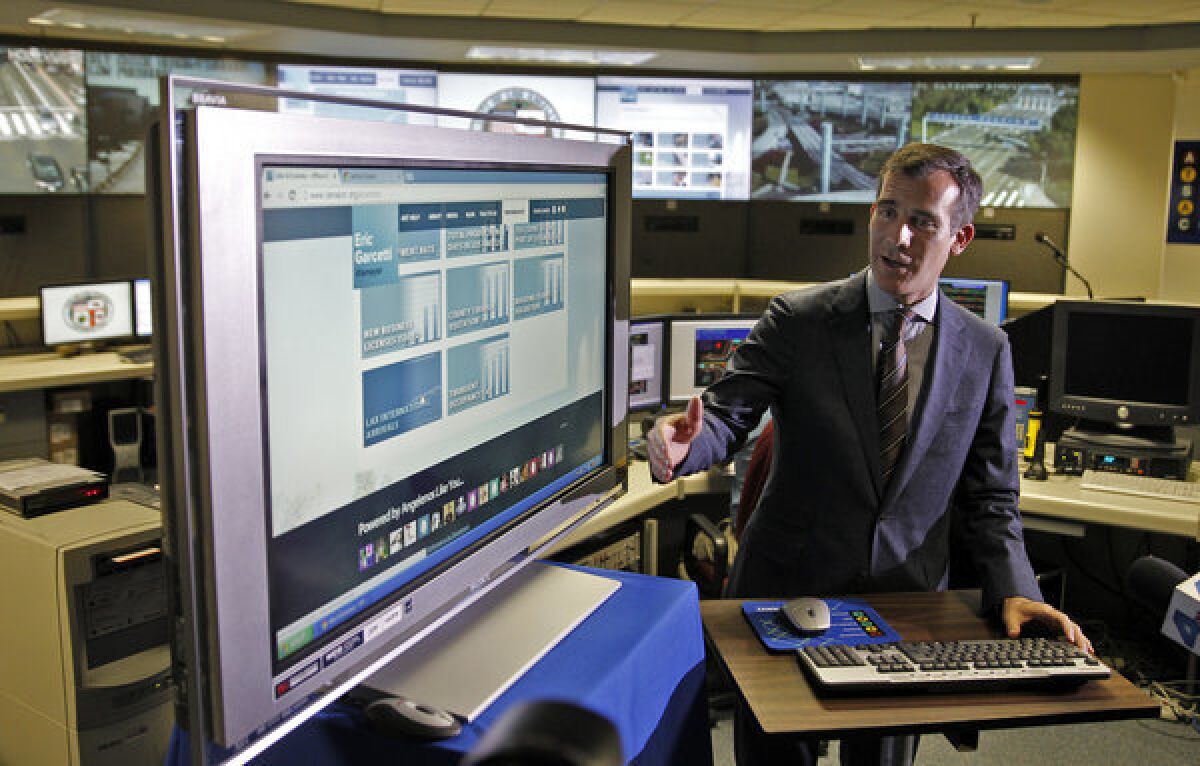 Los Angeles Mayor Eric Garcetti has ordered his administration to start posting vast troves of city data on a public website early next year, saying he wanted to "promote transparency and accountability."
Scholars, journalists, developers of smartphone apps and others will be able to download data on street repairs, crime trends, dog parks, historic monuments and a wide array of other things tracked by the city.
Garcetti said the executive directive that he signed Wednesday to establish the program "empowers Angelenos to participate in their government with greater understanding and impact."
The website's launch will mark a significant step forward in the city's effort to catch up with New York, Chicago and other cities that have embraced "open data."
Policy analyst Rebecca Williams of the Sunlight Foundation, a nonprofit that promotes transparency in government, called Garcetti's program "a great start," but also said "it could be much more explicit and ambitious about what data will be opened."
The L.A. program, she said, fails to meet six of the seven guidelines set by the foundation for what data should be open -- among them, requiring that data be open by default and mandating the release of specific new information.
Garcetti's order says "all appropriate data" will be made available, but does not explain who would determine what's appropriate or how, sets no deadline for making it available, and does not require contractors to comply.
Recent executive orders on open data in Louisville, Ky., South Bend, Ind., and New York state were "much more ambitious and detailed," Williams said.
"Ultimately, this executive order serves as a fantastic first step," she said.
President Obama signed an open-data executive order in May. It instructed federal agencies to better catalog data they collect and to release it in more user-friendly formats. Garcetti's order also requires easily accessible formats.
The first L.A. official to launch a sweeping open-data project was City Controller Ron Galperin. In October, Galperin started posting a huge volume of city financial data on a user-friendly website, giving the public access to minute details on the spending of billions of dollars in tax money for firefighting, sanitation, street lighting and other services.
Separately, Garcetti has launched a "performance" section of the mayor's website, with charts and graphics that are supposed to enable the public to gauge the quality of the city's service delivery. Ten weeks after making the "beta" test version public, most of the site remains "under construction," with no data on such basics as traffic congestion and sidewalk repairs.
But Deputy Mayor Rick Cole said a wide range of new performance data would be posted on the website soon.
ALSO:
Alleged LAX gunman could face death penalty
Family wants brain-dead girl on life support after tonsil surgery
Driver of car that killed 5 in Burbank had twice legal alcohol limit
Twitter: @finneganlatimes
Twitter: @palewire
---
The stories shaping California
Get up to speed with our Essential California newsletter, sent six days a week.
You may occasionally receive promotional content from the Los Angeles Times.