Ghost Ship operators plead no contest to involuntary manslaughter in fire that killed 36 people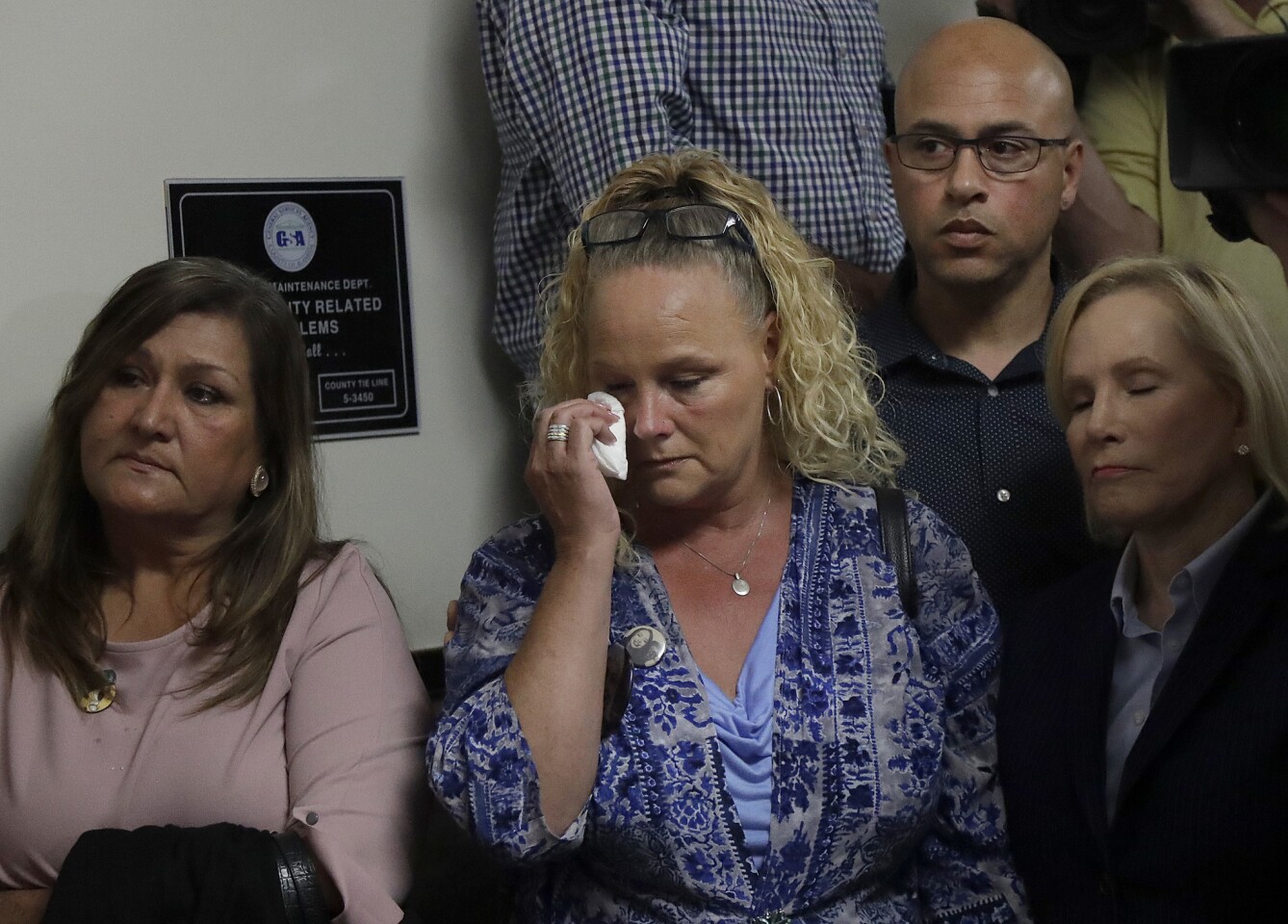 Kimberly and David Gregory, center and top right, the parents of Michela Gregory, a victim of the 2016 Ghost Ship warehouse fire, sit next to attorney Mary Alexander, right, during a news conference at a courthouse in Oakland.
(Jeff Chiu / Associated Press)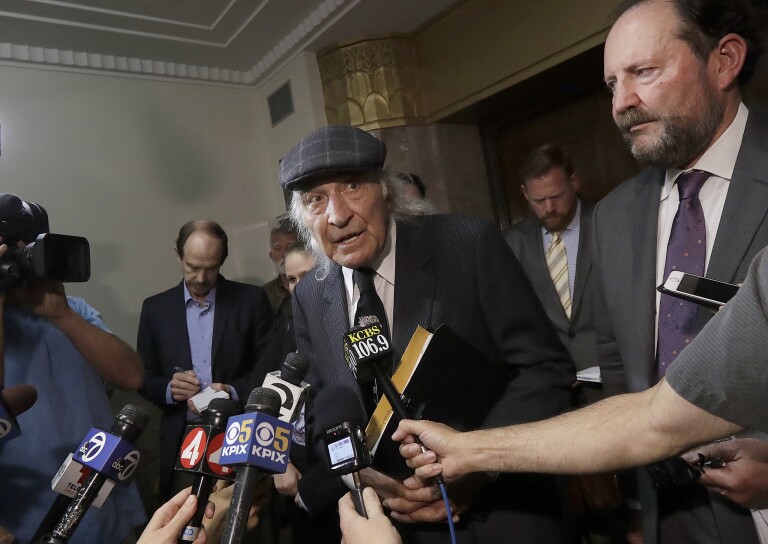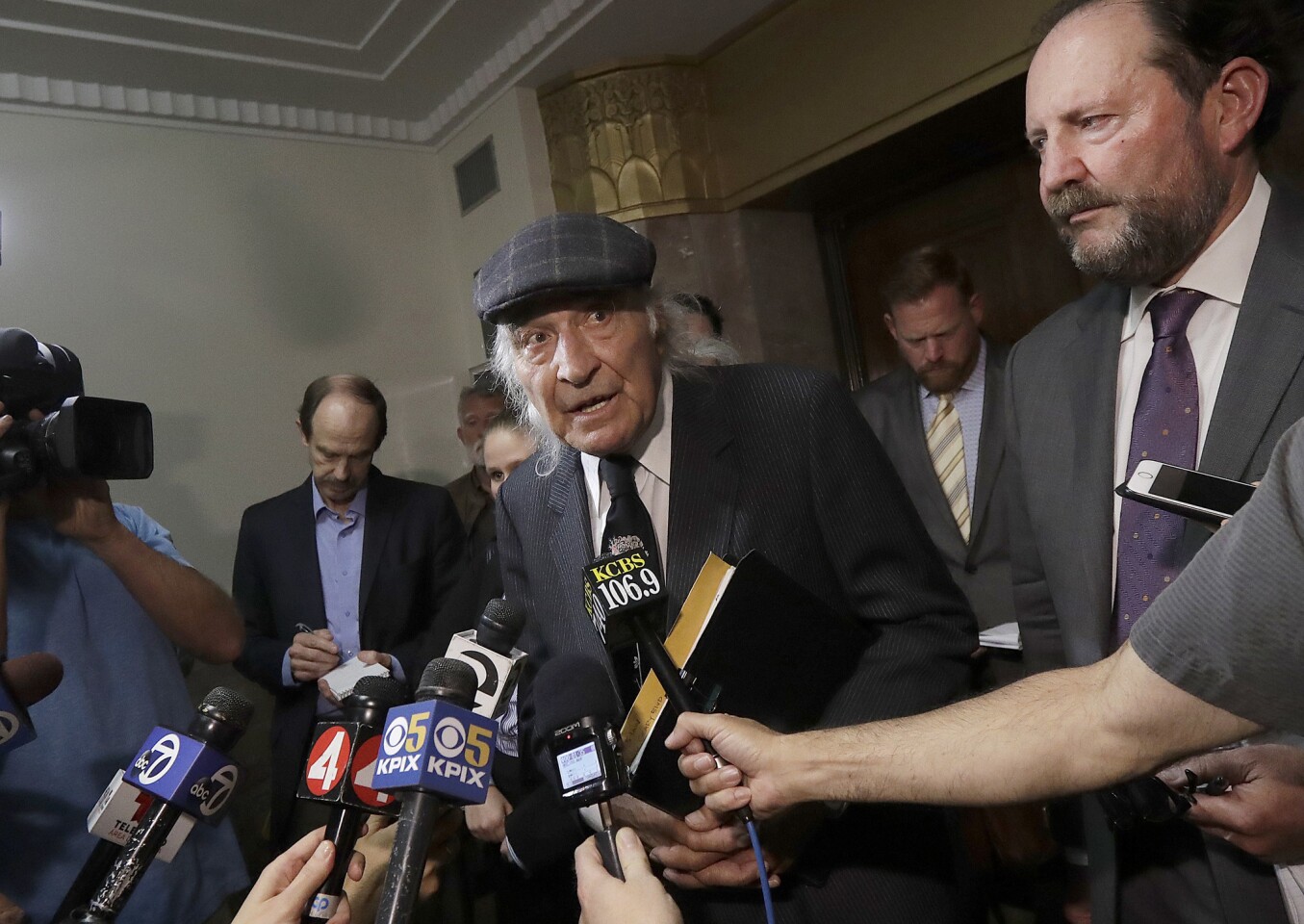 Attorney Tony Serra, center, and Brian Getz, who represent Derick Ion Almena, speak to reporters at a courthouse in Oakland.
(Jeff Chiu / Associated Press)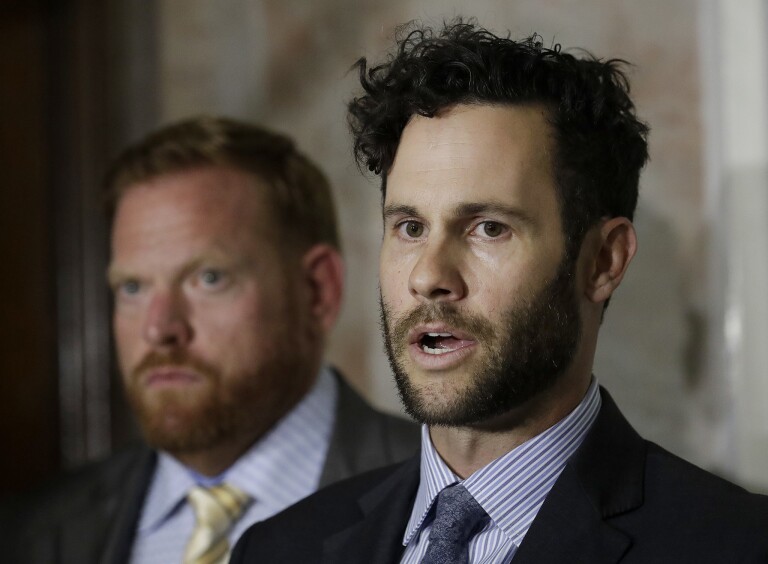 Attorneys Tyler Smith, right, and Curtis Briggs, who represent Max Harris, speak to reporters at a courthouse in Oakland.
(Jeff Chiu / Associated Press)
Debris litters the inside of a warehouse where a fire killed 36 people during a club-style party.
(David Butow / For The Times)
A firefighter walks through the burned-out Oakland warehouse on Saturday.
(David Butow / For The Times)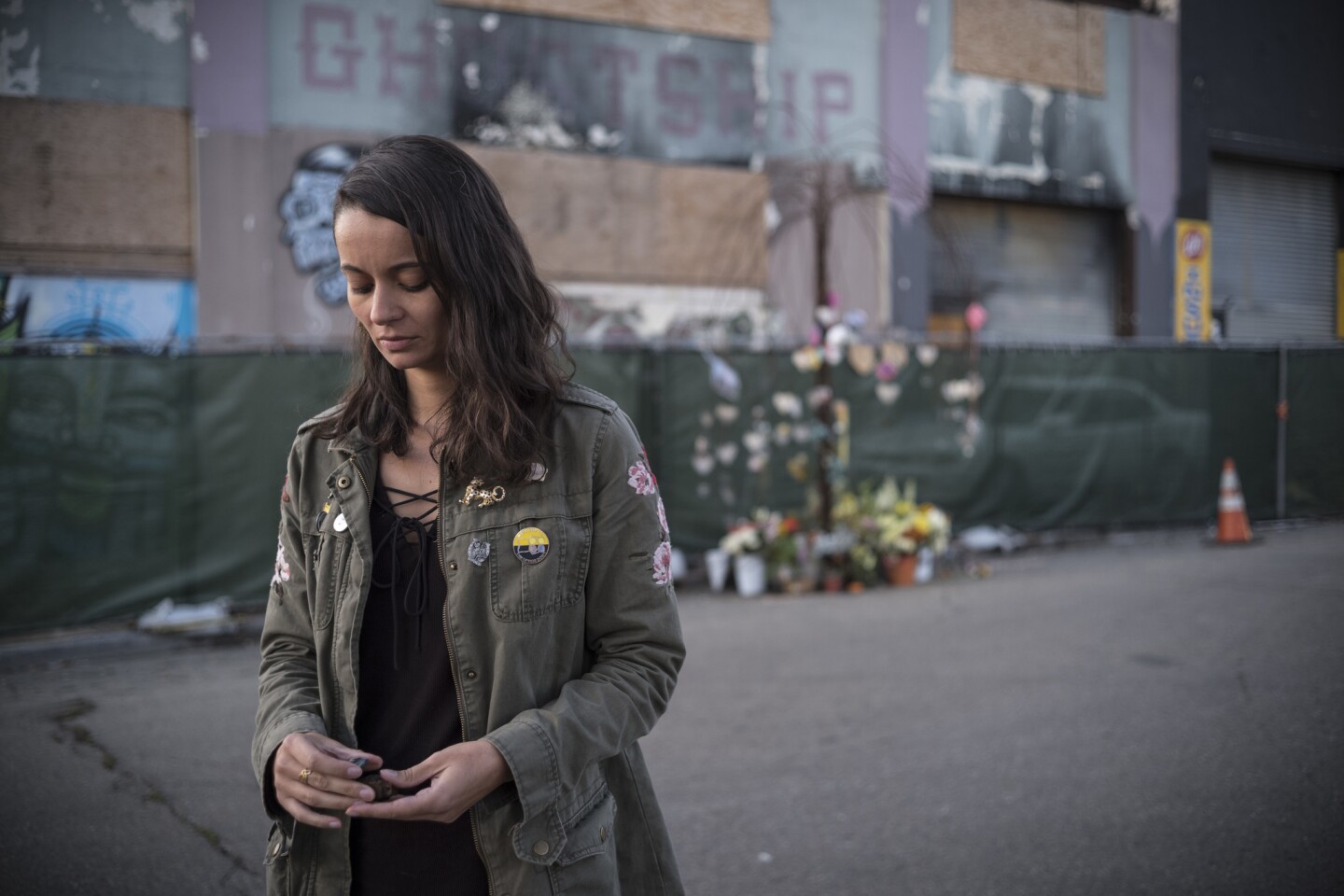 Carmen Brito returns to the warehouse known as the Ghost Ship in Oakland, where she lived when it caught fire, killing 36 people. The building's manager and creative director pleaded no contest to manslaughter.
(David Butow / For the Times)
Kristen Grzeca, a music teacher at Ruth Asawa San Francisco School of the Arts, hugs Monina Sen Cervone, director of world music and dance at the school, on Sunday at a makeshift memorial for victims of the warehouse fire. A 17-year-old victim was one of Grzeca's students.
(Jay L. Clendenin / Los Angeles Times)
A news conference with Oakland Mayor Libby Schaaf is held near the scene of the fire.
(David Butow / For The Times)
Flowers are left near an Oakland warehouse where a fire broke out during a concert, killing 36 people.
(David Butow / For The Times)
The two men who operated the Ghost Ship warehouse in Oakland pleaded no contest to involuntary manslaughter charges Tuesday after prosecutors accused them of creating a "fire trap" that killed 36 people in one of the deadliest blazes in California history.
The plea deal caps an emotional legal drama for both the city of Oakland, where the fire focused attention on the desperate lack of affordable places to live for artists and others of modest means in the Bay Area's overheated housing market, as well as the families of the victims, many of whom attended the hearing.
"That's 36 lives, you know," David Gregory, whose 20-year-old daughter Michela Gregory died in the December 2016 blaze, told reporters outside of the courtroom. "We wanted fair justice, and we didn't get it."
Derick Ion Almena, 47, the property manager who converted the warehouse into an artists' residence and underground concert venue, and Max Harris, the self-described "creative director" who ran a concert the night of the fatal blaze, entered into the plea agreement in an Oakland courtroom on Tuesday afternoon.
During the emotional hearing, Judge Morris Jacobson read aloud the 36 names, one by one, of those who lost their lives, while their loved ones wept.
"Today is a day that the families had some small sense of justice," Mary Alexander, an attorney representing some family members in a civil case, later told reporters. "Each name was a life, each name was a family."
Almena was sentenced to 12 years in prison, while Harris was sentenced to 10 years, according to Alameda County Assistant Dist. Atty Teresa Drenick. Each was given a split sentence: Almena will serve nine years in custody and the final three under supervised release, Drenick said. Harris will spend six years in custody and then four years on supervised release, she said.
Almena's attorney Tony Serra told reporters that he expects his client to be released in 3½ years because of the time he's already served.
"This was not a plea entered into because of legal necessity … we had viable defenses," Serra said. "This is a plea that's been entered into as a moral imperative to eliminate all of the drama and pain and suffering that everyone who touches this case endures."
In a jailhouse interview with KTVU, Almena said he's grateful his own children will be in their early teens when he is released. "They'll still be, like, pliable to my love, you know, receptive to their father," he said.
"What would I say to the families that lost their kids? That I'm, that I lost your children with you, that I'm brokenhearted," he added. "I don't hold it against you for how much you hate me and how much you blame me for this."
Almena and Harris were charged in June 2017, six months after a fire erupted during an electronic dance concert at the Ghost Ship. The property had been illegally converted into a residence for members of the city's art community, according to prosecutors, who accused the men of knowingly creating "a fire trap, with inadequate means of escape."
The warehouse fire broke out during a Dec. 2, 2106, concert, trapping scores of attendees inside. All of the victims, ages 17 to 61, died of smoke inhalation, according to coroner's reports.
The plea agreement might end the criminal liability phase of the Ghost Ship disaster. But some of other issues raised by the fire — a lack of affordable housing in the Bay Area, the substandard conditions of some warehouses that are being used to house people, have proven tougher.
In the wake of the fire, Oakland Mayor Libby Schaaf promised to make buildings safer and said she would work to prevent artists and other low-income residents from being forced out of the city. Last year. Schaaf issued an executive order telling code enforcement not to shut down a building occupied by residents unless there was an immediate threat to life and safety.
The mayor and others said their hope has been to balance making the living spaces safer while also not shutting down many of the warehouse dwellings that artists in Oakland call home. But this has been a struggle given the continuing housing crunch in the Bay Area, which has sent housing prices and rents still higher.
Oakland has added new fire and code enforcement inspectors and made other reforms after City Hall faced criticism for missing what critics said were obvious and well-known dangers at the Ghost Ship.
In a statement issued Tuesday afternoon, Schaaf said she respected the agreement reached by prosecutors and the defendants.
"Oakland will forever mourn the beautiful lives lost in the Ghost Ship fire," she said.
Almena and Harris had allowed as many as 25 people to live in the building but failed to provide fire suppression equipment, according to court records. In a probable cause statement filed last year, prosecutors said Almena charged from $300 to $1,400 rent for space in the ramshackle housing, court documents show.
Prosecutors have said the structure was filled from "floor-to-ceiling" with flammable materials.
On the night of the fire, Harris rented the warehouse's second floor to a concert promoter, then blocked one of the building's exits, leaving victims only one way to run when the fire erupted. Those trying to flee had to navigate a narrow, wooden staircase that some witnesses described as a "gang plank" as they ran from the flames, according to court records.
Almena had advertised the building on Craigslist as a "hybrid museum, sunken pirate ship, shingled funhouse, and guerrilla gallery." He lived in the Ghost Ship with his girlfriend, Micah Allison, and their three children.
The building was owned by Chor N. Ng, who has become the target of a civil lawsuit brought by the victims' families. She was never charged criminally.
Oakland City Councilman Noel Gallo, who represents the Fruitvale district where the Ghost Ship was located, said he was disappointed in the terms of the plea deal and questioned why Ng did not face criminal charges.
"There were 36 lives that were lost and certainly, from the manager to the property owner to the other event promoter, they need to be held responsible for the lives of the young people that were lost at the event. I'm just surprised at the court ruling," Gallo said Tuesday. "The property owner certainly has to be held liable, and I strongly believe that [Almena and Harris] deserve more time in jail."
Ng "knew what was going on from the very beginning to today," he said. "She was ultimately responsible."
Follow @JamesQueallyLAT for crime and police news in California.
alene.tchekmedyian@latimes.com
Twitter: @AleneTchek
---
UPDATES:
6:10 p.m.: This story was updated with comments from Almena, his attorney Tony Serra and Mary Alexander, an attorney representing families in a civil case.
4:35 p.m.: This story was updated with comments from Oakland Mayor Libby Schaaf and additional background on the case.
This article was originally published at 4 p.m.
---
The stories shaping California
Get up to speed with our Essential California newsletter, sent six days a week.
You may occasionally receive promotional content from the Los Angeles Times.