One year after the Ghost Ship fire, artists struggle to find housing in Oakland
One year after the fatal Ghost Ship fire in Oakland, former residents still face severe housing problems leaving them wondering whether they can stay in the Bay Area.
Reporting from Oakland —
Carmen Brito wonders whether there's room for her in the Bay Area.
Three years ago, she returned to Oakland after teaching English abroad and lived out of a car when other housing fell through. Later on, she moved into the attic of a Berkeley house where the kitchen floor had rotted away. And in late 2015, Brito discovered the Ghost Ship warehouse, which had the artistic energy and community she was longing for and a $600 monthly rent she could afford — even though it wasn't built for people to live there.
Last Dec. 2, during a concert upstairs from her room , Brito woke up choking on smoke. She fled the building and called 911. Minutes later, the deadliest fire in Oakland's history destroyed the Ghost Ship, killing 36 people.
Though the Ghost Ship fire didn't reveal the Bay Area's housing problems, it underscored just how dire they had become. Decades of slow home building left the region unprepared as a tech-fueled economic boom has added more than half a million jobs in the last six years. Prices soared. By the time of the fire, San Francisco's median home value had topped $1 million, according to real estate website Zillow, and a city study found Oakland's rents had increased nearly 70% in the eight years prior. Over the last year, costs have gone up even more.
The fire thrust Brito, a substitute teacher who makes pottery, back into the housing market, where she experienced what she had before. Brito moved into a house in Oakland, but was forced out soon after. She left the Bay Area, came back and bounced around friends' places. Now she hopes she's found somewhere she can stay longer than a few months.
"At some point I realized anywhere I live in Oakland is going to be temporary," said Brito, who turns 30 later this month. "Nothing is permanent."
In the wake of the fire, Oakland Mayor Libby Schaaf promised to make buildings safer and said she would work to prevent artists and other low-income residents from being forced out of the city. In January, Schaaf issued an executive order telling code enforcement not to shut down a building occupied by residents unless there was an immediate threat to life and safety. The city, the mayor said in a recent interview, must balance public safety with sensitivity to artists who provide "the creative energy that this city has always been known for."
"We cannot afford to lose it," Schaaf said. "I recognize that this housing crisis is putting that whole community at risk."
But city officials quickly realized how difficult it was to strike that balance. Some buildings, Schaaf said, would be safe for residents only if events with many guests weren't held there. Other buildings had emergency exits in one area, but not in others. March brought another deadly fire in the city when a blaze ripped through a West Oakland halfway house, killing four people just months after firefighters warned of dangerous conditions there.
Oakland officials are making changes. Several new fire and code enforcement inspectors are expected to start work by the end of the month. Revamped fire inspection software goes live within weeks. Nearly 2,800 new homes were built last year, and city officials estimated increased tenant protections saved an additional 4,500 low-income households from eviction, exceeding the city's goals.
I recognize that this housing crisis is putting that whole community at risk.
— Oakland Mayor Libby Schaaf
Still, housing costs continue to rise. Oakland's median home value has reached an all-time high of $694,900, up 6% over the last year. The median rental price is almost $3,000 a month, up nearly $100.
Activists say they appreciate Schaaf's emphasis on keeping artists and others in non-traditional homes, but too often visits from code inspectors have left tenants and landlords with few options. And although city records show landlords evicted tenants from five unpermitted residences in the past year, activists believe the actual number is much higher.
Tenants are afraid to call the city even when living conditions are dangerous, said David Keenan, an organizer working to promote safe live-work spaces in Oakland.
"If a code enforcement person is the same person who can evict you and is responsible for keeping you safe, it's an inherent conflict," Keenan said.
Efforts to make it easier to legally convert warehouses into residences have stalled, and the current process has left artists struggling to comply with the rules.
Days after the Ghost Ship fire, Misha Naiman learned her landlord was evicting her 12-member artist collective from a West Oakland warehouse they called Castle Von Trapp. Naiman, a 26-year-old medical researcher who makes large metal sculptures, started looking for somewhere else to live and make art.
Her group found a landlord willing to rent them a different warehouse to convert to studio apartments and performance space. They formed a nonprofit, raised money and hired two engineers, an architect and an energy consultant. Naiman considers herself lucky that the West Oakland warehouse they are now renting was already retrofitted for earthquakes and zoned for residential use. If it wasn't, she said, the project would have cost too much.
Even so, Naiman was paying less than $400 a month in rent at Castle Von Trapp and expects to spend more in the new place. The effort still requires a minor zoning change, and the city's building department has to sign off on the plans. A decision remains months away. The former Castle Von Trapp residents have scattered, awaiting their project's fate.
"We're up against quite a bit of work — to put it lightly," Naiman said. "We'll see how it works out."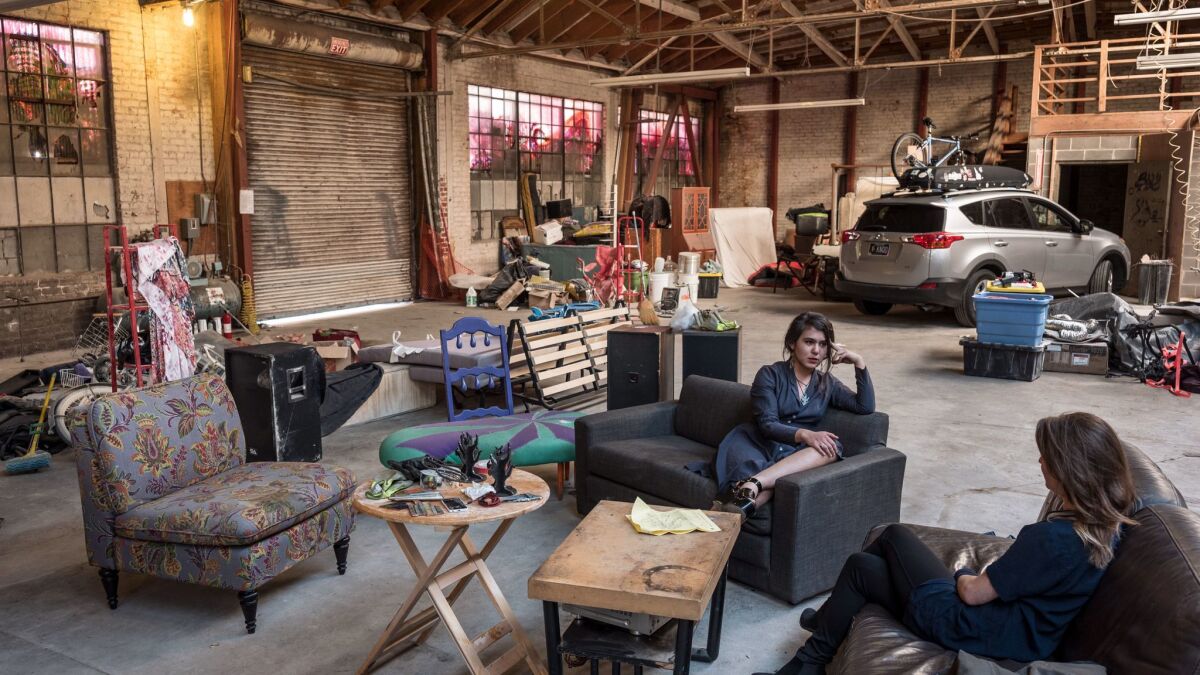 For Brito, the Ghost Ship fire brought more housing insecurity. Last January, she found a room with three other people in what she called "a normal-person house" in Oakland for $500 a month.
One night, she woke to find water flowing into her room. The ceiling was leaking because no one had cleaned the gutters on the roof. When it rained, lights flickered. She and her roommates considered calling the landlord about the wiring, but were worried they might get evicted.
"There were a ton of things wrong with the property," Brito said. "But my friend was like, 'It's cheap rent. It's real cheap rent.'"
Their fears came true. Over the summer, the landlord told Brito's roommate she wanted to sell the house. Later on, the landlord's attorney provided a list of problems that could lead to eviction. The biggest issue was that no one was supposed to live in the room Brito was in. She decided to leave so her roommates might be able to stay.
Brito moved 2½ hours away to Grass Valley, the rural Sierra foothills community where she grew up. Then she went to Thailand to teach English for a few months.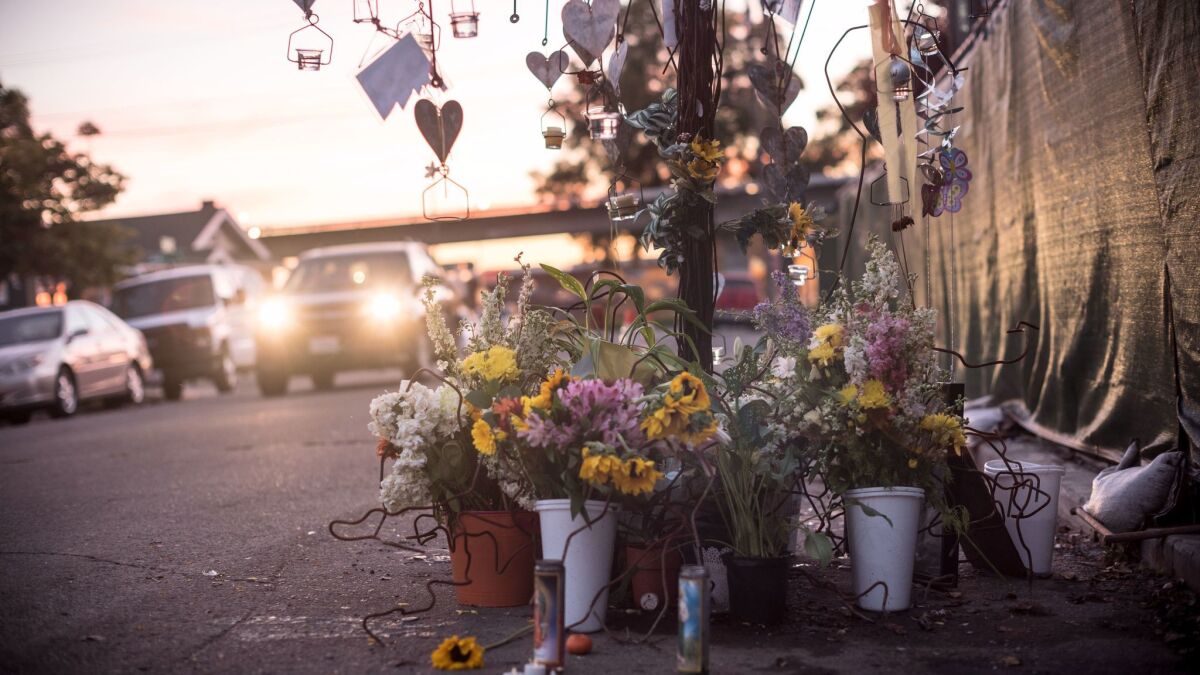 Oakland continued to pull at her. She expects to testify in the pending criminal trial against the Ghost Ship's property manager and another resident who promoted the concert. Even though only about a half-dozen of the Ghost Ship's surviving residents stayed in the region — some went to Los Angeles, Portland, Paris — Brito still has a strong support network in the Bay Area and doesn't want to start over. She earns about $2,000 a month teaching, and a city should be able to house its teachers and service workers, she said.
She returned to Oakland in mid-November and began scanning real estate listings. Craigslist was filled with advertisements for space in living rooms and garages. She's also seen ads from older men offering to rent out their couches to young women — if they first send pictures and pay a security deposit.
On a recent afternoon, Brito scrolled through a Facebook group of apartment listings. An Oakland studio for $1,750. Another for $1,200. A room in Marin for $1,350.
"It just goes on and on and on," she said.
Through friends, she found a room in another four-person home in Oakland for $500 a month. It's old and drafty, but she's excited her room has a closet and bookshelves built into the wall. She moved in Wednesday.
ALSO
Ghost Ship tragedy puts focus on plight of Oakland artists dealing with soaring Bay Area housing costs
After suffering a tragedy, music became a 'life raft' for Chasms
Report details death, panic in Ghost Ship warehouse fire
Get our Essential Politics newsletter
The latest news, analysis and insights from our politics team.
You may occasionally receive promotional content from the Los Angeles Times.