As L.A. vowed to stop apartments from becoming hotels, this company made it a business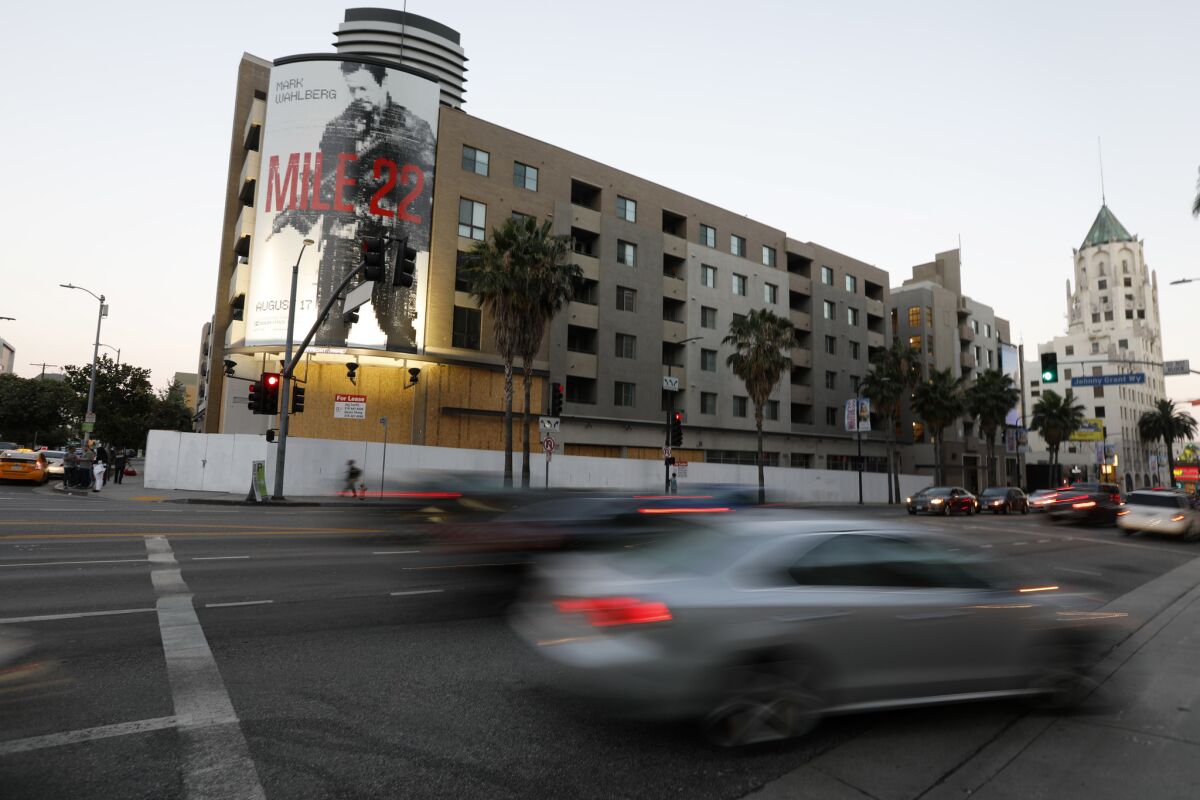 Long before she got fed up and moved out, Whitney Harchanko said, weird things began to happen in the halls of the Hollywood building she had lived in for years.
People rang her doorbell at odd hours, confused about which apartment they were seeking. Drunk strangers sprawled next to the pool. Housekeepers flitted around during the day.
Harchanko snapped photos and tracked down online ads for short-term rentals in the building, urging the manager to stop it from happening.
"Nothing ever changed," Harchanko said, "except they put up a sign in the elevator."
Those signs, posted in the elevators by Redwood Urban property management, declared that subleasing apartments for short stays was not allowed.
Yet the building near the famed corner of Hollywood Boulevard and Highland Avenue is still advertised online to travelers by an international company called Ginosi, which rents out furnished apartments to nightly guests.
"We've never been illicit or covert about what Ginosi is," said Eric Ginosian, its chief executive. "Everything is clearly laid out on our website."
Los Angeles officials say that zoning rules generally prohibit renting out dwellings for short stays in much of the city, but the restrictions can be complicated, legally contested and difficult to enforce. They could not immediately determine whether such rentals were allowed in the Highland building, they said, because of the intricacies of city codes.
In the absence of clearer rules, Ginosi has built its business in a regulatory vacuum that persists more than three years after local lawmakers pledged to stop apartments from being run like hotels. It touts its "apartels" as a fusion between "the concept of a hotel" and "the conveniences of a fully furnished apartment."
The company is perhaps the most obvious example of how the burgeoning business of vacation rentals has popped up in L.A. apartment buildings, spurring complaints from residents and housing activists. It is part of a flock of companies that have been leasing apartments and subletting them by the night, pitching themselves as a way for building owners to fill empty units, often in newly built complexes.
Beyond Ginosi, there's Doing Right Rentals, which advertises units in downtown, Hollywood and San Diego. Pelican Residences is another, catering to travelers from across the globe at seven apartment buildings, mostly in Hollywood, according to a manager.
That manager, Chris Rivers, said building owners are happy to get rid of apartments that are sitting empty and that renting out units for short stays creates jobs for housekeepers and others who cater to vacationers, who then spend money wandering neighborhoods.
"It generates money for the city," he said.
But housing advocates lament that the practice pulls apartments off the market for Angelenos in the throes of an affordability crisis. Tenants, in turn, complain that they got no warning from their landlords that they would be living with a revolving door of travelers.
When a Times reporter booked a room at Ginosi's "Downtown Apartel," he was handed keys and an entry device at a Ginosi office across the street, allowing him to stroll into a studio apartment without ever speaking to the management of the Sofia, a blocky, modern complex on the edge of Westlake that opened last year.
At the pool, a Swiss tourist said it was a little different from a hotel. "You have to clean your own room," Mike Kaesermann said with a slight chuckle, lounging as his wife and kids played in the water.
A few chairs over from Kaesermann sat a Sofia resident, who complained that the pool and weekend brunches at the complex are regularly packed with vacationers, and that visitors often party late into the night. No one warned him that rooms there were being rented out for short stays, he said.
"They should have told us," Stefan Keslacy said.
Holland Partner Group, which owns and manages the Sofia, did not respond to requests for comment. Ginosian said it was up to building managers to inform tenants, but expressed sympathy with their concerns. That, he said, is part of the reason he is shifting his business toward running hotels.
The company plans to exit residential buildings that are not permitted for short-term rentals by the end of next year, and in some cases much sooner, Ginosian said, citing business pressures, practical issues and a proposed ordinance working its way through Los Angeles City Hall.
That law would bar Angelenos from renting out a home for short stays unless it is their "primary residence," a rule meant to protect housing. Los Angeles planning officials have estimated anywhere from 6,000 to 10,000 units that would otherwise be available to tenants are now being used chiefly for short-term rentals citywide.
When new apartments are built, the hope among government officials is that wealthier renters will move there and free up their old homes for people who earn less. If enough housing is built, landlords in turn would eventually be forced to lower rents to entice people into empty apartments.
But if vacant units can instead go to vacationers, landlords have less incentive, in theory, to do that. Brent Gaisford, director of advocacy group Abundant Housing L.A., expressed particular concern that Ginosi and other companies were operating in new buildings located in areas like downtown and Hollywood that are experiencing a building boom.
"If things like this start to take off," he said, "that would really reduce the pressure" to woo tenants.
Doing Right Rentals promises to do just that on its website, where it offers building owners "immediate occupancy" and "guaranteed monthly income" from leases that extend multiple years. The site advertises chic and colorful units named for Audrey Hepburn and James Dean for short stays.
When a Times reporter called the number on the website and identified himself, a woman initially said he had reached a Staples store. When he called back, the same woman confirmed it was Doing Right Rentals and declined to comment.
Ginosian said he shares concerns about short-term rentals exacerbating the housing crisis, but said when his company first started snapping up vacant units after the recession, huge complexes had lots of empty units.
The company has also offered, in at least one case, to pay a "premium rent" to a building owner who knew it would be subleasing the apartments, according to court filings. Ginosian said that was not typical and that its arrangements with owners can vary dramatically — including cases in which it does not pay rent at all and provides services. The company declined to comment on the details of specific contracts.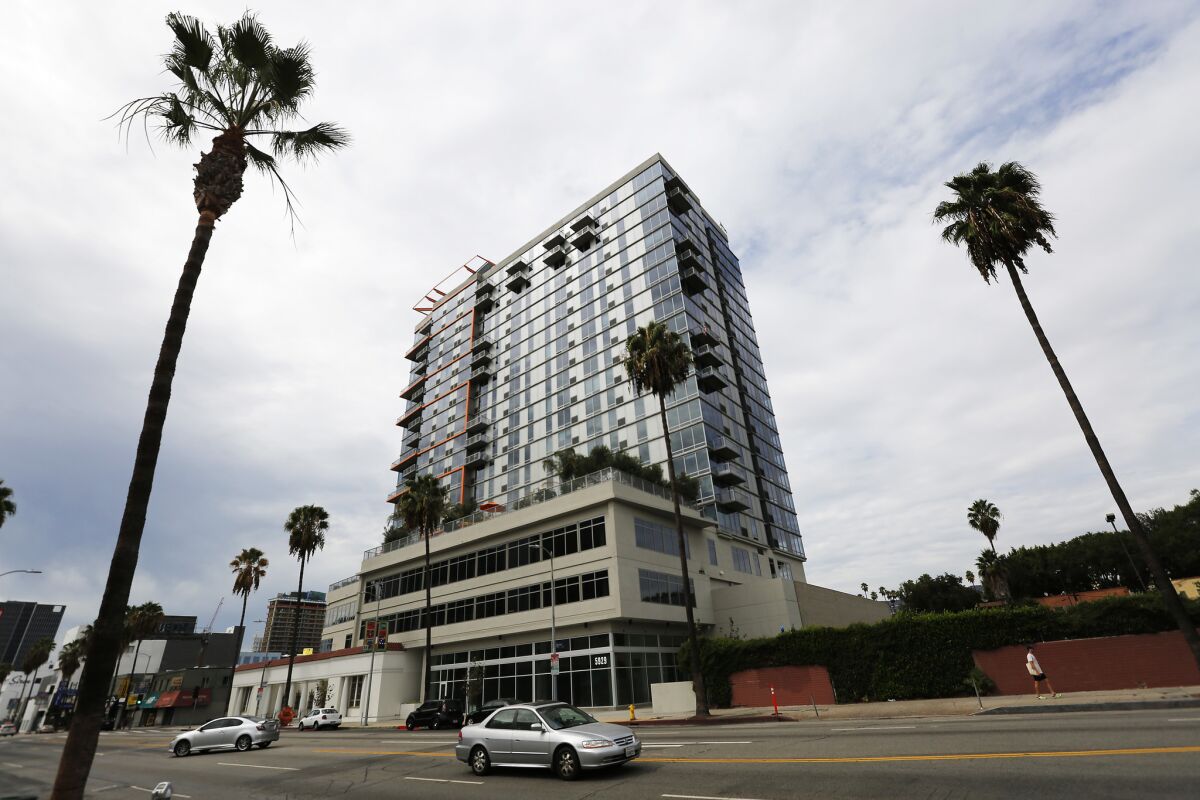 Ginosi , which also advertises rentals in Chicago, Seattle and some European hot spots, has repeatedly run into controversy over its rentals. In Washington, D.C., it was sued by the office of the attorney general, which accused Ginosi of partnering with building owners to illegally operate apartments like hotels. It decided to end its operations there last year.
In Los Angeles, the city ordered a halt to short-term rentals at a Sunset Boulevard tower where Ginosi was renting dozens of apartments. Residents alleged that drug dealing and prostitution had come along with the "illegal hotel." The building was ultimately emptied for a totally different reason, but Ginosi still claimed victory when a court commissioner said L.A. had relied on a "strained interpretation" of zoning law to target its rentals.
Although officials have long insisted that renting out dwellings for short stays is not allowed in much of the city — and requires government approval in some areas — there has been a tug of war over its legality in court. Earlier this year, a Superior Court judge ruled there was nothing in city codes to bar short-term rentals at a Venice Beach apartment building. Vacation rental operators said it backed their longtime assertion that L.A. had no law against such rentals.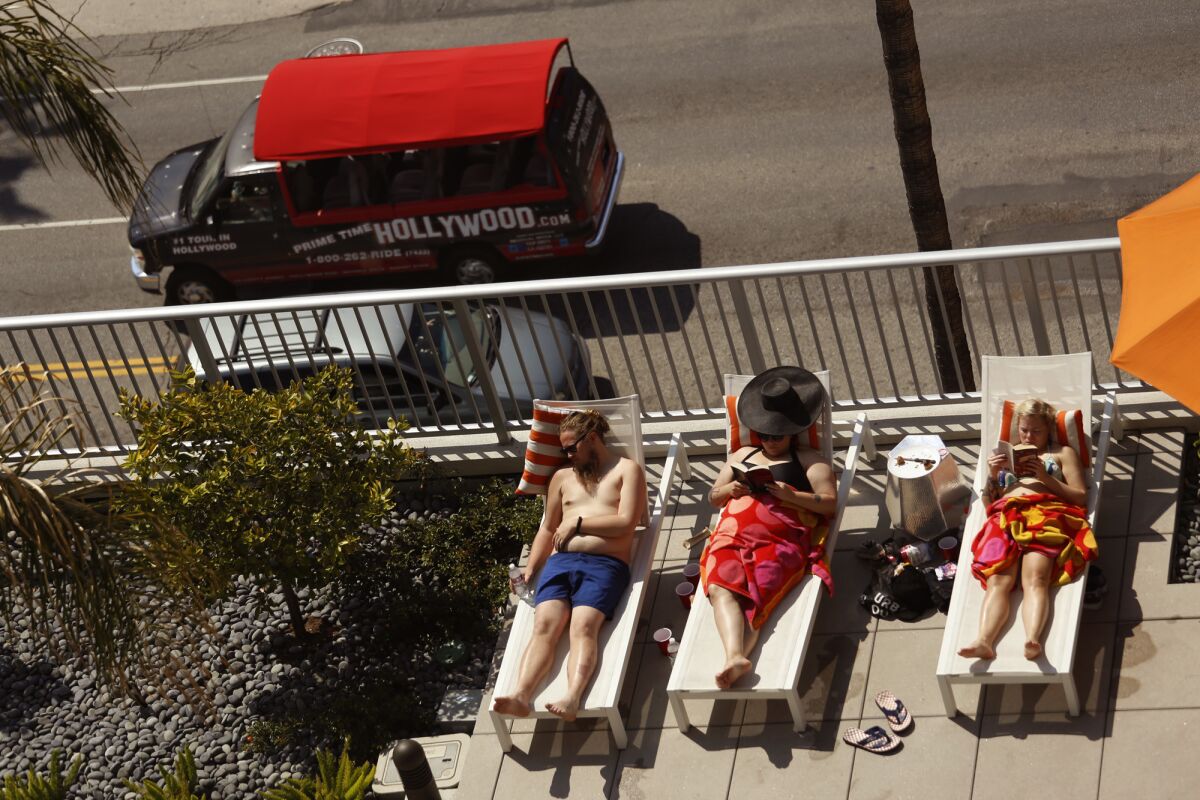 In Hollywood, a glassy tower on Sunset Boulevard is now branded with silvery letters that announce "Ginosi Metropolitan Apartel," after city officials decided to allow units to be rented as either apartments or for shorter stays.
Other L.A. buildings used by Ginosi do not appear to have sought city permission for short-term rentals, according to city officials, though they were still determining if that meant such rentals were barred. Last year, however, the housing department ordered the Highland Avenue building to halt the practice.
The building, which occupies the bulk of a Hollywood block, is a beige-on-beige structure easily overlooked behind vast, illuminated billboards. In the cavernous garage below, a family visiting from Mexico wheeled their luggage up to the elevator on a Saturday night, balancing a watermelon destined for breakfast. They had found the space through Airbnb, they said.
The housing department has been peppered with complaints about such rentals there. Redwood Urban told frustrated tenants that it was trying to vacate units that had been leased by the previous owner to "residents who intended to sublease their apartments as nightly rentals."
"We have made several requests for various websites to remove any ads for our building," building manager Catherine Parker told The Times when asked about the Ginosi listings.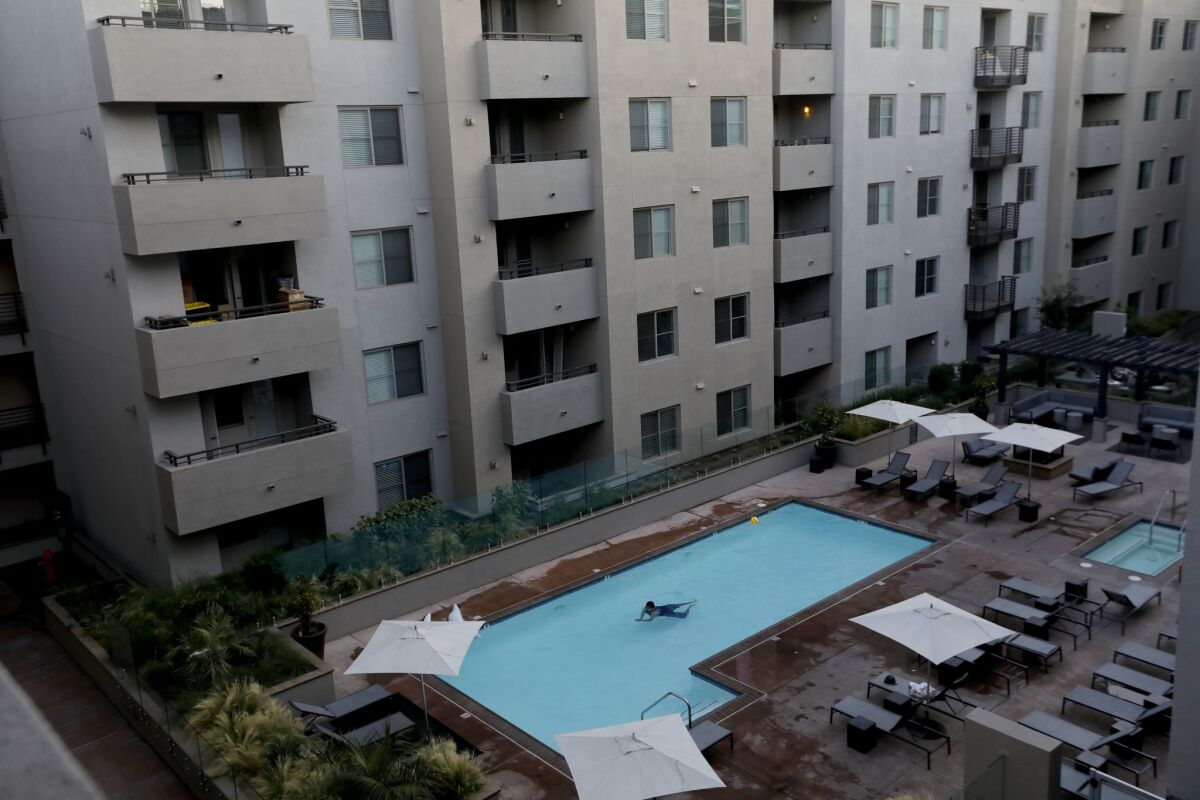 But many residents have grown suspicious of their landlord as short-term rentals continue. The company is plainly aware that Ginosi is there: When one renter complained that travelers were damaging her car, Parker referred her to a Ginosi representative, emails show.
"I don't know why Redwood can't straight up evict them," former resident Mark Belanger said.
Parker declined to answer questions about their leases. Ginosian said his company had "always been clear with all our partners about what we do." In some cases, he said, its leases spell it out.
That was what Adolfo Suaya said he discovered when he wanted to remove Ginosi from his pink stucco building on Hollywood Boulevard, which is nearly a century old and falls under rent stabilization rules. Suaya said the leases, signed with Ginosi by the previous owner, expressly allow short-term rentals.
"What prevents them from doing it?" Suaya said. "There's no law."
Times researcher Scott Wilson contributed to this report.
Twitter: @AlpertReyes
Twitter: @khouriandrew
---
Life is stressful. Our weekly mental wellness newsletter can help.
You may occasionally receive promotional content from the Los Angeles Times.