Venice building owner sued over 'illegal hotel' didn't break city law, judge rules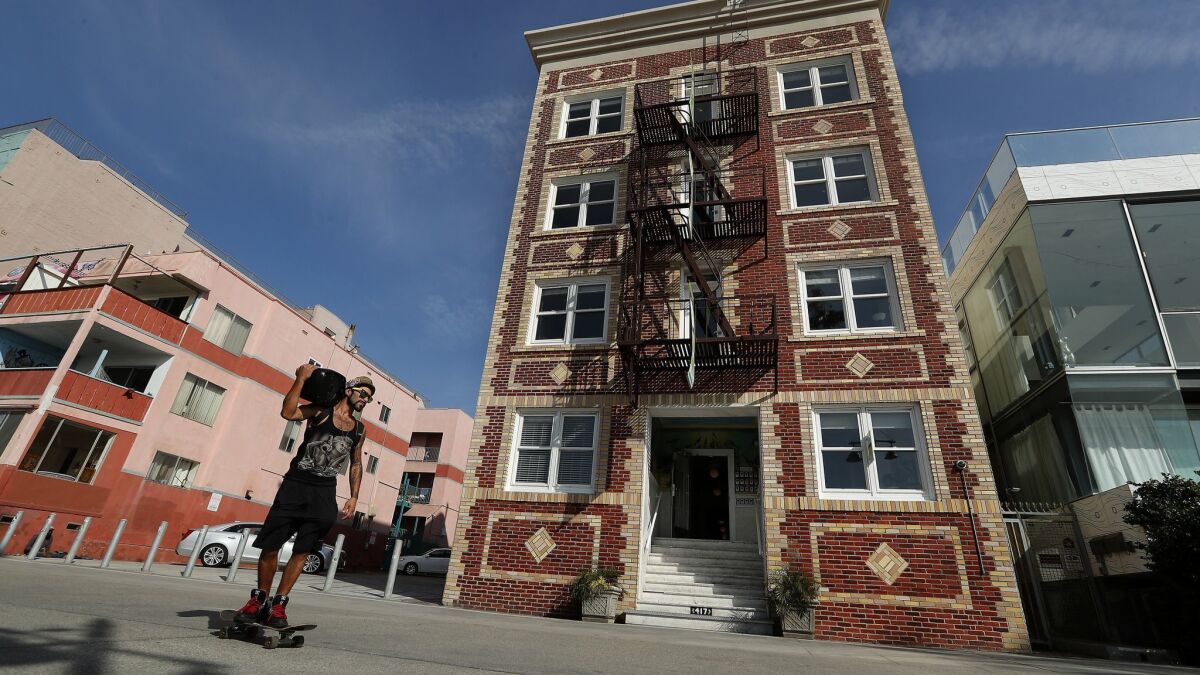 A Los Angeles Superior Court judge sided Friday with a man who was accused of running an illegal hotel in Venice Beach, concluding that renting out apartment units in his building for short stays was not banned under city codes.
Carl Lambert was one of several people targeted by the city attorney two years ago and accused of operating apartment buildings as illegal hotels.
In his civil suit, City Atty. Mike Feuer argued that Lambert was defying city law and exacerbating the housing crisis by taking units off the rental market, and that he and his company were "well aware that what they are doing is illegal." The Venice Beach building falls under city rent stabilization rules.
Lambert and his attorneys countered in court filings that it was consistent with city rules to rent out the building on Ocean Front Walk for short stays, arguing that an occupancy certificate issued decades ago had authorized it to be used as an "apartment-hotel."
More broadly, his attorney Matthew Hinks wrote that the municipal code "simply does not contain a restriction on renting on a short-term basis."
Backing that argument, Judge Teresa Beaudet wrote in a tentative order this week that "there is no statutory basis for restricting the use of an apartment house based on length of occupancy."
Night-to-night rentals at the Venice Beach building do not violate the zoning code, she concluded. Beaudet added that even if the building is only allowed for apartment use, as city attorneys contend, that would not matter. City attorneys had not shown that short-term rentals change the use of an apartment building into a hotel, the judge wrote.
"The judge exercised a very careful legal analysis that determined that I am allowed to rent for less than 30 days," Lambert said after Friday's ruling.
It is unclear whether the city attorney's office will challenge the decision. City attorneys are still reviewing their options, said Ivor Pine, a spokesman for the office. Legal records indicate that in two other cases pursued by Feuer involving such rentals, courts have at least tentatively sided with the city attorney.
Although the recent decision focuses specifically on the Ocean Front Walk building, the legal arguments outlined in the case could help other people defend themselves against city citations for renting out apartments for short stays, said Tom Nitti, an attorney who specializes in real estate law and attended the Friday hearing as an observer.
"I've been saying for a number of years now, there's no law to prohibit short-term rentals in Los Angeles," Nitti said. "People are going to hear about this case and pick up this argument."
The decision troubled activists who have argued that such rental practices worsen the housing shortage in neighborhoods like Venice. "In essence she's ruling that any apartment house can be a hotel, without a permit," said Judith Goldman, co-founder of Keep Neighborhoods First. "Hopefully a higher court will correct this error."
Larry Gross, executive director of the Coalition for Economic Survival, a tenant advocacy group, said the ruling makes it "even more imperative" for the city to act swiftly to regulate short-term rentals, "to ensure that more housing is not lost."
Nearly three years have passed since L.A. lawmakers first proposed prohibiting people from renting out a house or apartment for short stays if it is not their primary residence, in order to stop commercial operators from buying up buildings and running them like hotels.
Renting out homes or units night to night has become more popular with the rise of online platforms such as Airbnb and HomeAway that link travelers to hosts.
At the Friday hearing, Beaudet did not rule on whether advertising the building as a hotel was false or misleading, as the city attorney had alleged, or whether Lambert had violated state law by engaging in "unfair competition." Those two issues could still be decided at trial.
Twitter: @AlpertReyes
---
The stories shaping California
Get up to speed with our Essential California newsletter, sent six days a week.
You may occasionally receive promotional content from the Los Angeles Times.