'Goat Fund Me' campaign aims to use farm animals to fight wildfires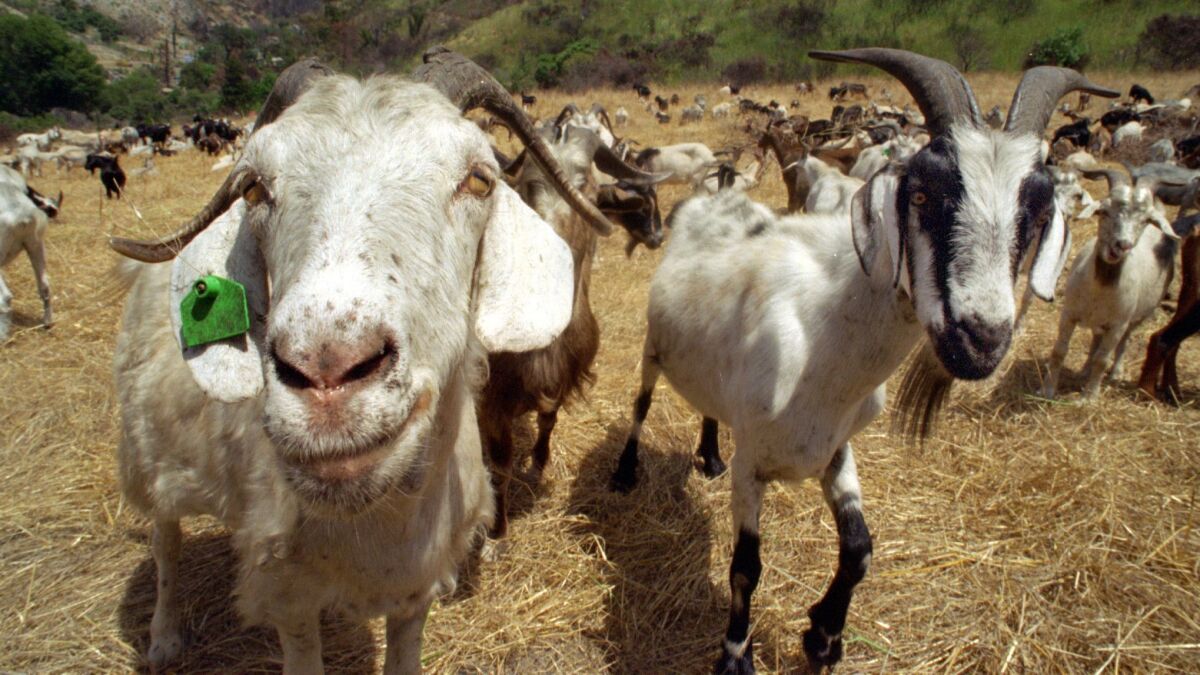 In tiny Nevada City, a Gold Rush town in Northern California touting a population of 3,100, folks are big on a novel idea to fight the increasing threat of wildfires: calling in the goats.
Vice Mayor Reinette Senum has launched a crowdsourcing campaign called "Goat Fund Me," hoping the online fundraising efforts will garner $30,000 to work with local ranchers on a prescriptive grazing project on city-owned land, including 450 acres of greenbelt.
"Why not do something — and as soon as we can?" Senum said Friday from her home tucked into the foothills of the Sierra Nevada Mountains, where she has lived off and on since age 4. "If we're not proactive, if we don't help ourselves, no one else is going to step up."
The city is especially vulnerable to fires "because we're an outdoorsy community. We spend a lot of time in nature and we're packed with brush that turns into tinder that needs to be cleared," Senum said.
The cost of using goats to eat away overgrown brush is affordable, supporters say. Booking a herd costs between $500 to $1,500 an acre, according to City Manager Catrina Olson. Some 200 animals can plow through an acre of land daily, officials said.
Olson said she, along with residents attending council meetings to talk about grazing, are both excited about the impending work, an idea "that's catching on because there's such high fire danger in our state."
Guided by handlers, the goats are like "the advance team," she added. "We definitely need them to get in there and do their thing on the spreading blackberry bushes — and before the hand crews come in — they create a more accessible environment and then it becomes a maintenance issue rather than this overwhelming project."
Nevada City, which has an annual budget of $4 million, is rancher Brad Fowler's hometown, and he figured that "to reduce the threat of fire, you can keep 1,000 goats busy there for half a year, at least," grazing on both city and private properties.
"It's an interesting way to run a city campaign. I like how people can choose to spend their money," said Fowler, the owner of Goat Works, one of the ranches working with the city to rent out goats.
The idea has been used elsewhere in California.
For decades, Laguna Beach has launched a herd of goats to feast on the city's canyon slopes in an effort to reduce the threat of brush fires.
And last year, the Irvine Ranch Conservancy used the animals in its efforts to restore native grasses to the area.
Senum launched her crowdfunding campaign a month ago and is now eyeing a looming deadline, explaining that this winter is the only time that several large herds of goats are available because local ranchers have already rented out their herds for the rest of the year.
After a break from the upcoming rains, officials are planning a demonstration at Pioneer Park, showing the eating machines in action.
"These goats, they're easy on the land," Senum said, "they've got little hooves and have a low impact compared to heavy machinery."
Twitter: @newsterrier
---
The stories shaping California
Get up to speed with our Essential California newsletter, sent six days a week.
You may occasionally receive promotional content from the Los Angeles Times.