817 guns collected at L.A.'s latest buyback event, officials say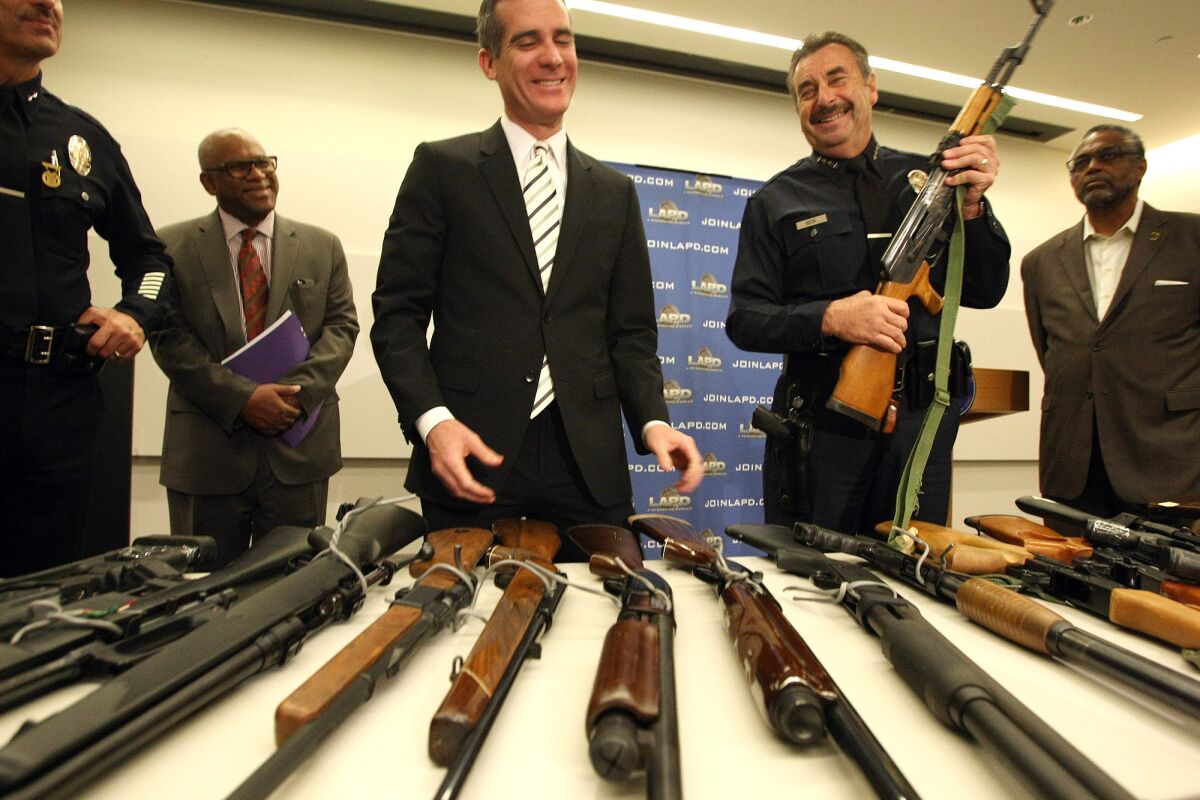 Angelenos exchanged more than 800 firearms -- including a World War II-era assault rifle and a .22-caliber pen gun -- for grocery store gift cards at a weekend buyback event, city officials announced Monday.
The 817 weapons collected across the city Saturday included 387 handguns, 268 rifles, 131 shotguns and 31 assault weapons, Los Angeles police reported. Mayor Eric Garcetti and Police Chief Charlie Beck hailed the results at a news conference Monday.
"This program is about something simple: Taking guns off the streets of Los Angeles," Garcetti said. "They can end up in the hands of criminals, they can end up in the hands of children, they can take lives of others."
Though weapons can be surrendered at any time to police at LAPD stations, gun owners are eligible to receive Ralphs gift cards in exchange for their weapons at the buyback events. Handguns, rifles and shotguns drew up to $100 in the gift cards; assault weapons up to $200.
Dozens of firearms collected were on display Monday as officials spoke about the buyback program. Many of the weapons -- including sawed-off shotguns and assault rifles -- were illegal, Beck said. Some, he said, were "particularly interesting."
The chief pointed to one German-made World War II-era assault rifle, calling it the "grandaddy of all assault weapons" worth "well over" $15,000. Another detective pointed out the pen gun -- reminiscent of a spy movie -- which he noted was "clearly a black market item."
Nearly 12,000 firearms have been collected in the five years that the city has hosted buyback events, officials said.
"More importantly, during that same period of time we've reduced gun violence. And that's what this is about," Beck said. "It's not about these inanimate objects. It's about the way that people use them, and keeping them from falling into the hands of those who are either too immature or too evil to possess a handgun or a rifle."
ALSO:
Brawl breaks out at fraternity's toy drive near LAX
Man who killed ex-girlfriend's family should be put to death, jury says
Huntington Beach school maintenance worker faces child porn charges
Twitter: @katemather | Google+
kate.mather@latimes.com
---
Life is stressful. Our weekly mental wellness newsletter can help.
You may occasionally receive promotional content from the Los Angeles Times.