Sexual harassment claims by L.A. city workers are difficult to track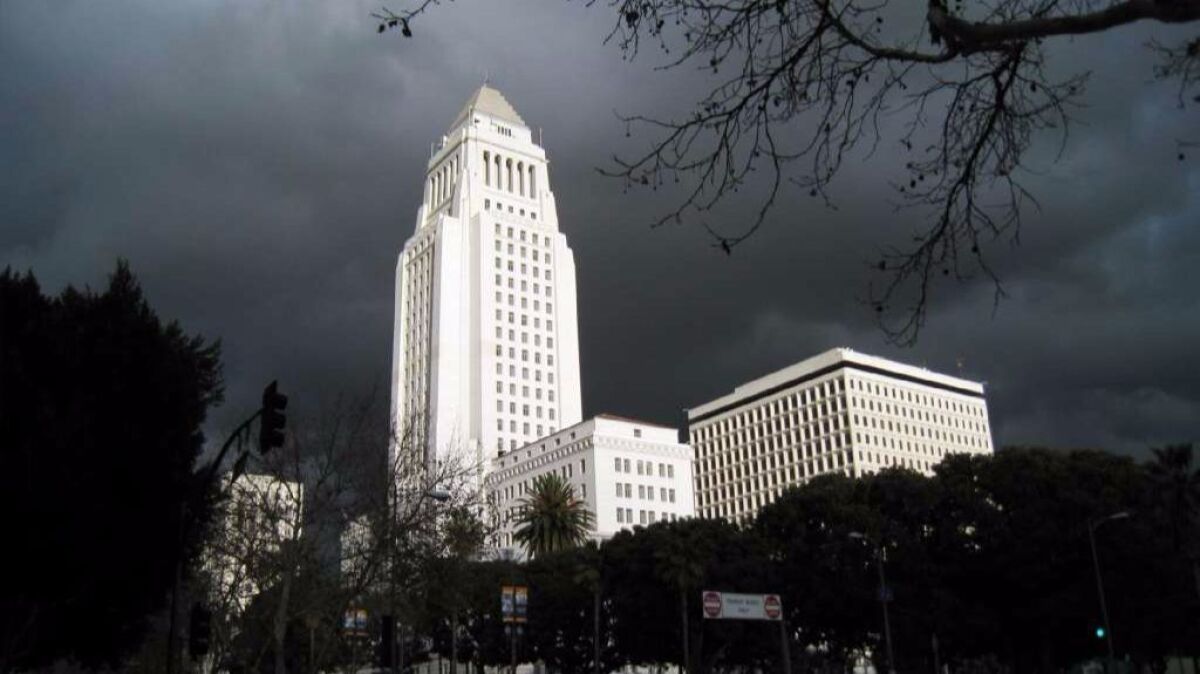 With more than 45,000 employees, the city of Los Angeles is one of the largest employers in Southern California.
Despite its size, the city has no centralized method for tracking sexual harassment complaints lodged against its workers. Nor are managers required to report such claims to the city's Personnel Department.
With dozens of different departments and a fragmented reporting system, two members of the Los Angeles City Council want to examine the city's process for reporting abusive and inappropriate behavior.
Council members Paul Krekorian and Nury Martinez have suggested that the city create a phone hotline and website for city employees and the public to use to make sexual harassment complaints against city workers.
The politicians also want a city report detailing the number of sexual harassment claims filed against city employees over the last five years.
"No one should ever feel uncomfortable coming forward," Martinez said in an interview earlier this month. "If we need to fix that process, then we need to do that."
The lawmakers' motion comes as women and men in a wide range of industries have come forward with stories of workplace sexual harassment in recent months.
About 300 claims of sexual harassment were filed with the city's Personnel Department in the last 15 years, according to the city, but that is not a full picture.
That figure doesn't reflect complaints filed through other city administrative channels.
For instance, a worker may choose to file a claim with his or her department's human resources section rather than the Personnel Department. Or they can go right to a supervisor, who may confront a perpetrator and deal with the complaint directly.
Meanwhile, there's no current city policy requiring a manager to report a harassment claim in his or her department to the Personnel Department, said Bruce Whidden, the department's public information officer.
Equal Rights Advocates, a San Francisco-based nonprofit organization focused on women's rights, recommends having a centralized place to file complaints, said Jessica Stender, senior staff attorney.
"The idea is to have some type of tracking system in place to keep all the files and documentation," Stender said.
Asked about the city's approach, Mayor Eric Garcetti said his office is taking steps to improve the reporting process. After news outlets published stories about Hollywood film producer Harvey Weinstein's alleged abuse of women, Garcetti asked his staff to review the city's harassment policies, he said.
"Sexual misconduct has no place in our society, and I am committed to making sure City Hall is a place where every employee feels safe and supported," Garcetti said.
This isn't the first time city leaders have sought to overhaul the city's sexual harassment policies.
Martinez and City Council President Herb Wesson in 2013 proposed conducting sexual harassment training for all employees, not just managers, and suggested that training should be done in person, rather than the two-hour online sessions now required.
The city currently requires roughly 10,000 managers and supervisors to take the online training.
However, the council members' 2013 proposal never went forward because Personnel Department officials said in-person training would be too time consuming.
Martinez said this month that she is satisfied with the city's current training system.
To date, Los Angeles City Hall has not been rocked with the type of accusations lodged at the state Capitol, where hundreds of women signed a letter last month calling out a "pervasive" culture of sexual harassment and mistreatment.
Assemblyman Raul Bocanegra (D-Pacoima) announced his resignation effective Monday after The Times published a story in which he was accused by six women of unwanted sexual advances or inappropriate behavior.
Bocanegra originally planned to step down next year in the wake of The Times report, but accelerated that timeline to help those who have been "truly victims of sexual assaults and workplace harassment," he said in a statement Monday.
Martinez, whose husband works for Bocanegra, was one of those who called on the assemblyman to resign immediately.
The harassment allegations leveled in the media, entertainment and political worlds, and other industries, give the city an "opportunity" to look at its own policies, Wesson said in an interview last week.
"We want to make sure that anyone who has been harassed feels comfortable and can make a complaint," Wesson said.
Twitter: @dakotacdsmith
---
UPDATES:
2:45 p.m.: This article was updated to reflect Raul Bocanegra's resignation from the Assembly.
This article was originally published at 6 a.m. on Nov. 26.
---
The stories shaping California
Get up to speed with our Essential California newsletter, sent six days a week.
You may occasionally receive promotional content from the Los Angeles Times.