Harvey Milk stamp draws crowds, brisk sales in San Francisco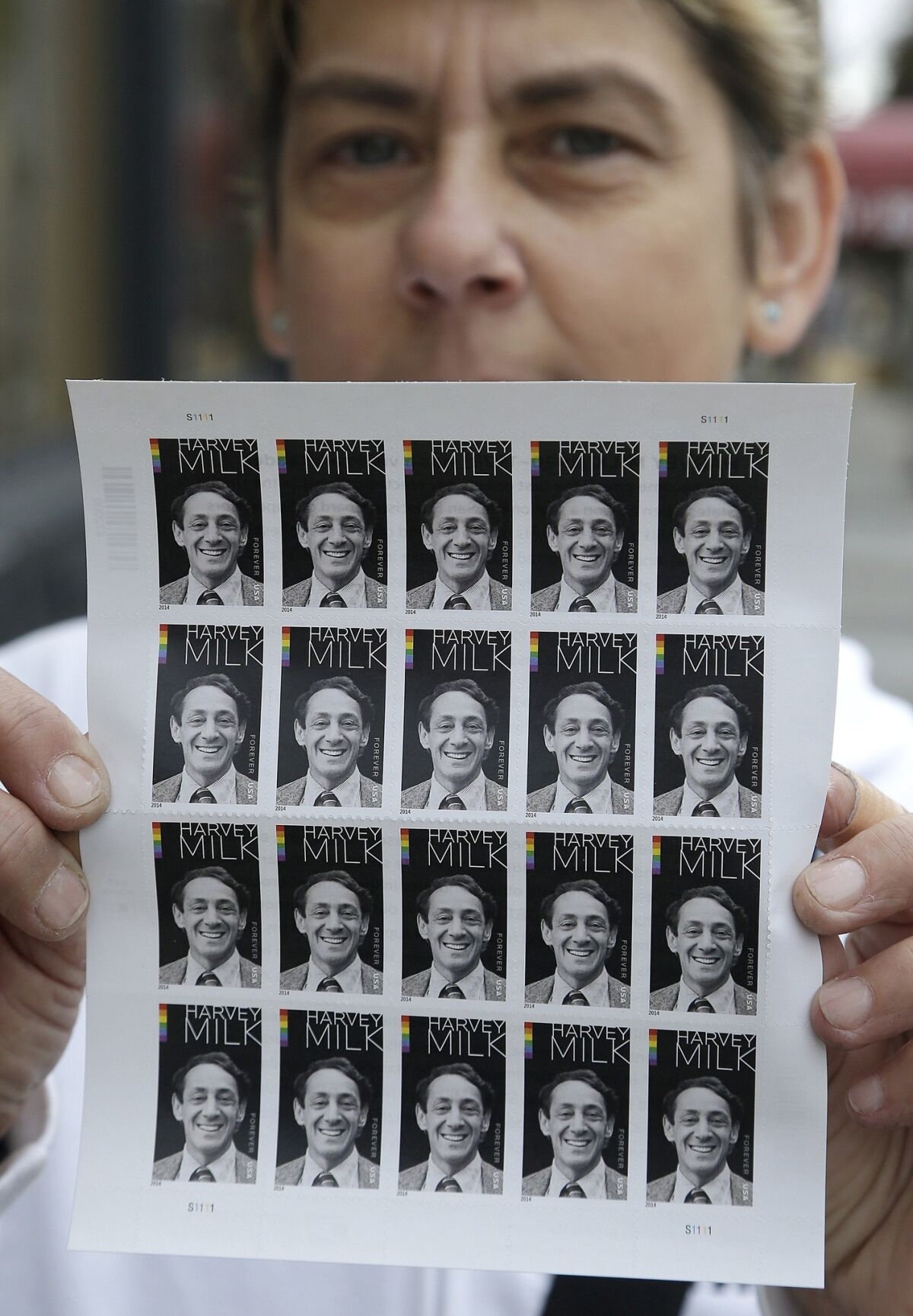 Crowds lined up outside the Castro post office in San Francisco on Thursday to be among the first to purchase a new U.S. postage stamp commemorating slain gay-rights activist Harvey Milk.
The new "forever" stamp was unveiled on what would have been Milk's 84th birthday. The stamp bears an iconic image of Milk taken in 1977 in front of his Castro Street Camera shop in San Francisco.
In San Diego on Thursday, groups also marched along Harvey Milk Street, which was renamed last year, in celebration of his birthday.
In California, where May 22 is Harvey Milk Day, the stamps were "selling briskly," a post office spokesman told the San Francisco Chronicle.
Stuart Milk, cofounder of the Harvey Milk Foundation and Harvey's nephew, called the stamp a representation of his uncle's efforts to encourage everyone to be authentic to themselves.
"Uncle Harvey didn't set out to have a postage stamp named for him," he said at a White House unveiling ceremony. "In fact he did not set out be a martyr, yet at some point, he knew he had to be a first -- a first to call on all to come out, a first to be so loud and proud and authentic."
Milk became one of the first openly gay public officials in the U.S. after winning a seat on the San Francisco Board of Supervisors in 1977.
But he is best known as a beloved champion of equal rights for the gay community in San Francisco and across the nation.
His political ambitions, however, were cut short when he and then-Mayor George Moscone were assassinated on Nov. 27, 1978, in San Francisco City Hall by former Supervisor Dan White.
A dedication ceremony commemorating the launch of the new stamp will be held at 3:30 p.m. Wednesday at San Francisco City Hall.
The stamp is available for purchase online.
---
The stories shaping California
Get up to speed with our Essential California newsletter, sent six days a week.
You may occasionally receive promotional content from the Los Angeles Times.