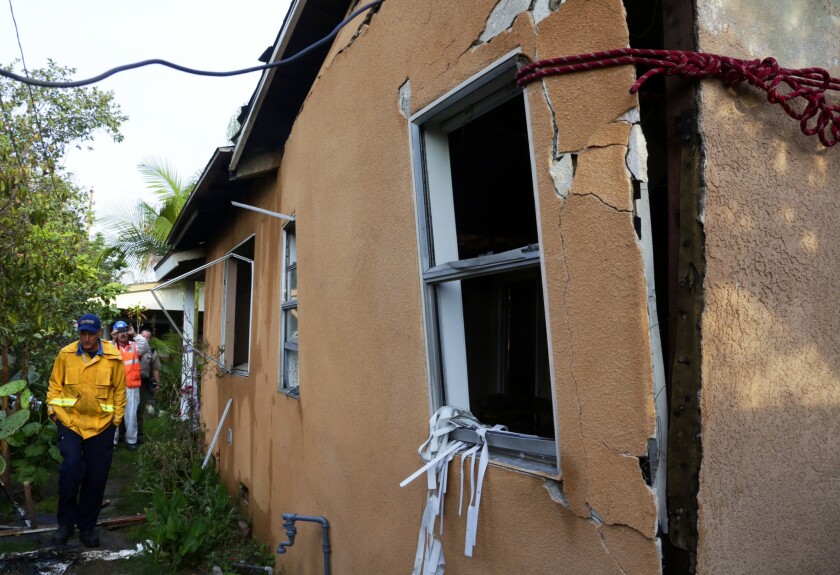 Two men suffered burn-related injuries in a suspected hash oil explosion in the city of Commerce, authorities said.
Firefighters and Los Angeles County Sheriff's deputies responded around 8:10 p.m. to the 2300 block of Ayers Avenue regarding a call of a tree or transformer on fire, but when they arrived, they discovered that a home was ablaze.
The extent of the burn injuries suffered by the two men -- ages 18 and 21 -- were not immediately known.
Arson investigators determined that the men -- who were not immediately identified -- had allegedly been operating a "butane honey oil extraction laboratory," in which marijuana is turned into "hash oil" or "honey oil."
One of several butane bottles located inside the home may have exploded and caused the fire, authorities said.
"Butane honey oil," also called "wax," has been a growing trend in the marijuana market. Dabs of it can be vaporized and inhaled without the smoke and pungent odor of weed, an act called "dabbing." The method produces a stronger high even among those who have strong tolerance to cannabis.
The widespread popularity of the waxy substance has led many to attempt the extraction method, often resulting in injuries.
In January, several apartment units in El Cajon were damaged after a hash oil explosion. Two men who were allegedly operating the "hash oil" laboratory were severely burned in the incident.
In April, a 22-year-old man suffered second- and third-degree burns on his face and hands when an explosion tore through his home in Cottonwood.
Shasta County authorities told the Los Angeles Times the man was allegedly using butane to extract oil from marijuana leaves. At the time, it was the third explosion for the county in the last calendar year.
Authorities said the city of Commerce hash oil explosion caused about $300,000 in damage to the single-story home.
Narcotics-related charges are pending for the two men who remain hospitalized, the sheriff's department said.
An investigation into the alleged drug lab remained ongoing.
Twitter: @latvives
---