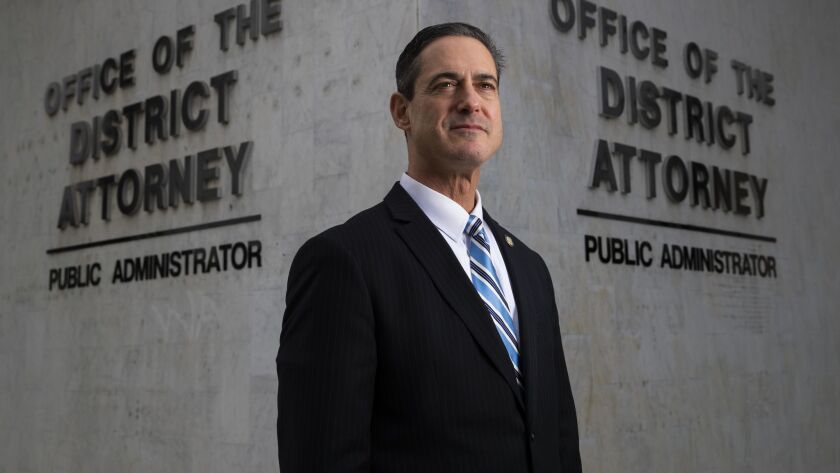 A transient convicted of a hate crime accepted a plea deal Monday from an Orange County judge, over the objections of Dist. Atty. Todd Spitzer, and was sentenced to five years in prison for preying on a pregnant black woman at a bus stop while spewing racial epithets.
A previous two-year prison offer from Orange County Superior Court Judge Roger Robbins was also decried by Spitzer, prompting the revised plea bargain that was accepted by Tyson Theodore Mayfield.
Spitzer labeled Mayfield a "dangerous person," adding: "There is no question he is a racist." He noted the 43-year-old defendant has tattoos depicting a swastika and SS lightning bolts.
"Is a five-year sentence going to protect society against someone so evil?" Spitzer asked.
The victim also objected to the deal, telling the judge, "I had to literally run for my life when I was eight months' pregnant. I was protecting myself and my unborn child. I feel like he should be in prison for much longer. Five years is not enough."
The victim was sitting at a bus stop in Fullerton on Sept. 17, waiting for her boyfriend to give her a ride, when she overheard Mayfield telling two other men that he "hates blacks … like [the victim]," according to a brief filed by prosecutors.
Mayfield said he "gets his kicks off by hurting black pregnant women," and told the men, "Would you want to watch me go over there to see if I can make her drop her baby?" before yelling racial epithets at the victim, according to prosecutors, They said the woman was "so terrified for her and her baby's safety" that she tried to defend herself with pepper spray.
Mayfield then grabbed her backpack and left with it, prosecutors said. The woman called police, but officers initially could not find the man.
As the woman continued waiting for her ride, Mayfield returned and again threatened and hollered racial slurs at her, according to prosecutors. The victim ran into a nearby cafe and called police, who arrived and arrested Mayfield.
The defendant pleaded guilty to violation of civil rights and criminal threats, both felonies, with a sentencing enhancement for a hate crime. He also pleaded guilty to misdemeanor petty theft.
Mayfield's attorney, Paul Rogers, said, "The great thing about living here in our country is we have certain liberties to express ourselves to a certain degree how we want. No matter how unpleasant we might think some peoples' views are, racism isn't a crime. Unfortunately, some people get confused by that. I love this country and our Constitution and I'm glad to fight for its protections and to live under the freedoms it provides."
Had Mayfield gone to trial and been convicted as charged, he would have faced 38 years to life in prison.
Robbins struck prior convictions for the purposes of sentencing to get to the lower prison term.
Mayfield pleaded guilty in October 2017 to a hate crime, also based on a victim's race. He was sentenced to a year in jail and was given credit for 194 days in custody by Orange County Superior Court Judge Kazuharu Makino, who offered the plea deal, according to court records.
In that case, he attacked a man of Filipino and Turkish descent at a Stater Bros. market in Fullerton. Mayfield asked the victim for a lighter and when the man said he didn't smoke, Mayfield "suddenly punched him in the forehead" and called the victim a racial epithet, prosecutors said.
Mayfield was previously convicted of stabbing another man in the face in an unprovoked attack in Orange near a liquor store in 2005. He was sentenced to two years in prison for that attack.
On Sept. 26, 2006, Mayfield asked a woman for spare change at a gas station and when she said she didn't have any, he responded with racist comments, prosecutors said. When he asked her boyfriend for spare change and he refused, Mayfield punched him several times, prosecutors said.
Mayfield was also convicted of mayhem in 2008 and sentenced to four years in prison; of assault with a deadly weapon in 2005 and sentenced to a two-year term; and of battery against a police officer in 2003. He has 13 misdemeanor convictions dating from 1997 to 2017, prosecutors said.
---