Hollywood earthquake is third in 10 days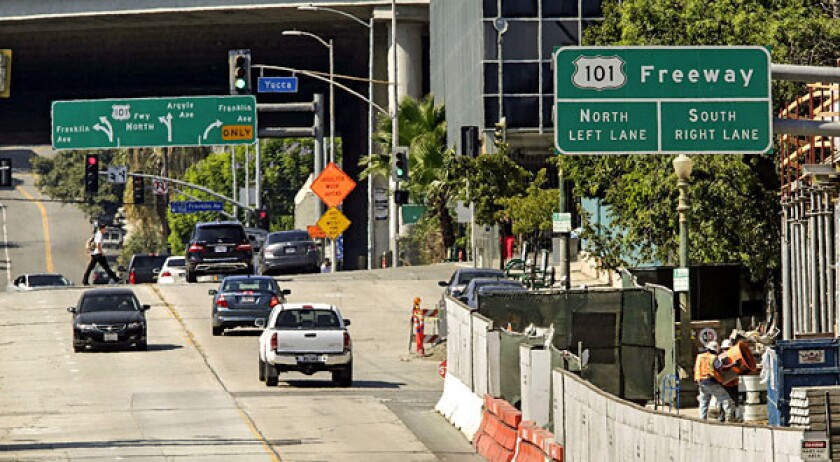 A shallow magnitude 3.0 earthquake that was centered near Hollywood and shook parts of the Los Angeles basin Saturday morning was the third temblor to hit the area in the last two weeks.
The latest quake occurred at 10:13 a.m. at a depth of 5.0 miles and was felt from the Westside to East L.A., said Anthony Guarino, a seismologist at Caltech.
According to the U.S. Geological Survey, the epicenter was near the intersection of Melrose and Virgil avenues, on the eastern edge of Hollywood. It was the third magnitude 3.0 or greater quake to hit that area in the last 10 days.
"It's pretty standard for L.A.," Guarino said. "There are a lot of different faults there."
Clusters of small quakes are common in the Los Angeles basin, and generally don't signify that the "big one" is coming, Guarino said. Every earthquake has a one in five chance of being a foreshock for a larger quake, he added. The odds of that decline quickly as time goes by.
The region remains overdue for a massive quake. The southern section of the San Andreas Fault, which starts near the Salton Sea and runs north to Palmdale, has historically caused a large earthquake every 150 years on average. It has not ruptured since 1680.
"There is a very high probability that it will rupture in our lifetime or our children's lifetime," Guarino said.
"We use these small quakes as a reminder: You need to be prepared with a week's worth of food and water and have a plan of action," he said. "Don't run outside, don't get in the doorway. Drop, cover and hold on to something."
ALSO:
Man shot to death while walking his wife to church

Man who killed USC students from China avoids death penalty
After CHP officer handcuffs firefighter at crash scene, chiefs meet
jason.felch@latimes.com
---
The stories shaping California
Get up to speed with our Essential California newsletter, sent six days a week.
You may occasionally receive promotional content from the Los Angeles Times.