Homeless camp sweep in downtown Los Angeles is one of several in recent weeks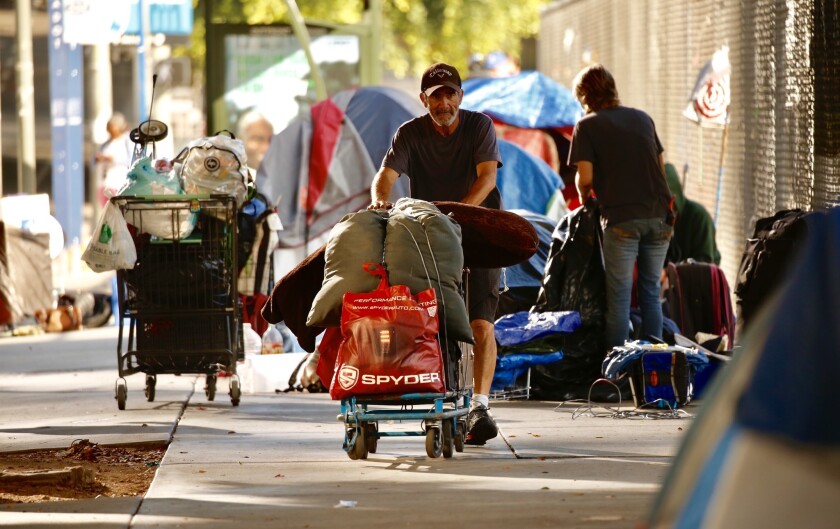 The cleanup of a large homeless encampment in downtown Los Angeles got underway Monday morning after people living on the street were notified to remove all personal belongings, according to a flier posted by the Los Angeles city sanitation department.
The sanitation sweep around City Hall began at 8 a.m. Notices were posted on light poles across the street from the homeless encampment and around City Hall.
The area includes a block on 1st Street between Broadway and Spring Street, where at least 15 tents have been put up by homeless people occupying the sidewalk in front of a fenced-in empty lot next to a portion of Grand Park used for parking during scheduled events.
The flier indicated a "major cleaning" would take place that includes sidewalks, alleys, parks, beaches, parking lots and other public access areas.
A spokeswoman for the city Department of Public Works said Monday's cleanup was not unusual. Notices announcing the sweeps are regularly posted by the Sanitation Department around the city.
"It's a normal cleanup. Nothing new about it," said Jose "Pepe" Garcia, an assistant general manager in the sanitation bureau. "It's not the first time we've cleaned it."
Garcia said the sweep was unrelated to the upcoming Fourth of July festivities at Grand Park, noting that the site was already scheduled to be cleaned. He estimated that at least 20 such cleanups were occurring across Los Angeles on Monday — the same as on any other day, he said.
Those living in the area were directed to "remove all personal belongings, including bulky items by 8 a.m." Otherwise, "all property remaining will be removed by the city. Property left behind, except for items that pose an immediate threat to public health or safety, trash and evidence of a crime or contraband, will be collected by the city and kept in a secure location for a period of 90 days."
Anyone whose property was collected can call (213) 806-6355 to retrieve items. Property will be held at 507 Towne Ave., the Sanitation Department noted.
Times staff writer Emily Alpert Reyes contributed to this report.
---
The stories shaping California
Get up to speed with our Essential California newsletter, sent six days a week.
You may occasionally receive promotional content from the Los Angeles Times.