L.A. sees another sharp rise in homelessness and outdoor tents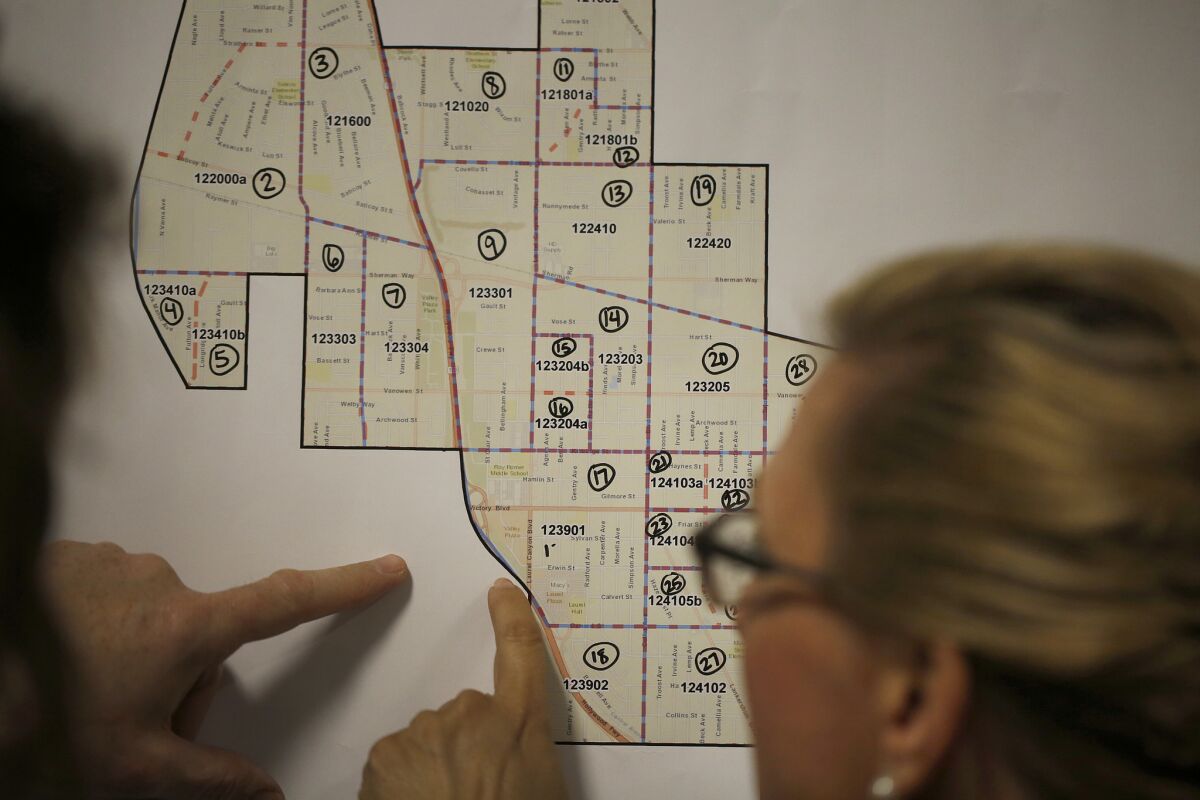 Homelessness increased in the last year in the city and county of Los Angeles, leaving nearly 47,000 people in the streets and shelters despite an intensive federal push that slashed the ranks of homeless veterans by nearly a third, according to figures released Wednesday by the Los Angeles Homeless Services Authority.
Nearly two-thirds of the homeless people tallied countywide, or 28,000, were in the city of Los Angeles, representing an 11% jump in January from a year earlier, a report from the agency stated. The county's homeless population grew 5.7%.
Homelessness has increased steadily since 2013, as local officials struggle to identify funding for billion-dollar plans they approved this year to solve one of the region's most intractable problems.
The number of homeless women across most of the county — Long Beach, Glendale and Pasadena are counted separately — has jumped 55% since 2013, to 14,461 from 9,348.
In that same area, the most visible form of homelessness — tents, shantytowns and vehicles with people living in them — climbed 20%, on top of an 85% jump in 2015.
"I've been predicting the problem was going to get worse before it got better," City Councilman Mike Bonin said.
Mayor Eric Garcetti and Peter Lynn, the homeless authority's executive director, suggested that most of the increase was driven by a more accurate tally — 2,388 — of homeless people younger than 25. Young, single homeless people were not as intensely counted in previous years.
"We did see an increase, but it was not as marked as the 11% would illustrate," Lynn said at a news conference. Garcetti said the increase in the city total was about 3% when the youth count was factored in.
Philip Mangano, who served as homelessness policy czar for President George W. Bush, said he doubted changes in methodology "had much to do with it."
Noting that Pasadena reported a 16% decrease in its 2016 homeless count, Mangano said it may be time to replace the Los Angeles Homeless Services Authority, a joint city-county agency, with local community oversight "that can muster the local political will to get things done."
Garcetti called the increase in the "unsheltered" population — homeless people living outdoors in tents, shanties, cars and RVs — particularly worrisome.
However, the mayor also said the sharp decrease in veterans living on the street showed that the crisis can be solved when adequate resources are brought to bear. He said he hopes to expand that success beyond veterans to the general homeless population with new funding from the county and city.
The mayor's proposed budget earmarks $138 million for services as a down payment on a $1.87-billion homeless housing construction drive spelled out in the plan the city adopted this year. The homeless authority received federal aid totaling a record $99 million this week.
"We can bring these numbers down," Garcetti said. "This could be the year that we begin to turn the tide."
The county has budgeted $150 million for homeless programs, but county Supervisor Sheila Kuehl said, "If people think L.A. city or L.A. County can solve this, when all the economic forces are forcing people out of their houses, then think again."
Critics said the city had ignored the severe housing shortage, as rents have soared and widespread gentrification has driven low-income people from their homes.
"The housing crisis for the very poor has only intensified, and the city has done nothing to address it," said retired UCLA law professor Gary Blasi, who has studied homelessness for decades.
"Clearly, the city and county are reaping the results of ignoring this crisis for two decades," said Mark Ryavec, president of Venice Stakeholders Assn.
On the positive side, the number of homeless family members dropped 19% countywide in the last year, from 8,103 to 6,611, the report said.
The number of homeless veterans in L.A. County, which has long had the highest concentration in the nation, dropped to 3,071 in 2016 from 4,362 in 2015, after an infusion of hundreds of millions of dollars in housing and other aid from the U.S. Departments of Veterans Affairs and Housing and Urban Development.
After a landmark legal settlement over the VA's treatment of homeless veterans, VA Secretary Robert A. McDonald personally directed the drive, making repeat visits to L.A., replacing the agency's local leadership and distributing hundreds of rent vouchers and $30 million in housing subsidies and other aid to families.
More than 3,800 homeless veterans were housed in 2015, and 8,400 since January 2014, officials said.
"A lot of credit goes to Secretary McDonald," Mangano said. "I know he spent the political chits with Congress and with the administration to make sure L.A. had the resources."
But 3,538 veterans countywide are still without permanent housing, the homeless authority reported.
"Here in L.A. the job is getting housing," said Vince Kane, special advisor to McDonald.
Garcetti, who pledged during an appearance with First Lady Michelle Obama in 2014 to house every veteran in the city by the end of 2015, pushed his goal back to this summer when the city's veteran homelessness rose last year. He said he now estimates that all homeless veterans in the city will be off the street by the end of the year.
Blasi blasted the county for refusing to raise the monthly general relief grant, which is $221 and hasn't changed since 1984.
The Economic Roundtable, in a 10-year study of county residents on public assistance released this year, said that 13,000 people fall into homelessness every month.
The homeless tally is based on a street count conducted over three days in January by 7,500 volunteers, plus shelter data, survey results and demographic extrapolation and analysis. It is considered a benchmark to gauge year-to-year progress and assess needs and allocate resources rather than a strict census.
Times Knight-Mozilla fellow Christine Zhang and staff writer Abby Sewell contributed to this report.
Twitter: @geholland
ALSO
California's 'perfect' surfing wave comes from a machine on a patch of old farmland
A Santa Barbara 'safe parking' program for homeless people may be coming to L.A.
Terrifying video shows skateboarder 'bomb' one of L.A.'s steepest streets
The stories shaping California
Get up to speed with our Essential California newsletter, sent six days a week.
You may occasionally receive promotional content from the Los Angeles Times.