L.A. expands cleanup teams for homeless encampments, vowing to be 'less reactive'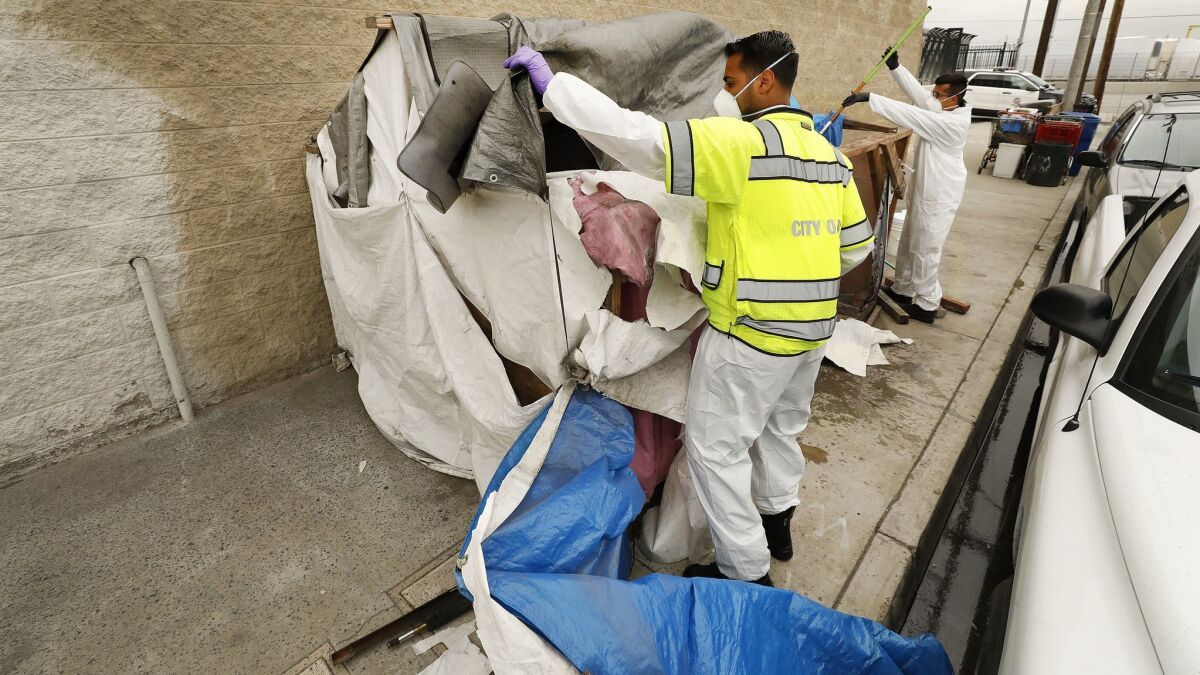 The Los Angeles City Council voted unanimously Friday to revamp the way the city cleans up trash and filth around homeless encampments, approving a recently unveiled plan to reorganize and expand its cleanup teams.
Mayor Eric Garcetti has heralded the new system as a move away from a "reactive, case-by-case, complaint-driven model" that would bring more consistent attention to neighborhoods and more sensitive outreach to Angelenos living on the streets. Cleanup teams will be assigned by regions, allowing them to build trust with people in the same encampments over time.
"Instead of treating encampments as a trash problem, we are treating tens of thousands of people living in encampments as a public health crisis," Councilman Mike Bonin said at a news conference last week alongside Garcetti and other council members.
To roll out the new plan, L.A. sanitation officials asked the council to approve 47 new positions as well as money for additional equipment, supplies and administrative costs — all of which will cost more than $6 million. The city also is allocating more than $700,000 for overtime for existing cleanup crews. The money is to be formally allocated by the council in July, after the new budget year begins.
The move comes as Garcetti and other L.A. politicians have been under pressure to address foul conditions on city streets, from both illegal dumping and the homelessness crisis. A seemingly Sisyphean cycle of cleanups, with the same spots becoming dirty again and again, spurred calls for change from officials inside City Hall and from residents and activists outside it.
Garcetti said last week that the changes had been in the works for four or five months. But the planned overhaul, first vetted by council members at a committee meeting last week, went up for a City Council vote much quicker than is typical at City Hall, where complex or controversial proposals can take months or even years to win approval.
Local activists had initially celebrated the new plan as the result of longtime advocacy by the Los Angeles Community Action Network and others in the Services Not Sweeps coalition. Those groups had called on Garcetti to overhaul cleanups and stop the "criminalization, harassment and removal of [unhoused] people and their belongings."
Many of the ideas that are part of the plan for "CARE Teams" — including putting out more trash bins and mobile restrooms, and working together with homeless people on cleanups — were championed by those groups.
But those same activists protested the plan Thursday after learning that police officers would continue to be involved in cleanups. Pete White, executive director of the Los Angeles Community Action Network, said the overhaul sounded good on paper, but that and other flaws made it "more like lipstick on a pig rather than a good plan."
At a hearing earlier this week, city sanitation chief Enrique Zaldivar said police officers would take part in sweeps in a "background" role and not be directly involved in outreach to homeless people, stating that "it's extremely important that we recalibrate our presence in the field with LAPD."
"But to say that … workers don't need some level of protection? I'm not prepared to say that," Zaldivar said, adding that workers had been threatened and even assaulted at cleanups.
Jane Nguyen, a member of the homeless outreach and advocacy group Ktown for All, argued that ending the police presence at cleanups would have been an important step toward changing the hostile relationship between the city and its homeless population.
Having police on the teams undermines trust with all of the authorities who are there for cleanups, she said, because homeless people end up losing valuable possessions — in one case, the ashes of a parent, she told council members. At a recent hearing, Nguyen said that even though she stands less than 5 feet tall, she had never felt threatened or scared at encampments.
"Because I'm not there to violate people's rights," she said.
Although the city Sanitation Bureau confirmed Thursday that the Los Angeles Police Department would continue to be a part of encampment cleanups, Garcetti spokesman Alex Comisar said that the mayor's office was still evaluating what role the LAPD would play and that "no decision has been made."
At the Friday meeting, Bonin submitted a motion asking the Sanitation Bureau to report back with "clear and transparent plans for police deployment" on the cleanup teams and to explain why it believes officers should continue to be involved, saying that the extent of police involvement had become a "moving target" since the overhaul was announced.
The Services Not Sweeps coalition also had called on the city to stop using complaints to drive cleanups. City officials said cleanups would be regularly scheduled to ensure more predictable and consistent service, but complaints from residents and business owners submitted through L.A.'s 311 system would still be a factor in deciding that schedule.
Also on Friday, council members voted to ask sanitation officials to reexamine how L.A. detects and stops illegal dumping. Zaldivar estimated at a recent meeting that 80% of the tonnage cleaned up by sanitation teams comes from scofflaws dumping trash on city streets rather than from homeless people in encampments.
Twitter: @AlpertReyes
The stories shaping California
Get up to speed with our Essential California newsletter, sent six days a week.
You may occasionally receive promotional content from the Los Angeles Times.