L.A. must fix its process of clearing homeless camps, activists say — without LAPD's help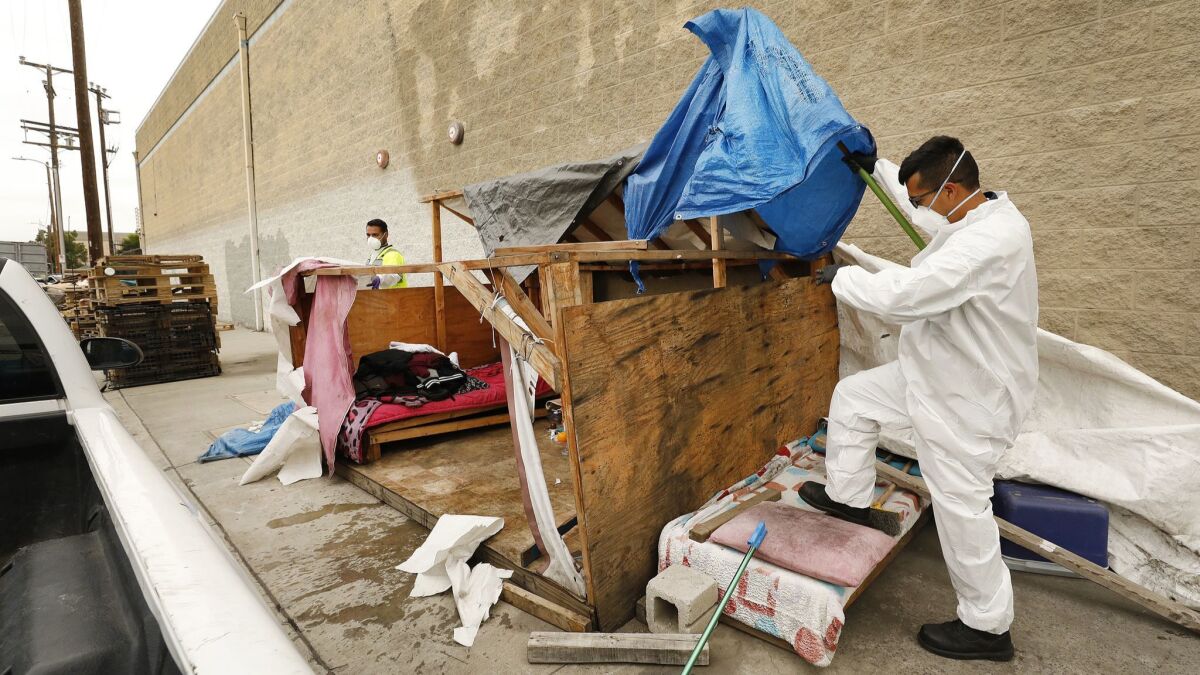 Activists registered their outrage on Thursday over a new plan that would allow Los Angeles police to continue participating in cleanups of homeless encampments.
About 20 members of the Services Not Sweeps coalition gathered near the steps of City Hall to protest the plan, even though it includes many ideas that the group has supported.
"On paper the plan looks and sounds good, but there are still a couple of core elements that exist that makes it appear more like lipstick on a pig rather than a good plan," said Pete White, executive director of the Los Angeles Community Action Network.
The L.A. City Council will vote on the plan Friday. If passed, it would reorganize and expand the city's sanitation teams to provide more consistent attention to cleaning up encampments across L.A.
The plan would place trash bins and mobile restrooms in neighborhoods that need them and create a pilot program to hire homeless people for cleanup work. Sanitation workers also would get training on mental health care and homelessness, city staffers said.
Such a system would allow the hardest-hit areas of L.A. to get regularly scheduled cleanups and hygiene services — something that activists have been pushing the city to do.
When the plan was laid out at City Hall last week, a spokesman for Mayor Eric Garcetti said officials were "still working through the details of LAPD involvement." But on Tuesday, the intended role of police in future cleanups was revealed at a council committee meeting by L.A. Sanitation Bureau chief Enrique C. Zaldivar. And on Thursday, a spokesman for the bureau confirmed that the Los Angeles Police Department would still be part of encampment cleanups.
Zaldivar said that members of city cleanup teams had been threatened and assaulted at encampments, though he didn't provide specific examples or data on how often such incidents occur.
Under the city's new system, he said, the LAPD's role would be to protect city sanitation workers and outreach workers from the Los Angeles Homeless Services Authority — the latter of whom are the first point of contact with homeless people for cleanups.
"It's extremely important that we recalibrate our presence in the field with LAPD. But to say that … workers don't need some level of protection? I'm not prepared to say that," Zaldivar said.
Activists questioned the need for such protection and argued that the presence of police has often had a coercive effect.
Jane Nguyen, from Services Not Sweeps, said that cleanups occur during the day and that police officers undermine trust between the unhoused and all of the authorities present, including outreach workers. That's because sweeps often lead to homeless people losing their possessions among other problems.
"We have to stop the adverse relationship between the city and the homeless population, and it starts with removing LAPD from encampments and cleanups," Nguyen said.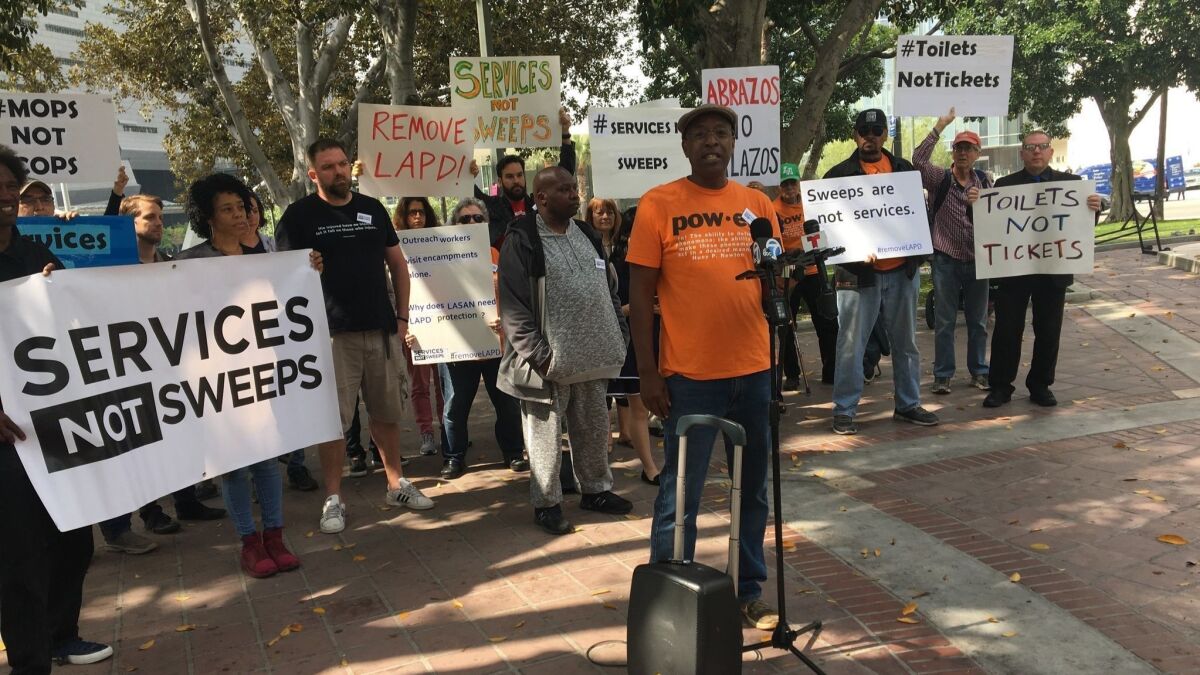 Activists also are frustrated that the city's plan still includes the use of the 311 hotline as a way for residents and business owners to complain about homeless encampments, prompting cleanups. City officials have said that, under the new plan, cleanups would be conducted on a predetermined schedule to ensure more predictable and consistent service, but 311 complaints would still be a factor in those decisions.
A recent Times analysis found that, between 2016 and 2018, requests to 311 to clear homeless encampments increased 167% and continued to rise this spring. The question of how L.A. should handle cleanups has only grown more pressing as the number of people on the streets has surged, rising 16% citywide this year.
The increase has led to a barrage of criticism of Garcetti. He recently released a letter to constituents in response, describing the progress that's been made and what the city needs to do going forward to improve the conditions on the street.
The proposed change in encampment cleanups is part of that effort. In a recent interview, though, he said he wasn't solely to blame for the challenges L.A. faces, criticizing the state and federal governments for not investing enough in housing.
"Taking responsibility and being responsible are two different things," Garcetti said in an interview with KCRW.
Times staff writer Emily Alpert Reyes contributed to this report.
---
The stories shaping California
Get up to speed with our Essential California newsletter, sent six days a week.
You may occasionally receive promotional content from the Los Angeles Times.