L.A. lawmakers face opposition over homeless shelter plans
In a hot and packed elementary school auditorium, Venice residents swarmed around Los Angeles City Councilman Mike Bonin, peppering him with questions.
Reporters and activists strained to hear as Bonin laid out his case for setting up a temporary shelter for homeless people a few blocks away.
"Nobody wants sidewalk encampments, right?" Bonin told one woman at the event, an "open house" ringed with informational tables and placards where people could post suggestions. "If we don't provide the alternative to sidewalks, encampments will continue, encampments will increase."
Marie Hammond listened with her arms crossed. "Are you going to allow more and more people to come to Venice and camp on the streets to get into the shelter?" she asked.
"The goal is to house the people who are here," Bonin replied, "and not allow the encampments to come back in those areas."
Hammond drifted away in the crowd, unconvinced. "They'll put this in," the Venice retiree said later, "and they'll still allow people to be on the sidewalk."
Two years ago, Los Angeles voters overwhelmingly approved a $1.2-billion bond measure to pay for new housing for homeless people. Another $20 million is now being allocated to set up temporary shelters, with Mayor Eric Garcetti offering up an equal share to each council district, and $10 million more has been offered up for homeless services of all kinds.
But local lawmakers have faced resistance over where those facilities should go. City leaders are under pressure to swiftly address the squalor and misery on the streets, but the question of where to build remains politically fraught.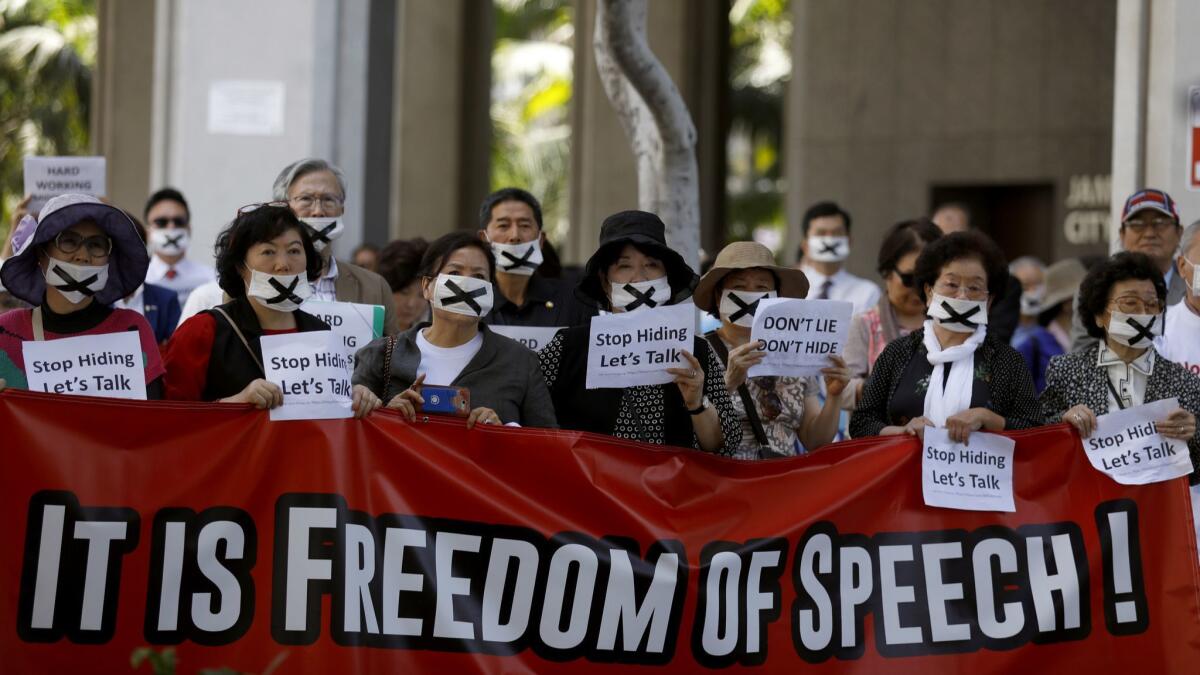 The loudest opposition has surfaced in Koreatown, where protesters have complained that Council President Herb Wesson ignored their concerns about temporarily housing dozens of people in a shelter planned near schools and businesses. Some decried the move as the latest in a long history of sidelining the Korean American community.
But concerns have bubbled up in other parts of Los Angeles as well. In Venice, critics argue that Bonin has planned a disproportionate number of homeless housing projects in their neighborhood compared with other parts of his coastal district.
In the crowded auditorium where Bonin promoted the shelter plan, several people hoisted a yellow banner that declared "Venice Says No!"
"Some of the burden needs to be taken off of the four square miles of Venice," Venice resident Brad Morrison told Kevin Ezeh, a member of the #SheDoes campaign, which advocates for providing shelter for homeless women. "I feel like everybody should be housed, but no one else is doing their fair share."
Ezeh countered that homeless people would end up in Venice anyway. "Would you rather have them in shelters or helter-skelter all over the place?" he asked Morrison.
Another Venice resident who supports the proposed shelter repeatedly tried to cover up the yellow banner, angrily shouting that the people holding it did not speak for Venice. "You are a selfish pig," Chris Teuber shouted at James Robb. "Why are you here?"
"I'm fighting for my city," replied Robb, who also lives in Venice.
Other concerns have arisen in Hollywood, Lincoln Heights and Echo Park as lawmakers float plans for both shelters and permanent units. Homeless advocates say that despite the disputes, there is broad support for building homeless housing.
The United Way of Greater Los Angeles has touted a February survey that found nearly 70% of respondents would support housing for homeless people in their own neighborhoods. Bonin said that a phone survey funded by his political committee found that nearly 66% of those reached in Venice backed the proposed shelter.
Many Angelenos challenging shelter sites say they too want to address the problem. "We have big hearts and open minds in Venice," said Christopher Wrede, a founding member of the group Fight Back, Venice! "But we don't want to be taken advantage of."
Wrede said the proposed site for the shelter in Venice — a former Metro bus yard that spans more than three acres — would put an unfair burden on the neighborhood because of its size. Venice is also the site for two proposed projects funded by the bond that could include more than 200 housing units, and was slated to have a "navigation center" where homeless people could store their belongings before that plan stalled.
"It's simply too much to ask from a single community," Wrede said, arguing that affluent areas such as Pacific Palisades and Brentwood were not doing enough.
Bonin rejected the idea that Venice was being singled out, pointing to plans to build more than 1,000 units on the Department of Veterans Affairs campus on the Westside, existing homeless housing in Del Rey, and budding plans for shelters or "safe parking" facilities in Mar Vista, Pacific Palisades and Westchester.
As for the proposed shelter, Bonin said, "I have a moral imperative to do it in Venice because that's where the biggest problem is."
The latest count by the Los Angeles Homeless Services Authority tallied more than 800 people living without shelter in Venice, totaling roughly 45% of the unsheltered population across the council district that Bonin represents.
Venice Community Housing executive director Becky Dennison lamented that there were few shelters in the neighborhood and far less homeless housing than was needed. If Venice residents feel like a lot of new plans are underway, she said, "that's because we're so far behind."
Bonin recently put out a survey asking residents about homeless encampments and where people could be sheltered nearby. Dozens of people brought up the former bus lot in Venice, survey responses show.
"It's a no-brainer," said Alan Pick, a Venice resident supporting the plan. "It's large. It's an enclosed space. And it's near where there are a lot of homeless encampments."
But scores of other respondents balked at the idea of putting shelters anywhere near the existing encampments. "So you stake your claim to a random street, and because you do so you're now entitled to shelter near that place?" one Venice respondent wrote. "This makes no sense."
Many others suggested that shelters should be erected elsewhere, including downtown, in the Inland Empire, or as far as Bakersfield, or offered up "Mike Bonin's backyard."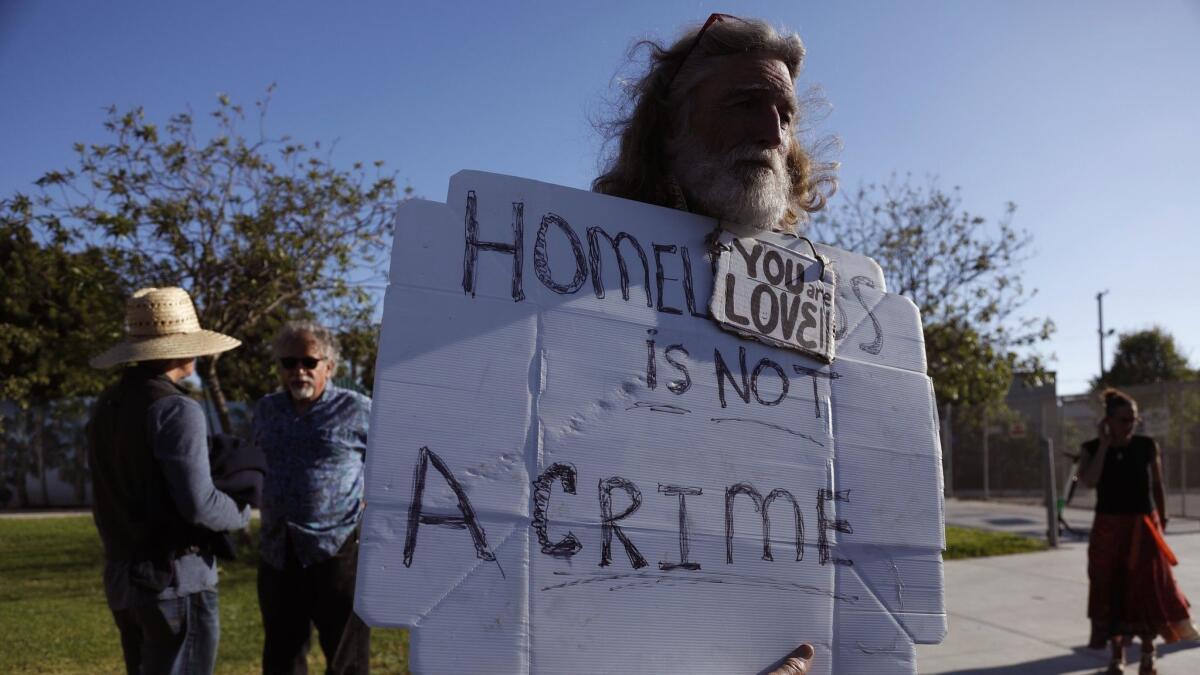 Garcetti has pledged that any community that welcomes a shelter will also get more cleanups and police patrols, but many residents remain worried about how they will affect surrounding neighborhoods. The Venice bus yard, which could shelter 100 people or more, is overlooked by beachy cottages and sleek condos adorned with surfboards and succulents.
"I have a lot of unanswered questions," said Jeremy Burdick, whose home sits next to the fenced lot, as he strolled past in sandals with his dog Wally.
Among them: Would the temporary shelter really end up being temporary? Was the city budgeting too little to run it effectively? How could the city promise to eliminate encampments if there were hundreds more people on the streets than the new shelter could hold?
"I don't know what the solutions are," said Burdick, who opposes the plan. "A lot of people feel like this is a political gambit for Garcetti and Bonin."
Another group, the Venice Stakeholders Assn., sent Bonin a letter arguing that the shelter plan must be vetted with an environmental impact report and get a coastal development permit. Garcetti has called on city departments to streamline the review process for such shelters.
Bonin has also faced other critics who charge that the shelter plan will lead to more criminalization of homeless people, arguing that only a fraction will get shelter and the rest will face a crackdown.
As the morning sun warmed the Venice boardwalk on Friday, David Waller sat in a folding chair, watching beachgoers drift past. He had been living along the beach for four months, he said, after the $850-a-month rent sharing a Mid-City house became too much for him to handle on a Social Security check. The beach, he said, gave him a sense of peace.
"This, to me, is the end of the world," he said, gesturing at the Pacific. "You can't go any further than that big ocean out there."
He had been to a shelter once but hated it. "Overpacked. Smells bad. Food is terrible — if you can get food," he said. "So I stayed away."
Waller was leery of the idea of going to the Sunset Avenue lot with scores of other people. Maybe it could work, he said tepidly.
"But if you clear out those encampments, where do you send them?" Waller asked. "Those shelters are a drop in the bucket."
Twitter: @AlpertReyes
Sign up for Essential California for news, features and recommendations from the L.A. Times and beyond in your inbox six days a week.
You may occasionally receive promotional content from the Los Angeles Times.