Amid booing, Koreatown shelter plan moves forward at City Hall
At a raucous hearing at City Hall punctuated with shouting from the crowd, Los Angeles lawmakers pressed forward Tuesday with plans to shelter dozens of homeless people at a Koreatown parking lot.
The Koreatown plan, announced by city leaders earlier this month, spurred residents and business owners to sign petitions and hold rallies demanding the city choose another site. At a council committee meeting Tuesday, opponents of the plan argued that their concerns about putting temporary housing for homeless people near schools and businesses had been ignored.
"Shame on you — all of you," said Sharon Joung, a member of the Wilshire Community Coalition, to applause from the crowd. "You should have known better. … You have discriminated and marginalized this community because you thought it's just Koreatown. Well, you made a big mistake."
During the heated meeting, boos and shouting sometimes drowned out the people speaking. When Yongho Kim from the Korean Resource Center said he backed the shelter plan and was disappointed by the community's response, opponents yelled back, "We are disappointed by you!" and "Get out!"
Tuesday's decision is not the final step in the process: Members of the council committee focused on homelessness asked city staffers to put together a report assessing the possible use of the Vermont Avenue site for temporary housing, the next step toward rolling out the plan. The proposal next goes to the entire council for review.
During the hearing, council members stressed the need for emergency shelter in the city. City Councilman Mike Bonin, who represents coastal neighborhoods including Venice, called the shelter plan "nothing short than a matter of life and death." Councilman Marqueece Harris-Dawson, who heads the committee, likened the move to pulling over to make way for an ambulance.
"It is inconvenient. And it is not ideal. But it is the human thing to do — and, I would suggest, the American thing to do," Harris-Dawson concluded.
The meeting came days after council President Herb Wesson, who represents the area near the Vermont Avenue site, convened a rally outside City Hall calling on Angelenos to back temporary housing for homeless people.
Sheltering homeless people at the parking lot near Wilshire Boulevard and Vermont Avenue was announced as part of a $20-million citywide program backed by Mayor Eric Garcetti to provide temporary accommodations for homeless people.
Garcetti wants temporary housing in every council district, providing immediate shelter while new, permanent homeless housing funded by a $1.2-billion bond is under construction.
Committee members also voted Tuesday to evaluate other city properties as possible sites for temporary shelters in West Los Angeles, Hollywood and South Los Angeles, and to assess whether a pair of Echo Park properties could be turned into permanent housing for homeless people.
So far, those plans have not sparked the same level of public furor as the Koreatown plan, although some parents whose children go to school near the proposed site in Hollywood showed up Tuesday to object that there had been inadequate community outreach and review of that proposal.
Garcetti told reporters Monday that in L.A. neighborhoods, the options are to "keep people who are already there on the streets in a terrible situation where they themselves are harming themselves, harming others sometimes … or doing something about it. And to me, that's a pretty easy decision: We have to do something about it."
Wesson and other city leaders have defended the selection of the Koreatown site, arguing that the neighborhood was chosen because it sorely needs shelter beds. Backers of the plan, including some Koreatown residents, said Tuesday that the proposed shelter would help homeless people already living on Koreatown streets.
Koreatown resident Nare Park told lawmakers and the crowd that as people bed down next to the proposed site, "it's infinitely safer to offer housing, even if it's temporary emergency housing." Park added that she supported "community processes" for vetting the shelter plan, "but people are also using this process as a delay tactic in the hopes that there will be no shelter."
Boos broke out from the crowd. As Park returned to the audience after speaking, one of the opponents told her, "Shame on you!"
Several opponents countered that they wanted to help homeless people but that the Vermont Avenue site was inappropriately close to schools and businesses and had been chosen without a transparent process or community input. One woman invoked the riots that rocked the city in 1992, saying that the same neighborhood had been left undefended by police during the unrest.
"If you don't see a pattern here, or if you don't see injustice here, I think you are blind," said Suejung Huh, a downtown resident.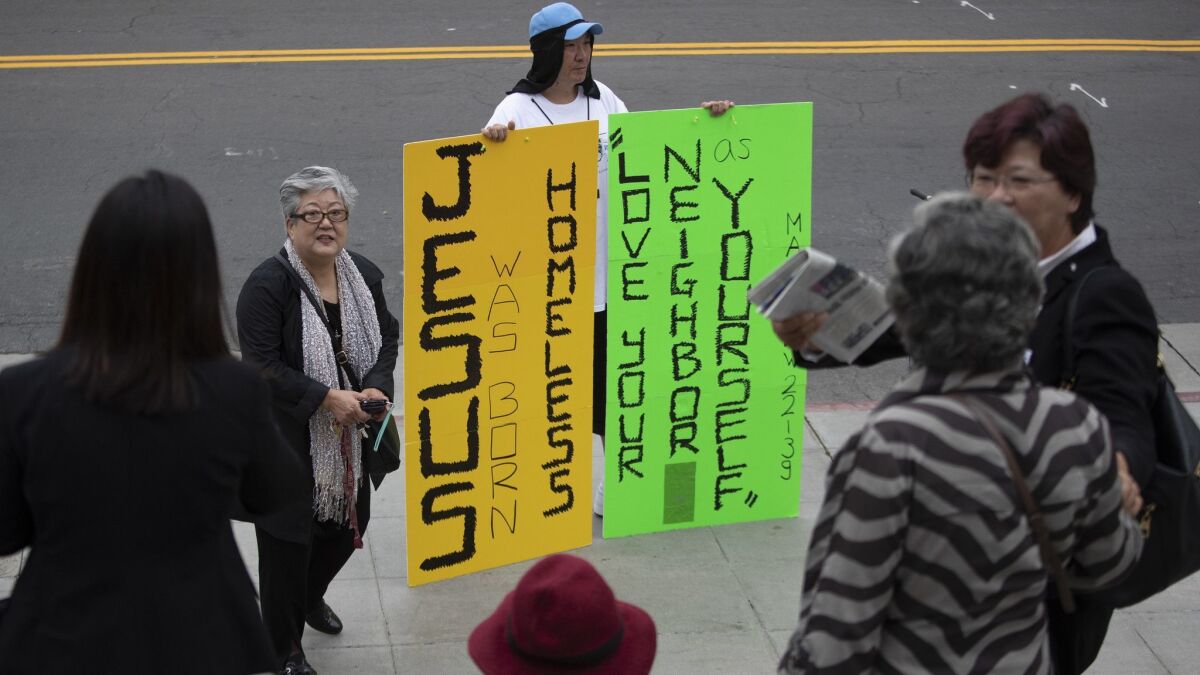 An opponent of the plan, attorney Ronald Kim, was ejected from the meeting after repeatedly shouting from the crowd. On the steps outside City Hall, Kim told reporters that the proposed site was "a farcical location," arguing that the city had failed to consider alternatives in other parts of the Crenshaw-to-Koreatown council district that Wesson represents.
Below him, on the Spring Street sidewalk, a man stood silently flanked by two hefty neon signs reading "Jesus Was Born Homeless" and "Love Your Neighbor as Yourself." When asked for comment, the man declined to identify himself and nodded to the signs.
"That's all I have to say," he said.
Twitter: @AlpertReyes
---
The stories shaping California
Get up to speed with our Essential California newsletter, sent six days a week.
You may occasionally receive promotional content from the Los Angeles Times.