Questions swirl about immigration status, criminal past of Houston man charged in L.A. homeless killings
The man accused of carrying out a series of savage attacks against homeless men in the Los Angeles area was sent to federal prison for illegally crossing the Texas border on multiple occasions, according to a review of court records that also raised questions about his mental health history.
Ramon Escobar, a Salvadoran national, was deported from the U.S. six times from 1997 to 2011, according to U.S. Immigration and Customs Enforcement.

For the record:
3:40 p.m. Sept. 26, 2018 A previous version of this article said authorities identified an eighth victim who was attacked on Venice Beach. The attack occurred near the area of Venice and Sawtelle boulevards.
The agency said he was first ordered deported in 1997, and federal court records show he was accused of illegal reentry to the U.S. in November 2001. He was sentenced to 23 months in prison, according to records. It was unclear when Escobar was deported again, but he was arrested for illegal reentry a second time in Texas in 2004, records show. Court records show at least three other illegal reentries — in 2007, 2012 and 2016.
During the 2012 case, a judge ordered Escobar be sent to a prison medical facility after questions about his mental health were raised by attorneys and jail staff, records show.
Escobar, 47, was formally charged Wednesday with three counts of murder, five counts of attempted murder and four counts of robbery in connection with a string of vicious beatings that targeted men sleeping outside in areas of Los Angeles and Santa Monica this month, prosecutors said.
Wearing blue jail scrubs, Escobar did not enter a plea during a brief court appearance in Los Angeles on Wednesday. Escobar, who is due back in court Nov. 8, could face the death penalty if convicted.
Houston Police Chief Art Acevedo also said Wednesday that Escobar is now "suspected of foul play" in the disappearance of his aunt and uncle in Texas last month.
Investigators say Escobar fled to Southern California from Houston after Dina Escobar, 60, and Rogelio Escobar, 65, went missing in late August. The charred remains of Dina Escobar's car were found on a beach in Galveston, Texas, in early September, police have said.
Police questioned Escobar on Aug. 30 about his aunt's disappearance, said Kese Smith, a Houston police spokesman. Escobar was not a suspect at the time, and Smith said detectives "spoke to him as a family member."
Houston detectives will travel to Los Angeles and want to interview Escobar.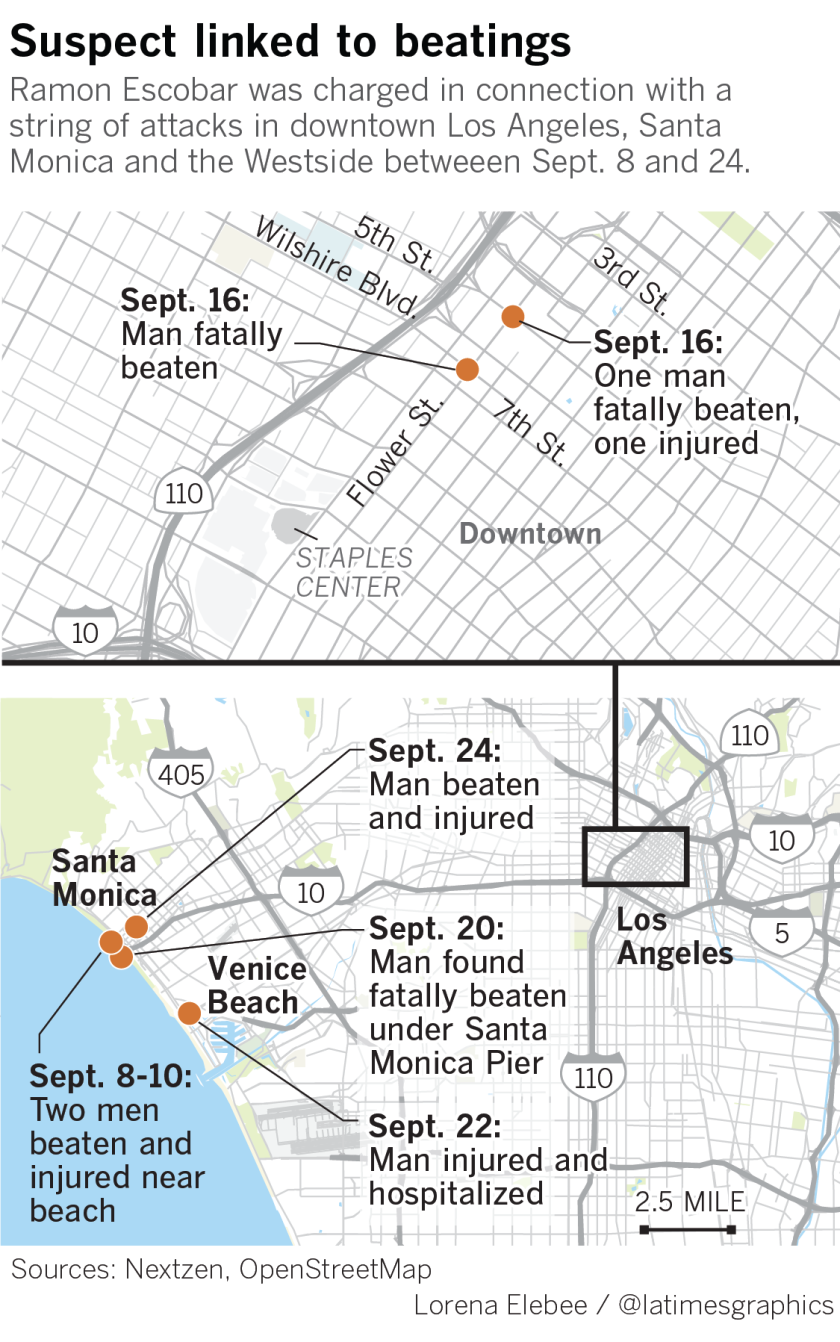 Escobar arrived in Santa Monica on Sept. 5. Police said he did not have any acquaintances in Southern California, and they are not sure why he fled here.
Days later, police allege, he carried out the first of eight assaults that left three men dead and five others seriously injured. One of his surviving victims remains comatose, and three others are in critical condition, police said.
Kelvin Williams, 59, and Braden Ridout, 34, were beaten to death with a wooden baseball bat as they slept outside in downtown Los Angeles' Financial District on Sept. 16. Another man sleeping nearby, Tievon Harmon, 23, was critically injured in those attacks, police said.
Four days later, police allege, Escobar beat 39-year-old San Gabriel resident Steven Ray Cruze Jr. to death as he slept under the Santa Monica Pier after an overnight fishing trip.
On Wednesday, Los Angeles police officials also revealed the existence of an eighth victim who was battered near Sawtelle and Venice boulevards on Sept. 22. The victim, who was homeless, was struck in the head with bolt cutters, Capt. Billy Hayes of the LAPD's Robbery-Homicide Division said.
Despite fears that someone was specifically trying to hurt members of the area's sprawling homeless population, investigators believe Escobar was targeting people who appeared to be isolated so he could rob them.
A review of state and federal court records in Texas showed Escobar was no stranger to a courtroom, facing arrest multiple times from 1992 to 2018.
Many of Escobar's court appearances involved his immigration status. Despite his past removals from the country, Escobar was granted an appeal of his deportation order in December 2016 and released from federal custody in January of last year, according to ICE, which did not respond to inquires about the nature of his appeal or other questions posed by The Times on Wednesday.
On Tuesday, the Los Angeles Police Department said Escobar had been deported but was allowed to reenter the country on an asylum claim, though police did not know when or why. Court records relating to asylum cases are not open to the public.
Records also show that Escobar was diagnosed with schizophrenia in 2001 and spent time in the Harris County Psychiatric Center in Houston. Hector A. Casas, an assistant public defender who was representing Escobar at the time, told a judge that jail staff had reported his client may have been "suffering from a mental disease or defect."
A judge ordered a hearing on Escobar's competency at the time, but the records were sealed. Casas did not respond to requests for comment Wednesday.
Escobar was convicted of burglary and sentenced to five years in prison in 1995. According to a 2007 complaint filed in Brownsville, Texas, Escobar claimed he was a U.S. citizen born in Houston when trying to cross the border but later admitted he was a citizen of El Salvador.
The pattern repeated in 2012, according to court records. At that time, Casas raised the question of Escobar's prior diagnosis of schizophrenia. A judge transferred him to a prison medical facility in Springfield, Mo., but all reports on his mental health were sealed. Escobar was returned to Brownsville in October 2013 and sentenced to two years in federal prison.
ICE said Escobar illegally reentered the country once again in 2016 before being granted the appeal of his deportation order.
Connie Williams, a Houston-based defense attorney who represented Escobar against trespassing and misdemeanor assault allegations this year, said he was shocked by the vicious nature of the crimes of which Escobar is accused.
"He didn't appear to be a violent person," Williams said. "Sometimes you get clients that will go into rages. He never did anything like that."
Twitter: @JamesQueallyLAT
Twitter: @lacrimes
---
UPDATES:
9:45 p.m.: This article was updated throughout with additional information about Escobar's criminal history and immigration status, comments from Houston Police Chief Art Acevedo and details from a court proceeding in Los Angeles.
This article was originally published at 2:55 p.m.
---
For reporting and exclusive analysis from bureau chief John Myers, get our California Politics newsletter.
You may occasionally receive promotional content from the Los Angeles Times.