22% surge in number of older homeless people catches L.A. officials off guard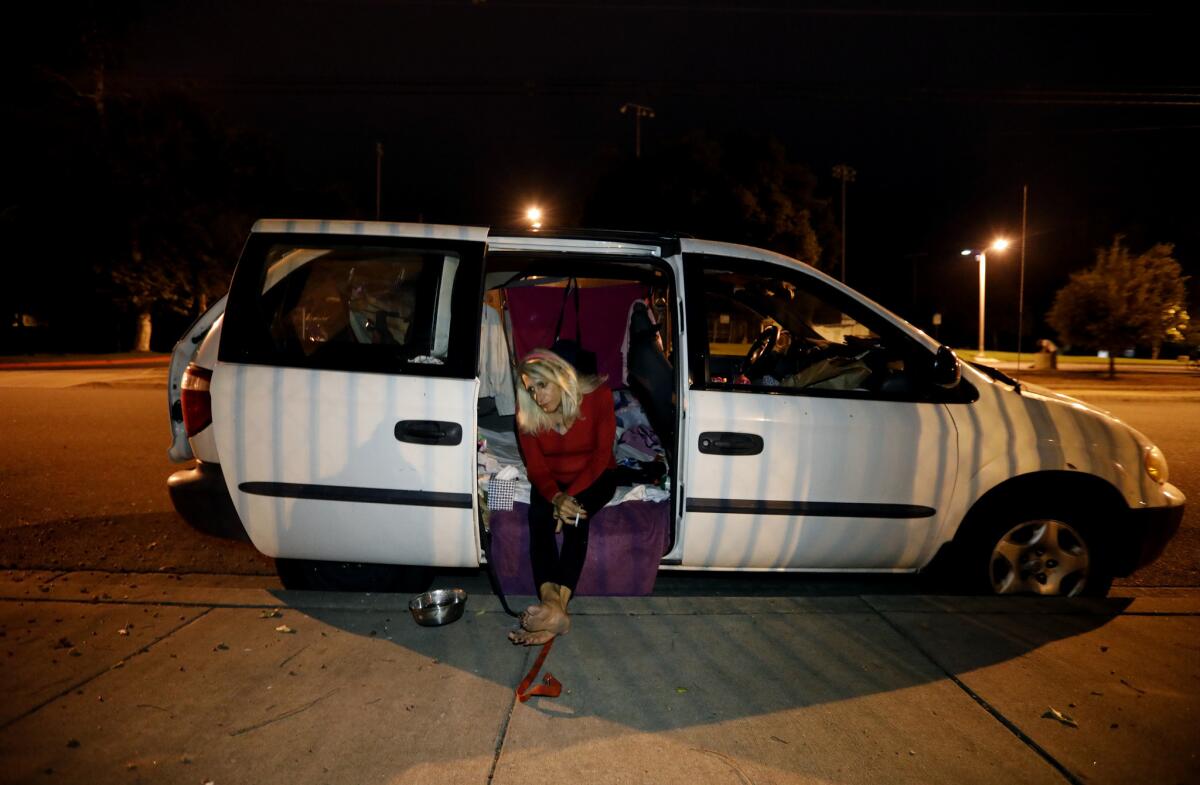 Andrea Colucci's long, slow slide into homelessness began, as it does for many, with medical bills.
At the age of 67, she had decided to finally transition as a transgender woman. Her insurer balked at paying her surgeon's bills, so she put them on credit cards.

For the record:
5:55 p.m. July 19, 2018An earlier version of this article incorrectly identified L.A. Care Health Plan as L.A. Health Care.
Then her post-surgery housing plans fell through. A hospital put her out on the sidewalk in a paper gown.
Now 70, Colucci lives in a white van with no license plates, a sagging tire and a broken window. Growing up in the San Gabriel Valley, "playing the role of a man" was tough, she said, but added that the stigma of homelessness is worse.
"The homeless, they've been beaten up, they've got nothing, no hope," she said one hot afternoon, sitting in the cluttered van's open doorway.
Colucci's medical history may be unusual. But she is part of a large cohort of L.A.'s homeless population whose surge this year took some L.A. officials by surprise. While L.A.'s overall homeless population dipped slightly, Colucci's age group, 62 and up, shot up 22%, to nearly 5,000 people.
The city and county have been slow to respond to the graying of the homeless population, advocates said. While some homeless people are aging in place, L.A.'s spiraling housing costs increasingly are driving people into homelessness for the first time at advanced ages, advocates said.
A fall, a job loss or a medical crisis pushes them over the edge.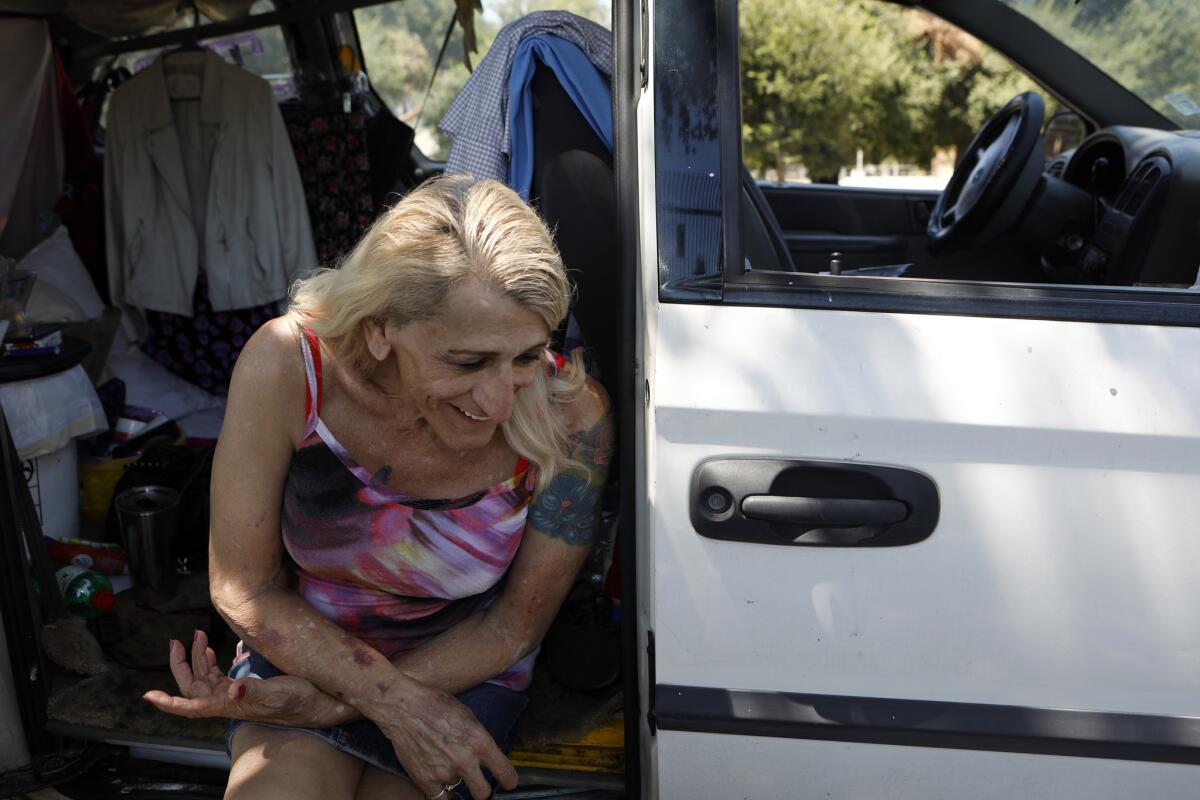 "Three to five people a month are falling into homelessness late in life," said Brandi Orton, government relations director for St. Barnabas Senior Services and managing director of the Los Angeles Aging Advocacy Coalition.
In 2016, Mayor Eric Garcetti launched Purposeful Aging Los Angeles, an initiative to enhance the lives of older people in the city. But the homeless service system is not linked to senior housing and programs, said Mike Neely, a former homeless commissioner who now sits on the L.A. County Commission for Older Adults.
Shelters are unsuitable for the frail and disabled, and emergency housing is focused on families going through a rough patch, who can recover financially and move on. Many older people live on fixed, limited incomes.
"How can you reasonably expect an individual who is damn near 80 years old to survive [shelters] … unless we have specialized facilities?" Neely said. "We're not targeting older homeless people for services."
Christina Miller, the city's senior project manager for homelessness strategies, said that even before the population surge, the city and the county were helping older homeless people with "targeted interventions," including job training, elder abuse protection, legal aid, cash assistance and move-in costs.
Recuperative care facilities have opened, shelter beds have been set aside for older people and a pilot project this year started to send outreach teams into four senior centers.
Colucci said help has been in short supply since she became homeless last year.
One shelter refused to take her emotional support dog, Beau. Another made her eat alone at a table and sleep on an isolated cot in a hallway because "I couldn't sleep with real women," Colucci said, sarcastically.
The county has called for staff recommendations to expand older homeless services.
"Unlike other subpopulations, such as transition-age youth, victims of domestic violence, families with children, veterans and women, there has not been a formal review and assessment of the needs of older adults," a staff report said. The recommendations are due to the Los Angeles County Board of Supervisors on Aug. 15.
"How additionally terrifying is it to be homeless at such an advanced age?" L.A. County Supervisor Sheila Kuehl. "You can't protect yourself."
Colucci said she has no regrets about her transition. "I"m standing proud," she said.
But her unemployment insurance ran out during the emotionally grueling 18-month process; she is still due for electrolysis so she no longer will have to shave in the morning.
She once made $1,000 a week working in the printing industry, but her Social Security income is less than it might have been: A methamphetamine habit sent her to prison, interrupting her work history.
Through a $20-million program run by L.A. Care Health Plan, a managed care agency, and L.A. County's Housing for Health, Colucci will receive a rent subsidy.
She has a laundry list of age-related ailments, including pulmonary disease, and would prefer senior housing. But she may have to leave the San Gabriel Valley to get it — there's nothing there for $1,200 a month, her voucher limit, she said.
Advocates said it is critical for older people to remain in their communities, close to doctors, transportation and social networks. While Colucci talked, a close friend came by with fresh watermelon.
"See those San Gabriels?" Colucci said, pointing to the mountain ridges in the distance. "This is home."
"I don't know if I'll make it through the winter, " Colucci said. "I don't know if I'll make it through the summer."
Even as L.A. struggles to help its oldest homeless people, an additional 8,000 people in their mid-50s to early 60s are living on the county's streets and in shelters. And many of them have the same disabilities and health problems as their elders.
Larry Wynne quit his job in the restaurant industry after his wife, Tess, was diagnosed with early-onset Alzheimer's disease. Both are 55.
The couple was evicted last year from the Alexandria Hotel, one of downtown L.A.'s largest providers of subsidized apartments for poor and formerly homeless people.
Larry, who describes himself as bipolar, said the hotel lost his income-verification papers and ignored his attempts to resubmit them. An attorney for the hotel said the Wynnes missed three appointments to resolve the matter.
They were found sleeping side-by-side on a bus bench in Glendale and brought to the Ascencia shelter. The Glendale facility is open to residents only overnight. So by 7:30 one morning last month, the Wynnes were walking hand-in-hand down San Fernando Road to start their rounds as part of the suburban homeless.
"The joke is if I don't survive this time, the cemetery is close by," Larry said, pointing to the cross wavering in the fog on a Forest Lawn Memorial Park hilltop.
The couple stopped at McDonald's in the Galleria shopping mall. Larry knows every McDonald's, Carl's Jr. and other fast-food place within walking or bus distance of the shelter: which ones open early or close late, and which take food stamps.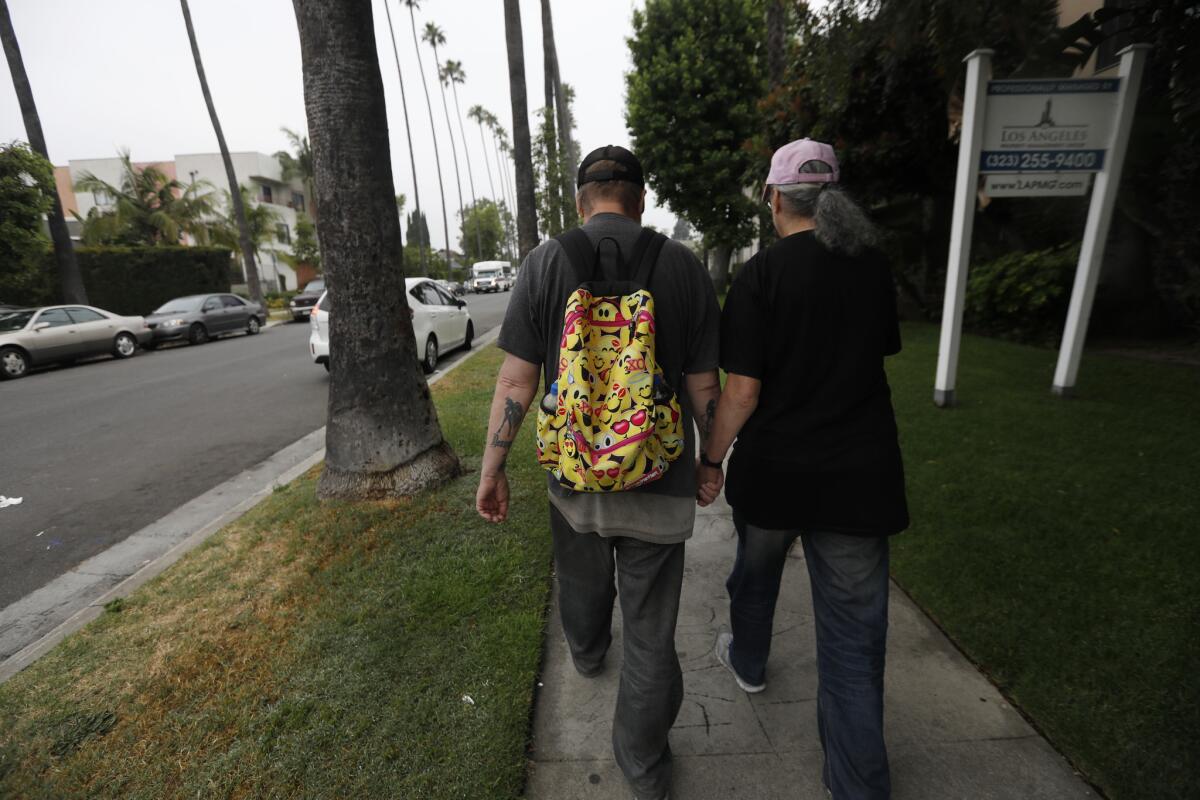 "God bless McDonald's, they have a dollar menu homeless people can afford," he said. "We'd go hungry without it. "
Last year, the state cut off $700 a month that it had paid him to care for Tess at home, even though he still tends to her daily needs. No home, no payments, he said.
On the mall promenade, Tess pointed out a stationery shop where she once worked. Most of her jobs were in retail.
She is in Facebook contact with some of the women she used to hang out with at a Black Angus with a cool DJ. One of them is also homeless, Larry said.
At the central library, Larry pointed out a kind of shadow tribe of other homeless people. Several did not look the part, but Larry knew the signs.
"They've been wearing that every day for two weeks, or they're doing the same damn thing I'm doing all day," Larry said. "People will be astonished where they sleep at night."
Larry sat Tess at a computer with her games, while he manned another console to look for apartments. Tess was liable to cry if she looked up and couldn't remember where he was, he said.
Strangers have offered no end of advice since they became homeless, Larry said: "Like, 'What's wrong with you? Why don't you go on welfare or go to a mission downtown?'
"I could work again, but then I'd have to put her in a facility, and she doesn't want that," said Larry. Tess nodded.
"We all come into this in different ways," Larry said.
Twitter: @geholland
Sign up for Essential California for news, features and recommendations from the L.A. Times and beyond in your inbox six days a week.
You may occasionally receive promotional content from the Los Angeles Times.