L.A. opens a homeless shelter in Hollywood. But those still outside are facing a crackdown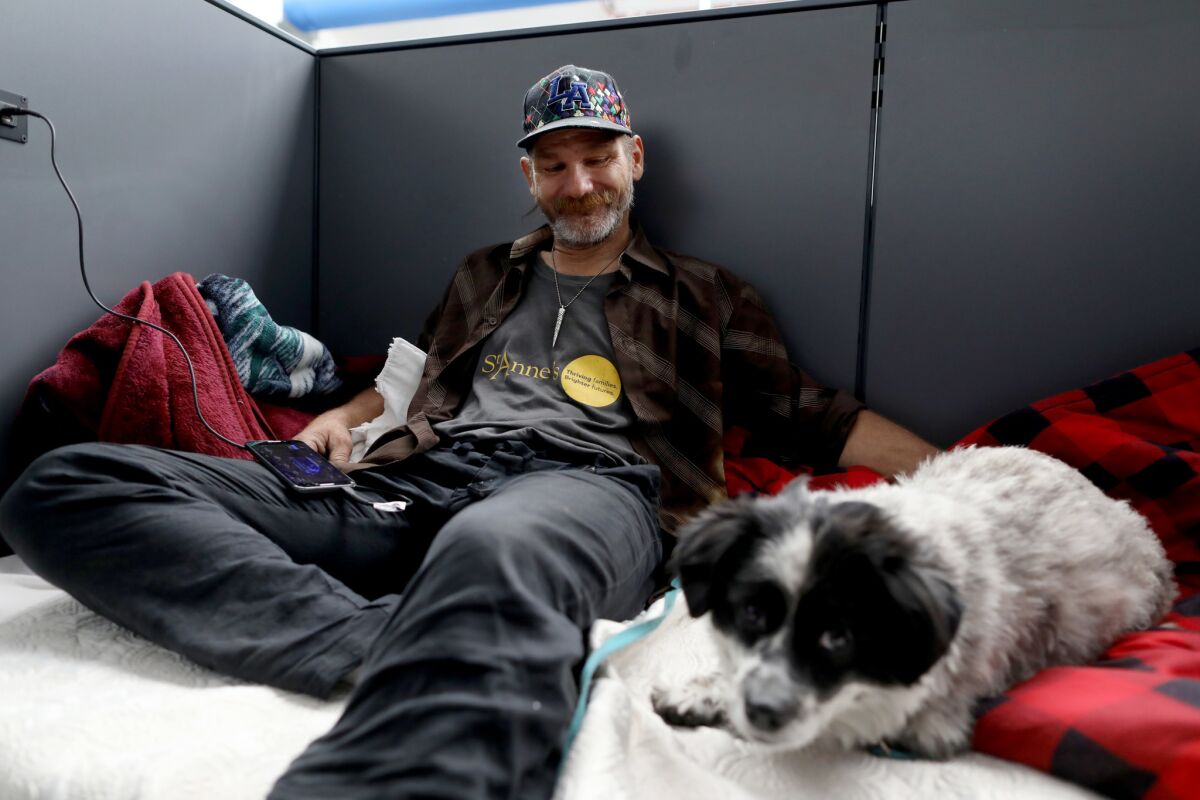 A new shelter has opened in Hollywood, sweeping 72 people off the aging entertainment district's sidewalks. But the opening has triggered a crackdown on street camps that advocates warn is criminalizing homeless people.
The $3-million Schrader shelter, between Sunset and Hollywood boulevards, is the second facility to open its doors under Mayor Eric Garcetti's "A Bridge Home" initiative.
Under that $77-million initiative, the city plans to open as many as 25 temporary shelters across L.A., as well as step up camp cleanups and conduct "enhanced enforcement" against the storage of bulky items, including shopping carts and tents, on surrounding streets.
Daniel Gomer McMillan, who moved into the Schrader shelter two weeks ago, gave it high marks — particularly the pocket dog park for his dog, Pushoe.
The shelter is a 7,200-square-foot structure, resembling a circus-style big top. It has semi-private cubicles, heat and air conditioning, and services, including intensive counseling.
"Four walls scare the hell out of me, but I'm learning to deal with it," McMillan said.
Social workers said having homeless residents under one roof at the shelter will make it easier to find housing for them.
But some advocates worry that the accompanying crackdown in enforcement will drive people away from services. Hollywood's homeless community is particularly vulnerable, with former foster children who aged out of the system, gay and transgender men and women, and older people with disabilities and mental and substance abuse disorders.
Some 1,300 people live on the storied streets — second only to the number who live on skid row. Dozens of tents line streets mere blocks from the Hollywood Athletic Club, founded by Charlie Chaplin and Douglas Fairbanks, to the Cinerama Dome and other landmarks.
The spate of enforcement is tied to an often-ignored law, requiring homeless people to break down their tents and clear the sidewalks of chairs, mattresses and other bulky items.
Patrick Lumpkin, 45, another resident of the Schrader shelter, said the cleanups could reduce people to lying on bare pavement. He predicted a "huge backlash" if police and sanitation crews are heavy-handed.
"Put yourself in their shoes," he said of homeless people. "You don't have proper food or sleep, and there's a lot of sickness out in the streets. And you're just telling them to take down their tents."
Garcetti, however, said the city is using a "much more nuanced approach" to cleanups than it has in the past, starting with outreach by social workers and requests for voluntary compliance.
And it's working, he said. The mayor cited improvements around the first "A Bridge Home" shelter, which opened in the El Pueblo district in September.
"We've seen really good results," said Garcetti, adding that the number of homeless camps in the historic downtown district had dropped from 100 to 37, with a corresponding decline in crime. "I've absolutely pushed to have services first."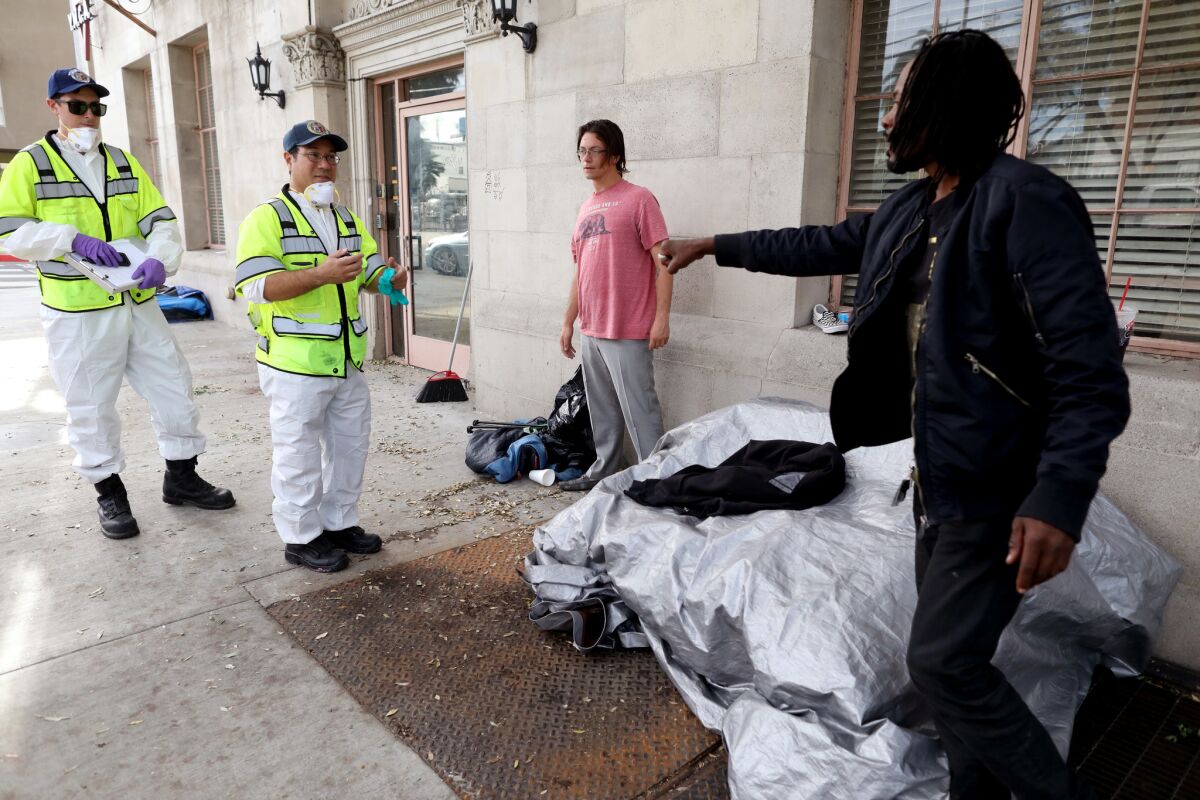 At daybreak on April 8, authorities launched the street cleanup in Hollywood with what they called "soft enforcement."
Outreach workers from the Los Angeles Homeless Services Authority arrived on Selma Street with Mexican sweet bread and coffee. They issued wake-up calls and gentle reminders for homeless people to pack up tents and belongings.
Later, dozens of sanitation workers, police officers and city officials fanned out from the Hollywood post office toward various sites. Sgt. Shannon Geaney, head of LAPD's Hollywood HOPE cleanup and enforcement team, told the group that some homeless people had already left.
"The Schrader [camp] is half of what it was on Friday," she said.
Flanked by uniformed police officers, hazmat teams pulled out retractable, yellow tape measures to check whether collapsed tents were three feet from the curb on Selma Street, as required.
One homeless man hurled homophobic and other obscenities at the workers, but most, lying on their collapsed tents or clothing, followed instructions, albeit sullenly.
Jean Noel, an entertainer who said she relocated to California from Florida, said the cleanup crews could at least share the portable toilets that they brought along for workers to use.
"What about us out here 24 hours every day?" he demanded.
Two marked LAPD SUVs rolled by, followed by a slow-moving open-air tour bus.
"We've become a Hollywood attraction," Noel crowed. "Hey, guys, this is the secret of Hollywood."
Michelle Leon, 38 said she usually spent her days in a tent because the sun aggravates her lupus. "We're considering relocating to a street with no restrictions," she said.
An aspiring rap artist who said his name was Swami Loco, 21, was pulling apart his tent when a sanitation worker warned that his beanbag chair had to go.
"What if I put it under my arm?" asked Loco, who said he dropped out of Michigan State University to chase his Hollywood dream.
"It's still a bulky item," the worker responded, adding that although he would let it slide, a future crew would not be so kind.
"I follow orders that make sense, but you take my property as I'm being cooperative," Loco said. "That don't make sense."
Twitter: @geholland
The stories shaping California
Get up to speed with our Essential California newsletter, sent six days a week.
You may occasionally receive promotional content from the Los Angeles Times.