Venice homeless shelter faces a legal challenge claiming insufficient review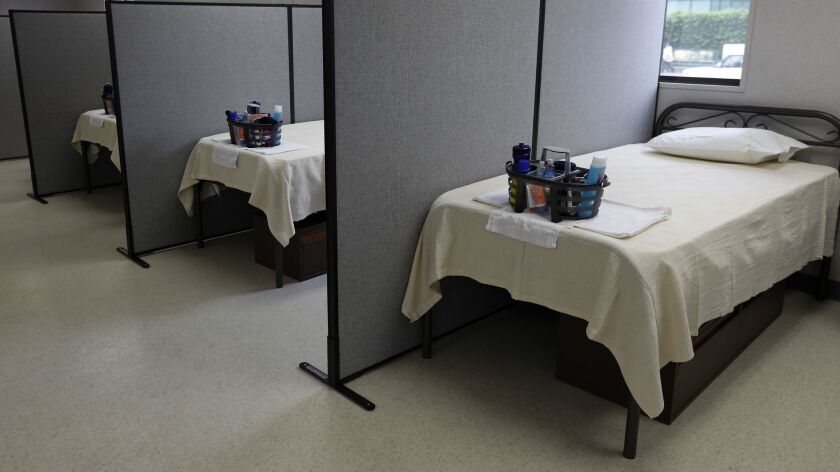 A proposed homeless shelter in Venice faced a legal challenge Monday from a homeowner and business group that claims the controversial project was "jammed through" with insufficient review of the environmental effects on nearby schools and residences.
The Venice Stakeholders Assn. lawsuit, filed in Los Angeles County Superior Court, accused the city of Los Angeles and the Coastal Commission of violating the California Environmental Quality Act and the Coastal Act by signing off on the 154-bed tent shelter in December without more extensive study.
For the record:
10:10 p.m. Jan. 14, 2019A previous version of this article referred to a potential shelter site in Westminster. It is in Westchester.
The group is seeking an injunction to stop the $5-million project, which the city plans to open at an abandoned bus yard this spring.
Westside City Councilman Mike Bonin said he was disappointed that the Venice group was against a solution to the beach town's homelessness crisis.
"We face a stark choice between providing housing and shelter or allowing the proliferation of sidewalk encampments in our neighborhood," Bonin said. "By fighting against solutions, [the plaintiff] perpetuates the problem and makes it exponentially worse."
Mark Ryavec, president of the Venice group, said the city had ignored more appropriate shelter sites in Westchester and West Los Angeles. He also said the city could build or master-lease shared housing, with two homeless individuals to a room, for far less than the city plans to spend on shelter beds and permanent supportive housing.
"We're not arguing about solutions, only location," Ryavec said. "We don't accept there's any necessity to offer the housing exactly where people are on the street."
The Venice project is one of the most contentious of 15 city shelters that Mayor Eric Garcetti has promised by year's end as part of his A Bridge Home program.
L.A. voters have committed more than $1 billion to providing shelters and housing for homeless people, but where to put them has erupted as an explosive issue in San Pedro, Sherman Oaks and Venice as Garcetti considers a possible presidential bid in 2020.
Venice has 850 people without homes, making it one of the most concentrated homeless enclaves in Los Angeles County. Most of Venice's homeless population lives on or around the boardwalk or in cars, tents and campers in the streets.
Homeless people in the Venice shelter would sleep in a tent holding 100 adult beds and nine trailers for youth. Bathroom and shower trailers, storage units, a pet run and outdoor dining space would complete the project.
Alex Comisar, Garcetti's spokesman, said the mayor remained "fully supportive" of the proposed Venice shelter.
"The city has taken careful steps to move this site forward in a way that balances community participation with the need to stand up more bridge housing now," Comisar said.
The lawsuit said the Venice site is near homes that are "particularly susceptible" to the noise, traffic and parking that will result from opening a shelter.
It also contended that the site will "act as a magnet" for other homeless encampments and individuals who will create more environmental and social problems.
Twitter: @geholland
---
The stories shaping California
Get up to speed with our Essential California newsletter, sent six days a week.
You may occasionally receive promotional content from the Los Angeles Times.