L.A. City Council votes to build homeless shelter in the heart of Venice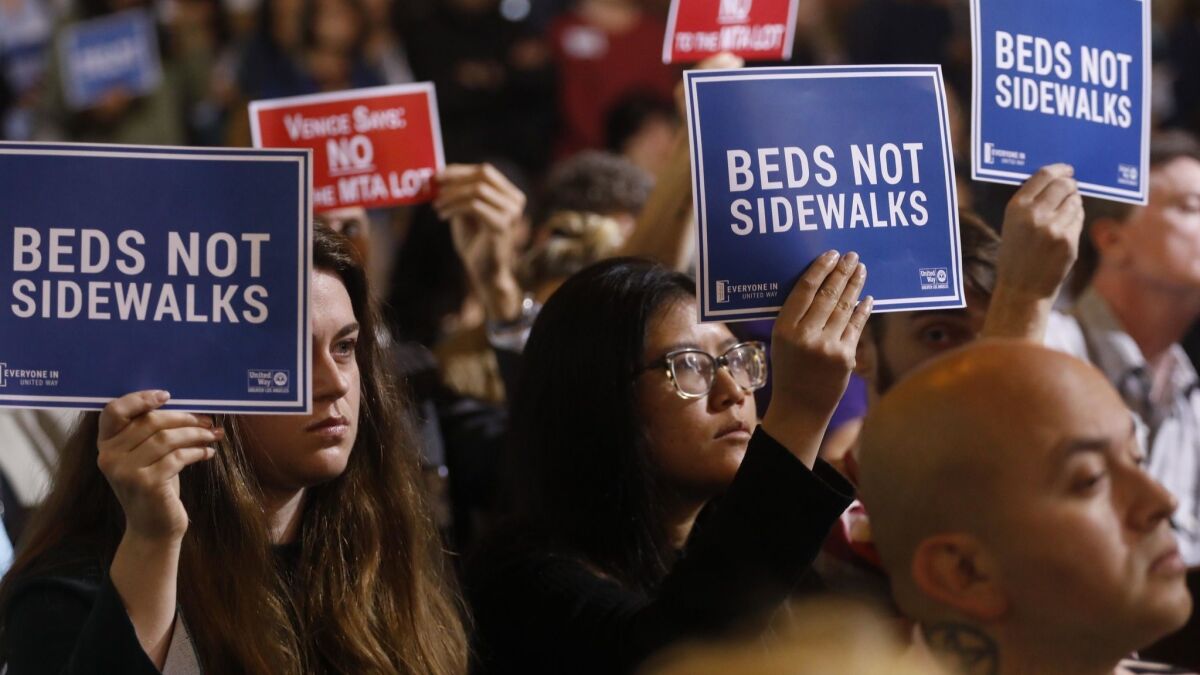 The Los Angeles City Council approved a plan Tuesday to open a homeless shelter in the heart of Venice, a project that has become a flashpoint for complaints about tents, filth and crime in the seaside neighborhood.
The council voted 13 to 0 to back a 154-bed homeless shelter on Sunset Avenue. Council members Gil Cedillo and Jose Huizar were absent from the vote.
Dozens of supporters, including some from the pro-shelter group She Does, waved signs reading "Beds Not Sidewalks" during the council meeting and urged passage of the $5-million facility.
Longtime Venice resident Laura Silagi described how houses sell for $2 million and more in the upscale neighborhood, yet homeless people live in the alley near her home. "It's embarrassing, it's tragic, it's horrible," Silagi said.
Opponents questioned the shelter's proposed location near the boardwalk, Abbot Kinney Boulevard's trendy shops and restaurants, as well as several schools.
Venice resident Tori Knight called it "misguided and irresponsible" to spend $5 million to build a temporary shelter near homes and schools. That figure doesn't include the cost of running the facility.
Planned for an unused Metropolitan Transportation Authority yard, the shelter will house 100 adults and 54 younger people, ages 18-24, said David Graham-Caso, a spokesman for City Councilman Mike Bonin, who represents Venice.
Homeless people would live in a modular tent structure holding 100 beds, and nine trailers for youths, according to city documents. The project will also have trailers for hygiene and administrative work, storage units, a pet area, and outdoor dining space.
The shelter is part of Mayor Eric Garcetti's Bridge Home program, which aims to place at least one homeless shelter in all 15 council districts. One shelter constructed with taxpayer dollars has opened downtown, while dozens of other shelters or storage facilities for homeless people are proposed.
Tuesday's vote on the shelter was far less contentious than an October town hall about the project that drew hundreds of angry residents. Locals complained to Garcetti and Bonin about encampments, finding needles and feces in alleys and on the beach, and a feeling of lawlessness in the community.
The council vote exempts the Venice shelter from a full review under the California Environmental Quality Act, the state law governing development, which will allow the project to be built more quickly.
The Venice project still needs approval from the California Coastal Commission, Graham-Caso said.
Mark Ryavec, president of the Venice Stakeholders Assn., said last week that the city hadn't fully addressed concerns about noise, parking and other issues related to the shelter. He said he planned to sue the city over the project.
The council Tuesday also backed the construction of a $4.6-million homeless shelter in South L.A. and voted to support leases with homeless services providers for planned shelters in Westlake and Hollywood.
Twitter: @dakotacdsmith
---
The stories shaping California
Get up to speed with our Essential California newsletter, sent six days a week.
You may occasionally receive promotional content from the Los Angeles Times.