L.A. City Council presses ahead with plan for homeless shelters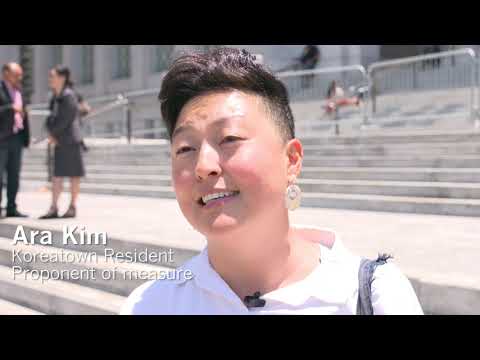 The Los Angeles City Council voted to continue with plans for building emergency shelters for the homeless.(Video by Rob Gourley / Los Angeles Times)
At a heated meeting at City Hall, Los Angeles lawmakers pressed forward Friday with a plan to set up emergency shelters for homeless people across the city, voting unanimously to start assessing possible sites in Koreatown, Venice, Hollywood, Harvard Heights and the Westside.
The debate in council chambers revolved entirely around Koreatown, where massive protests have erupted over a possible site near the busy hub of Vermont and Wilshire. The plan has become politically explosive for City Council President Herb Wesson, who urged Angelenos to rally behind the effort to get people off the streets.
"I'm asking for the people of this city to say, we are sick and we are tired of people sleeping on the street," Wesson said before the vote.
"Good people, do you know what's happening here in L.A.? We are driving past — oh my God, we are driving past homeless people and we're not seeing them. When that happens, that is the end of our humanity," Wesson said, his voice ragged with emotion.
Mayor Eric Garcetti unveiled the "bridge housing" plan earlier this year, allocating at least $20 million to put a temporary shelter in every council district, an amount that lawmakers could boost with new state money. City leaders say that tents or trailers will temporarily shelter up to 100 people at a time while homeless housing is being built in coming years.
But choosing where shelters will go has been politically prickly. Critics of the Koreatown plan argued that a Vermont Avenue site was too close to schools and businesses. They accused Wesson of singling out their neighborhood and shutting them out of the process.
At Friday's meeting, Koreatown resident John Kim said Wesson should resign, prompting some cheers from the crowd.
"We're not opposing it just to oppose it. They didn't give us a choice, and time to consider," said Kim, 78, who lives a block from the proposed site on Vermont. He said Wesson appeared to have come to the decision in "the most undemocratic way."
Faced with the uproar, Wesson agreed to look at least one alternative site in the Koreatown neighborhood, as well as a second possible shelter site in the parking lot of his Harvard Heights district office, and to assess using parking lots in the southern portion of his district so that people can sleep safely in their cars.
"I don't want anybody to ever suggest that I wouldn't make sacrifices that I'm asking them to make," Wesson told the crowd.
The decision did not dampen the outrage of some opponents who stood in the back of the council chambers Friday, holding up white signs that urged "Wesson out." Many opponents ended up waiting outside the full chambers, where they confronted Joon Bang, executive director of the Korean American Coalition, one of several groups that back putting a shelter in Koreatown.
Bang tried telling them Wesson was now offering additional resources to address homelessness in Koreatown. "We're getting it for our community. That's a good thing," he said.
"We have to fight it till the end," replied Anne Park, 56, a real estate agent who works in Koreatown.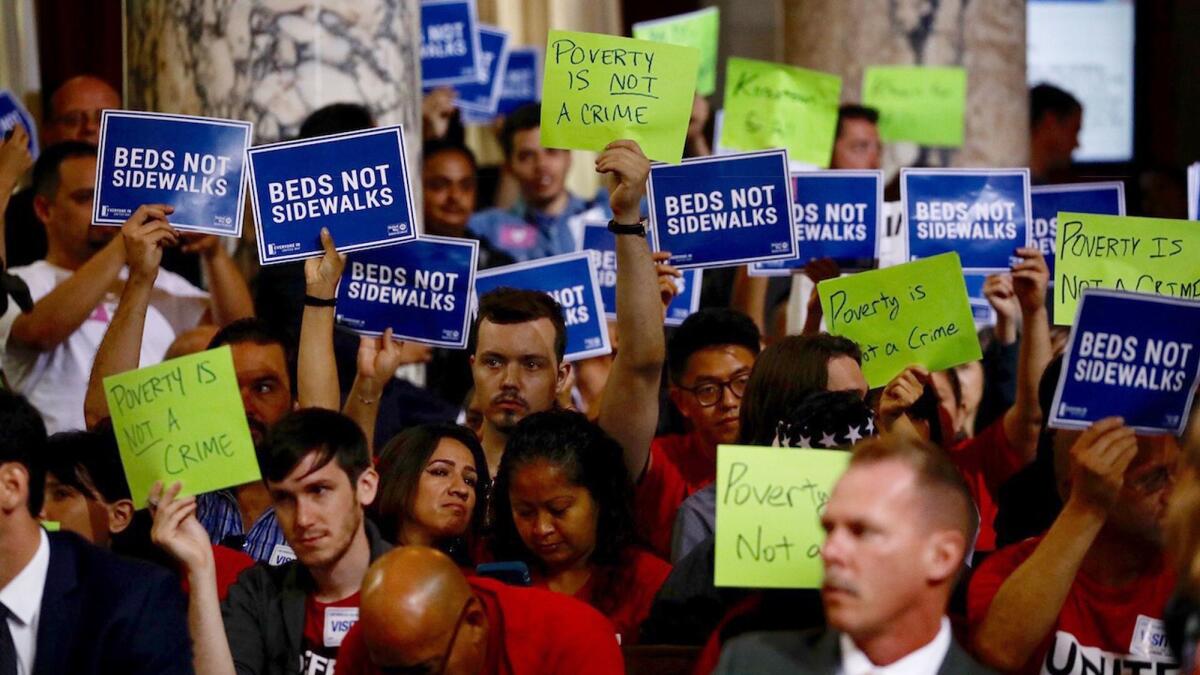 Park, who lives near Little Tokyo and said she had volunteered on skid row, argued that putting a shelter in a dense neighborhood with steep property values would not help homelessness.
"This won't help them," she said. "It will attract crime and more homeless individuals, and it'll kill Koreatown."
But throngs of supporters, who lined the halls early Friday to get into the meeting, argued the shelter would do the exact opposite.
"Homelessness is here, and it's here to stay until we take action," said John Rosania, a resident of the Zen Center of Los Angeles in Koreatown. "We fully support the building of a temporary shelter in Koreatown, in our community, in our backyards for the houseless neighbors we already live with."
Wesson and other city leaders said the vote was not the final decision on the suggested sites, but an initial move to evaluate costs, housing options and other practical issues.
Immediately after the vote, backers and opponents of the Koreatown shelter site gathered on the steps of City Hall with signs, displaying dueling messages: "Due process respect the community" vs. "Beds not sidewalks."
A heated exchange broke out after one shelter supporter walked up to where the opponents were holding their signs for the cameras. A man told her to go away, spurring a police officer to order both groups off city property and to stay on opposite sides of a metal barrier.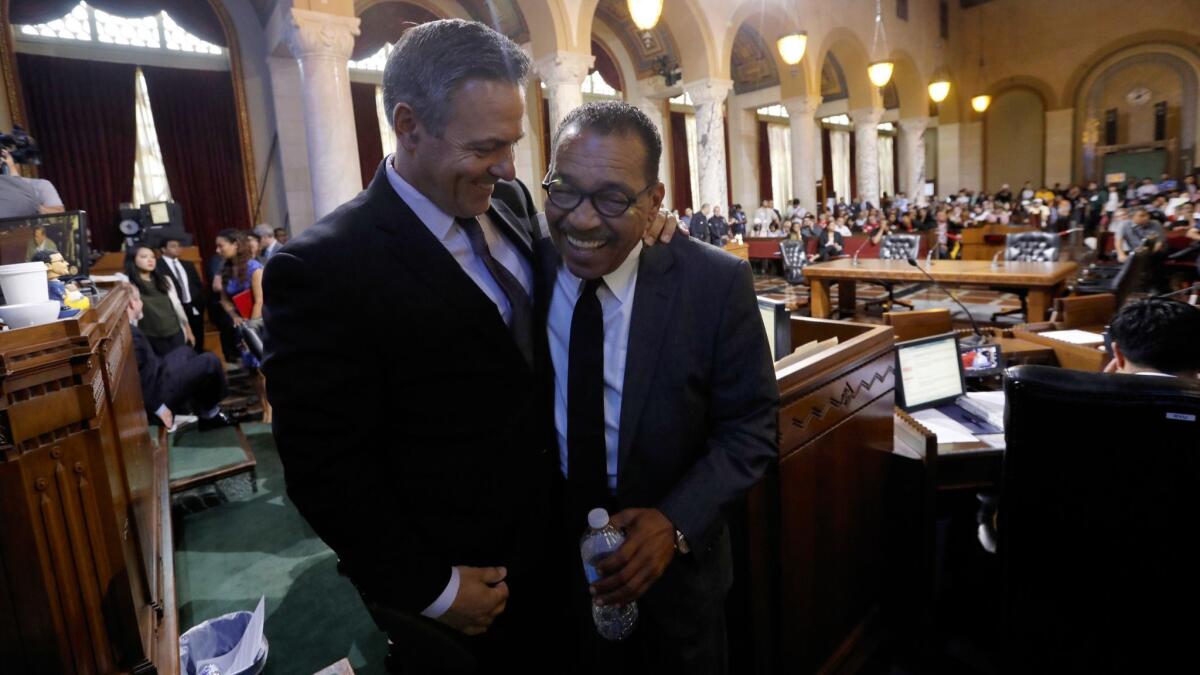 Although the Koreatown site has had the loudest opposition, other shelter sites have also drawn concern.
In Venice, furious arguments erupted at a community meeting this month about a proposed shelter at a former Metro bus yard, as critics charged the area is being targeted for a disproportionate share of homeless housing projects and services. In Hollywood, some parents have questioned putting a shelter on a Schrader Boulevard parking lot near schools, demanding more details about security.
At Friday's meeting, the council voted to start assessing both of those sites without debate. Lawmakers also voted to evaluate a city lot on Santa Monica Boulevard in West L.A. for either a possible shelter or supportive or affordable housing, and to look into shelter sites on the Department of Veterans Affairs campus on the Westside.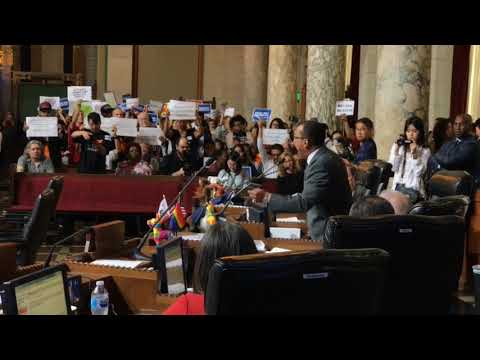 "Good people, do you know what's happening here in L.A.? We are driving past -- oh my God, we are driving past homeless people and we're not seeing them. When that happens, that is the end of our humanity." L.A. City Council President Herb Wesson be
More shelter sites are likely to be proposed and vetted at City Hall in the coming months. Garcetti has promised more police attention and cleanups in communities that accept the temporary housing. An initial shelter, at the historic El Pueblo site downtown, is expected to open this summer and will consist of several trailers on a city-owned parking lot.
His plan has stirred up competing fears among neighborhood activists and homeless advocates. Some residents worry that the sites, rather than getting people off the streets, will instead generate more chaos and mess. Some homeless advocates, in turn, fear a crackdown on homeless people after the shelters open their doors.
"Police officers aren't social workers," said Los Angeles Community Action Network organizer General Dogon. "If you're helping, you don't come with tent cops."
The council also voted Friday to begin assessing an Echo Park site as a possible location for permanent homeless housing. The nonprofit El Centro del Pueblo has objected to the idea of erecting permanent homeless housing on a portion of the paved lots next to its building. The group has been leasing the lots from the city for basketball and handball courts.
"We are sensitive to the homeless issue," said Fernando Chacon, its director of youth and family services. "It's just that this is not the right location."
Aides to Councilman Mitch O'Farrell, who represents the area, say it is a prime spot near transit, zoned for a tall building that could provide lots of needed housing, and that the new project could include recreational facilities to replace anything that is eliminated.
The latest count from the Los Angeles Homeless Services Authority found that more than 31,000 people are homeless in the city, including more than 23,000 living without shelter.
At Friday's meeting, some supporters said that while the shelters are needed, the city needs to do much more to combat the humanitarian crisis.
"These shelters are only a temporary solution until we are able to get housing for all of these people," said Audrey Kuo, a Koreatown resident backing the shelter proposal.
emily.alpert@latimes.com | Twitter: @alpertreyes
dakota.smith@latimes.com | Twitter: @dakotacdsmith
victoria.kim@latimes.com | Twitter: @vicjkim
Sign up for Essential California for news, features and recommendations from the L.A. Times and beyond in your inbox six days a week.
You may occasionally receive promotional content from the Los Angeles Times.