After FBI raid, L.A. Councilman Jose Huizar is stripped of his committee assignments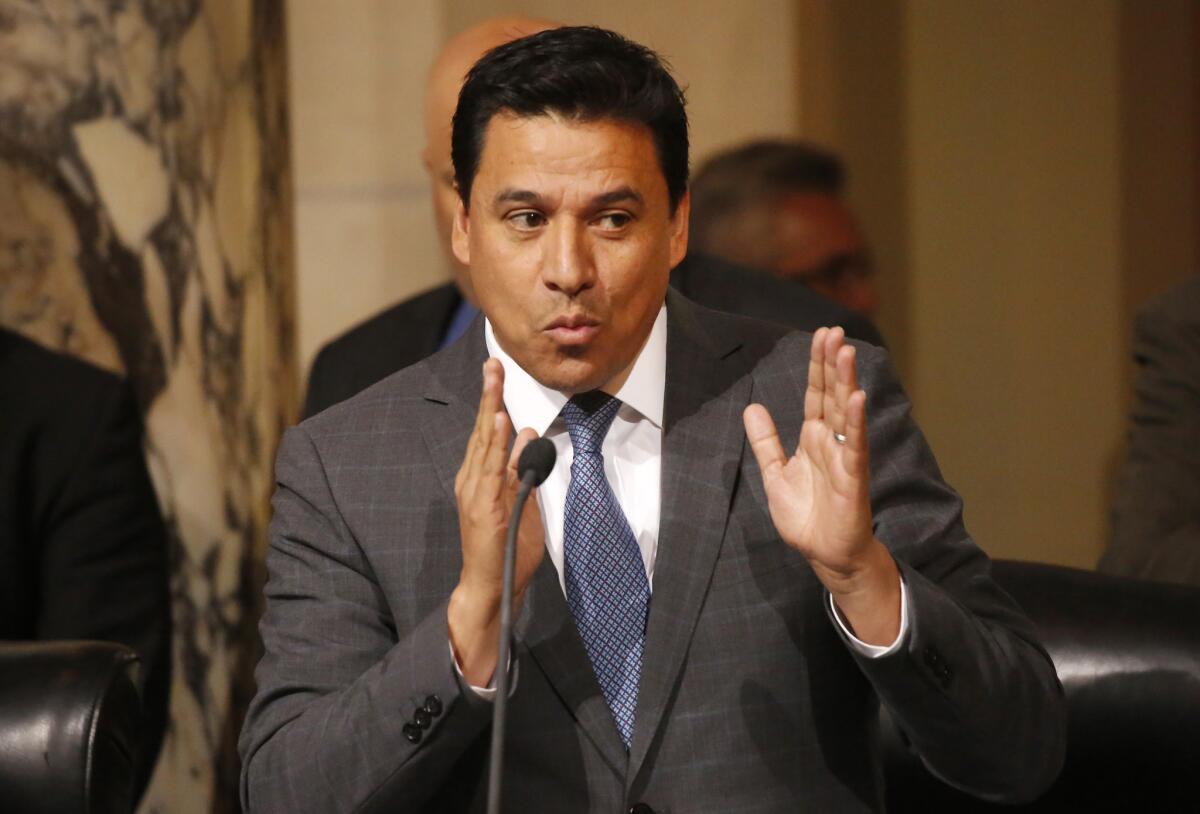 Roughly a week after FBI agents raided his home and offices, Los Angeles City Councilman Jose Huizar has been removed from all of his committee assignments, including chairman of the powerful panel that reviews the city's biggest development projects.
Council President Herb Wesson sent a letter to City Clerk Holly Wolcott on Thursday, taking Huizar off committees that deal with planning, economic development, poverty and homelessness, and election rules and state legislation. Wesson did not explain his reasoning in the letter, and his representative later issued a one-sentence statement on the move.
"We're optimistic Angelenos will be best served by these changes as the Los Angeles City Council continues the people's work without interruption," said Wesson spokeswoman Vanessa Rodriguez.
Huizar has been under tremendous legal pressure in recent weeks. He has been sued by two former aides who alleged that they faced retaliation after complaining about unethical or potentially illegal activities. Last week, FBI agents searched his home in Boyle Heights and two of his offices, carrying out boxes and bags of materials.
Huizar has missed seven out of nine council meetings since the first of the two lawsuits was filed, according to city records. His City Hall office was locked for two days last week after the FBI searches.
Stephen Kaufman, Huizar's lawyer, said in an email that the councilman had "scaled back his activities this past week to assess the situation" but will return to work next week.
"He respects Council President Wesson's decision, and will use the time away from committee assignments to tend to personal matters," the lawyer said.
An FBI spokeswoman said seven federal search warrants were executed last week, including at Huizar's home and two offices, and confirmed that the IRS is involved in the investigation.
The spokeswoman declined to say what investigators were looking for at any of those locations. One of the boxes carried out of Huizar's home during the raid had the word "Fundraising" on it.
Huizar has served for several years as the chairman of the powerful Planning and Land Use Management Committee, which vets proposals for apartment towers, hotel projects, new shopping malls and other large-scale development proposals. The panel also oversees regulations for digital billboards and Airbnb-type rentals and proposals for designating properties as historic monuments.
Real estate developers, outdoor advertising companies and others with business before the committee have been a major source of Huizar's campaign contributions, donating to his reelection bids and officeholder accounts.
The change in committee assignments is effective immediately, according to Wesson's letter. One group that's been highly critical of the city's handling of planning and zoning decisions welcomed Wesson's action.
"We're glad to see Huizar placed on the sidelines" while investigators sort through materials they seized at his home and offices, said Jill Stewart, executive director of the Coalition to Preserve L.A., which has spoken out against council members' practice of letting developers — many of whom donate to their campaigns — build projects that are taller or denser than city rules ordinarily allow.
"We hope the FBI takes a close look at pay-to-play within the PLUM Committee and on the entire City Council."
Huizar, first elected in 2005, must step down in 2020 because of term limits. His wife, Richelle Huizar, announced two months ago she is running to replace him on the council, representing a district stretching from Boyle Heights to Eagle Rock.
Whether her bid will move forward is an open question.
Derek Humphrey, the political consultant who announced the launch of Richelle Huizar's campaign in September, had no comment on Thursday when asked whether her plans have changed.
Wesson has been a close ally of Huizar, endorsing him in his 2015 bid for reelection and showing up for at least one fundraiser. At one campaign event in 2013, Wesson referred to Huizar as his best friend on the council and said Huizar was like a brother.
"I trust him with my life," Wesson said at the time. "He does the same for me."
Twitter: @DavidZahniser
Twitter: @AlpertReyes
---
UPDATES:
5:45 p.m.: This article was updated with comments from the FBI, the Coalition to Preserve L.A. and additional details.
This article originally published at 12:30 p.m.
Sign up for Essential California for news, features and recommendations from the L.A. Times and beyond in your inbox six days a week.
You may occasionally receive promotional content from the Los Angeles Times.