Discrimination complaint against L.A. councilman was 'mishandled,' personnel official says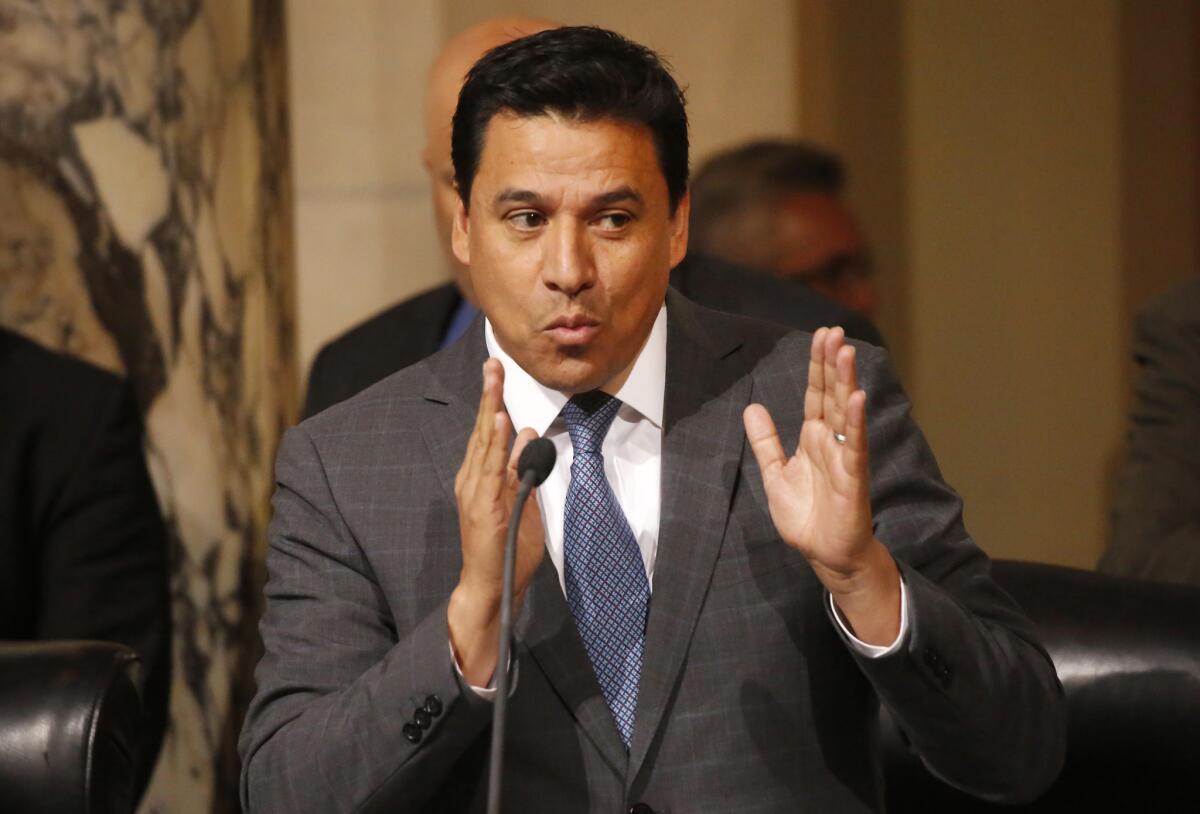 Five months ago, Los Angeles Mayor Eric Garcetti unveiled a new website for reporting discrimination and harassment at City Hall, saying officials need to respond "quickly and efficiently" to such complaints.
MyVoiceLA, the website, received a discrimination complaint against City Councilman Jose Huizar on June 20, according to the city's personnel department. But city officials allowed nearly three months to pass before informing Council President Herb Wesson, who then called for a special five-member committee to investigate.
Now, an official has acknowledged that his department mishandled the complaint, saying Wesson should have been told much sooner.
"We regret what happened. We apologize that it happened. And we're never going to let this happen again," said personnel department spokesman Bruce Whidden.
"Staff has been trained and will be able to identify a complaint that could trigger the ordinance" that governs discrimination complaints against city elected officials, he said.
Under city law, the personnel department must inform the mayor or the council president when it receives a complaint of discrimination or sexual harassment against an elected L.A. official, and then a panel must be convened to examine the allegations.
Whidden said the delay in notifying Wesson occurred because agency staffers did not initially recognize that the complaint targeted an elected official. "It was a very broad complaint that made it difficult to identify a specific charge against a specific person," he said.
In addition, Whidden told The Times on Tuesday that he erred last month when he said the Huizar complaint dealt with allegations of discrimination, harassment and retaliation. The letter from the personnel department to Wesson mentioned only discrimination, he said.
Whidden declined to identify the accuser and would not say whether the personnel department had made contact with him or her. Huizar, for his part, issued a statement Tuesday emphasizing that the complaint is "based solely on alleged discrimination."
"I take this matter seriously and deny discriminating against any current or former staff members, and I look forward to a full, transparent and expeditious resolution," he said.
The department's changing stories and its delay in processing the complaint have marred the rollout of MyVoiceLA, one of several Garcetti initiatives aimed at addressing allegations of sexual harassment and discrimination at City Hall.
Garcetti spoke out on social media last week in support of psychology professor Christine Blasey Ford, who has accused U.S. Supreme Court nominee Brett Kavanaugh of sexual assault, saying that "speaking up is an incredible act of bravery."
Asked about the Huizar complaint, Garcetti said he had not been informed of the delay. Garcetti told The Times he considered the news "disappointing" and noted that the process for investigating allegations against elected officials is different than the one used for other city workers.
"But that should be no excuse for any complaint not being handled promptly," he said. "I expect them to do better."
Employers in California are required by law to address allegations of workplace harassment and discrimination in a prompt manner, experts say. If an employer fails to do so, additional workers can be exposed to continuing improper behavior, said Twila S. White, a Los Angeles-based attorney who handles discrimination cases.
"It creates further opportunity for there to be further harm," she said.
Leslie F. Levy, an Oakland-based attorney who also specializes in discrimination and harassment cases, said an employer's failure to respond promptly to a workplace complaint can also cause victims to conclude that managers have no problem with the wrongdoing.
"They will have every reason to believe the behavior is being condoned or nobody cares," she said.
Over the last few weeks, the city personnel department has offered different explanations for its delay.
Initially, Whidden said department staff failed to identify the Huizar complaint because the MyVoiceLA website was in testing mode and lacked a formal system for tracking complaints. He also said no work had been done on the complaint during the nearly three months that passed between the day it was filed and the day Wesson was informed of its existence.
Several days later, in response to additional questions, Whidden said his previous explanation was incorrect and that each complaint received by MyVoiceLA, including the one targeting Huizar, was reviewed the week it was filed.
Agency employees found the Huizar complaint one day after it was received, he said, and began processing it, reaching out to the accuser. Still, he said, the complaint should have been forwarded to Wesson much sooner.
Department staff informed Wesson of the complaint on Sept. 13, and a day later Wesson gave instructions to form the special committee.
The Special Committee on Investigative Oversight now must decide whether a complaint is serious enough to warrant the hiring of an independent investigator.
Under the city's rules, the committee's findings must be forwarded to the council for review and possible action.
Wesson was notified of the complaint on the same day that Huizar's wife, City Commissioner Richelle Huizar, announced plans to run for her husband's seat in 2020. Councilman Huizar, who represents neighborhoods from Boyle Heights to Eagle Rock, faces term limits that year.
Twitter: @DavidZahniser
Times staff writer Emily Alpert Reyes contributed to this report.
Sign up for Essential California for news, features and recommendations from the L.A. Times and beyond in your inbox six days a week.
You may occasionally receive promotional content from the Los Angeles Times.