Conservative activist arrested at City Council meeting sues Huntington Park, accusing city of trolling him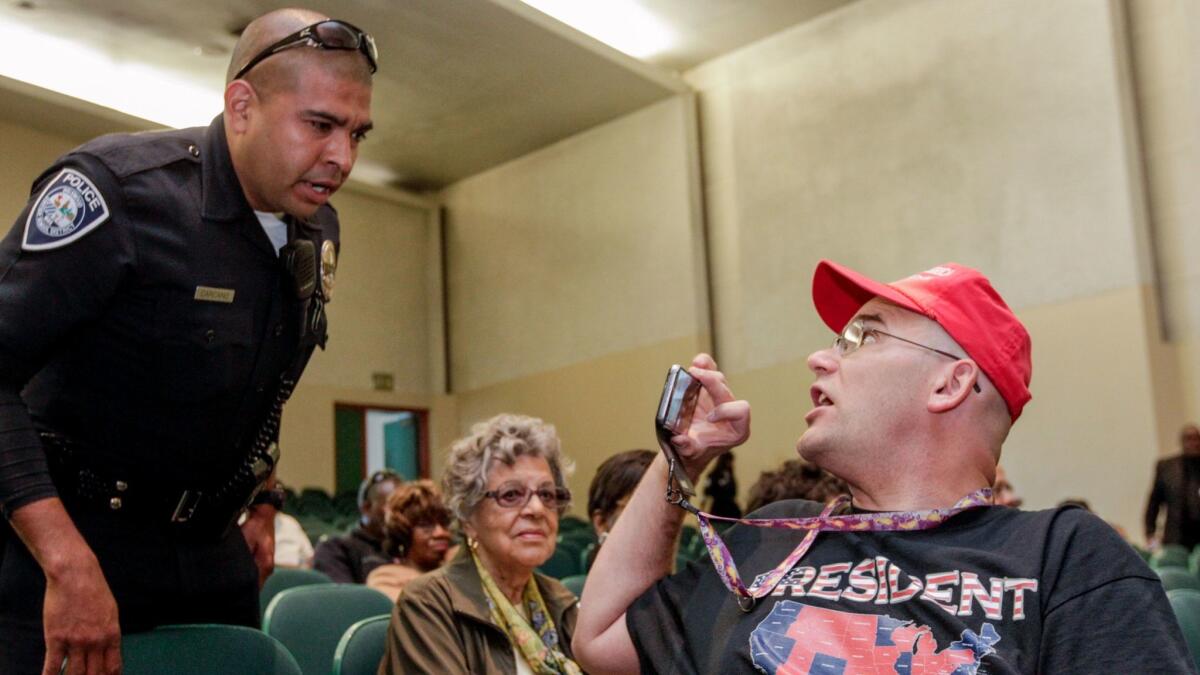 Arthur Christopher Schaper sat in the back of the Huntington Park City Council chambers, wearing a "Make America Great Again" cap and a Donald Trump flag around his shoulders like a cape.
The council warned him he was disrupting the June meeting. Police officers asked him to leave. He refused, likening himself to Rosa Parks.

For the record:
11:15 a.m. Dec. 1, 2017An earlier version of this article said Schaper was president of the Beach Cities Republicans club. He is no longer president.
Schaper was arrested on suspicion of two misdemeanor counts of disturbing a public meeting and disobeying a police officer, according to the Huntington Park Police Department.
Now, more than five months later, Schaper has sued the city of Huntington Park, claiming he was wrongfully arrested and that the city trolled him with "false notices" to appear in court when the case had not yet been presented by police to the Los Angeles County district attorney's office.
Schaper, who was profiled by The Times three days before his arrest, is a familiar, confrontational — and, some say, racist — presence at Huntington Park council meetings, where he rails against "illegal aliens," and heckles for his Facebook Live audience. Police officers who attend the meetings are so familiar with him that they call him by his first name.
On June 6, Schaper and a cadre of anti-illegal immigration activists loudly laughed through the public comments of a man who told the council that Schaper was a white supremacist.
Members of the City Council warned Schaper twice that he was disrupting the meeting before asking police to escort him out.
"You have to leave or we're going to take you to jail," a Huntington Park police officer told him. "I don't want to do that if we don't have to. This isn't worth going to jail for."
"They said the same thing to Rosa Parks," Schaper said, just before he was arrested.
Schaper, the former president of the Beach Cities Republicans club, wrote on his blog that he sat in jail for two hours and was released with a citation and notice to appear at a Downey courthouse three months later.
On Sept. 6, he wrote, he showed up, but his name was not listed on a court calendar. A proof of appearance document from the court, which he posted, said no case had yet been filed.
"I was astounded that the Huntington Park police department couldn't bother to file anything with the District Attorney's office in the last three months. Would it really have taken them that long?" he wrote.
He was rescheduled to appear Oct. 23. The same thing happened. His court date has since been rescheduled two more times.
Misdemeanor charges must be filed within one year of an arrest, said Ricardo Santiago, a spokesman for the Los Angeles County district attorney's office. As of Thursday, no charges had been filed.
Santiago said police presented a case to the district attorney's office, which will decide whether to pursue charges, on Nov. 22.
That was the same day Schaper sued the city for $10,000 in small claims court, records show. He claimed a "gross violation of civil rights" and said "city police harass plaintiff with false notices to appear in court."
Schaper reached out separately to two Times reporters about the case this week. Before a reporter could discuss it with him, he declined further comment, citing his displeasure with The Times' profile of him.
Huntington Park Police Lt. Patrick Kraut, who is handling the case, refused to discuss the arrest or name the suspected charges on which Schaper was arrested. Local law enforcement agencies are required by the California Public Records Act to provide the charges on which a person is held and factual circumstances surrounding an arrest.
Kraut told a Times reporter that Schaper "has a copy of the citation" and that she should get it from him.
Lt. Al Martinez, a spokesman for the department, later provided the two misdemeanor charges on which Schaper was held.
Laurie Levenson, a former federal prosecutor who now is a professor at Loyola Law School in Los Angeles, said it's hard to say if the police would keep refusing to present a case out of spite or if the "inefficiency" of an overburdened court system was to blame.
"If there's bad blood between them, you would hope [police] would pay attention so they don't make mistakes," she said. "If they are just hassling him, that would be totally inappropriate."
Still, with the "enormous volume of misdemeanor and infraction cases" that regularly cause delays in local courts, Schaper's alleged crime, Levenson said, "is not one that would be the highest priority, even though you think he's constantly on their minds."
Twitter: @haileybranson
Sign up for Essential California for news, features and recommendations from the L.A. Times and beyond in your inbox six days a week.
You may occasionally receive promotional content from the Los Angeles Times.