Rep. Ilhan Omar tells California audience that Trump's anti-Islam remarks inspire attacks like New Zealand shooting
Rep. Ilhan Omar of Minnesota, one of the first two Muslim women in Congress, accused President Trump on Saturday of inciting hatred of Islam and inspiring attacks like the killing of 50 people this month in mass shootings at mosques in New Zealand.
In a speech to a packed hotel ballroom at a Muslim civil-rights banquet in Woodland Hills, the newly elected Democratic congresswoman said the New Zealand attack by a white supremacist fit a pattern of threats and assaults at American mosques and schools.
"We all kind of knew that this was happening," she said. "But the reason I think that many of us knew that this was going to get worse is that we finally had a leader in the White House who publicly says Islam hates us, who fuels hate against Muslims, who thinks it is OK to speak about a faith and a whole community in a way that is dehumanizing, vilifying."
Trump, she told the crowd, "doesn't understand, or at least makes us want to think that he doesn't understand, the consequence that his words might have. Some people like me know that he understands the consequences. He knows that there are people that he can influence to threaten our lives, to diminish our presence."
White House Press Secretary Sarah Huckabee Sanders said last week that it was outrageous to suggest Trump had any responsibility for the New Zealand shooting.
Omar's speech at the Council on American-Islamic Relations dinner sparked a protest by more than 100 people outside the hotel hours earlier. Police closed a stretch of Canoga Avenue, and uniformed officers stood watch over demonstrators waving Israeli and U.S. flags and calling Omar an anti-Semite.
Several of them marched with an enlarged photo of Omar, a Somali immigrant, with a swastika over her face and the slogan: "Your Hate Makes Us Stronger."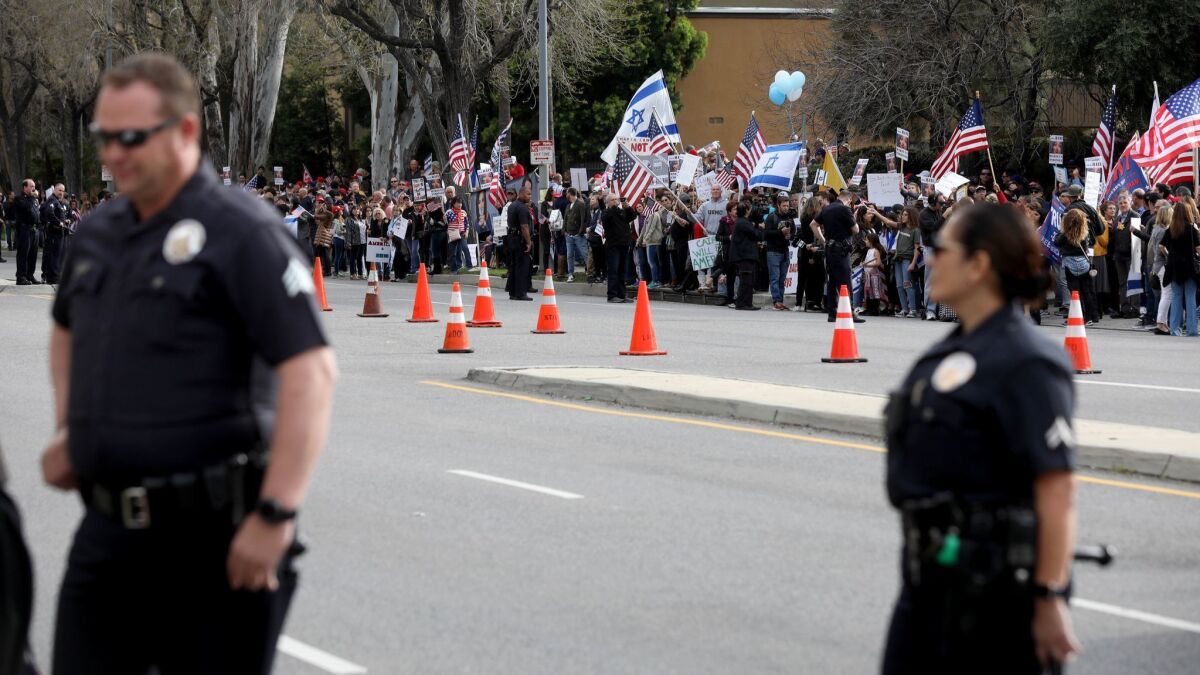 Recent comments by Omar that many criticized as anti-Semitic led the House to pass a resolution condemning hate speech. She had said that pro-Israel advocates "push for allegiance to a foreign country," and earlier this year she apologized for suggesting money was the source of Israel's influence in Washington.
The turmoil led Trump to claim that Democrats oppose Israel and Jews.
Trump points finger on hate speech »
Omar was applauded enthusiastically by the crowd at the banquet.
Faisa Mohamud, a pharmacy technician from Bellflower who is also a Somali immigrant, said she agreed with Omar's comments on Trump.
"When you are a leader of a country, you shouldn't be downgrading some people and uplifting other people," she said.
In her remarks, Omar mocked the protesters.
"There are thoroughly fascinating people outside who for so many years have spoken about an Islam that is oppressive, an Islam that lessens and isolates its women, and today they gather outside to protest a Muslim woman who is in Congress," she said. "The irony in that is very entertaining to me.
"I don't think many of them realize that people like myself, and many of the people in this room, could care less about what they have to say, because we know who we are, and where we belong, and what we stand for," she added.
Omar, who wrote a column in the Washington Post last week backing a two-state solution to the Israeli-Palestinian conflict, referred only elliptically to the uproar over her comments on Israel.
She said Muhammad had stones, fruit and other objects thrown at him, so "you know that when Ilhan is facing some controversy, that that is not to be afraid of."
---
Life is stressful. Our weekly mental wellness newsletter can help.
You may occasionally receive promotional content from the Los Angeles Times.