Homeboy Industries linked to Mexican Mafia racketeering case; organization responds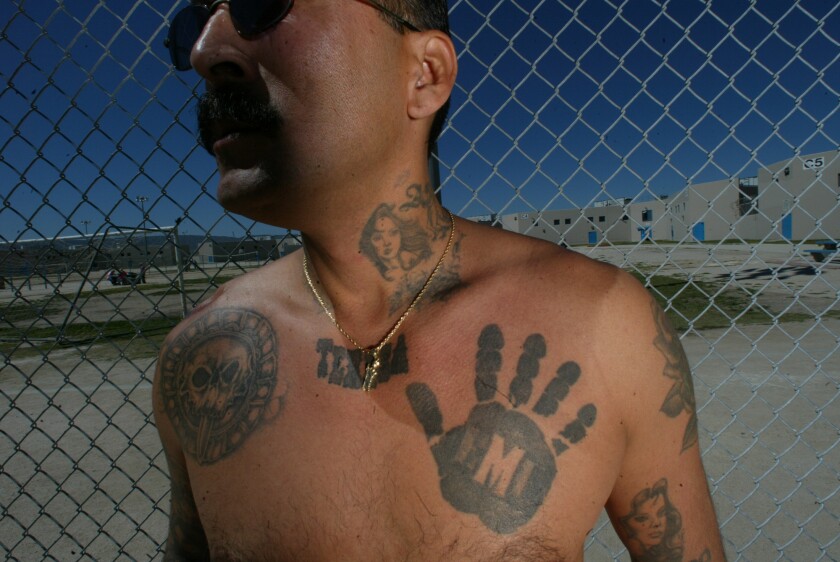 Nearly two dozen members of three Northeast Los Angeles gangs united by the Mexican Mafia have been indicted by a federal grand jury on charges of racketeering, extorting money from drug sellers and conspiring to kill rivals.
The indictment unsealed Thursday reveals the Mexican Mafia or La Eme united the leadership of three multi-generational gangs — Frogtown, the Rascals and Toonerville -- that control territories in Atwater Village, Glendale and northeast Los Angeles.
Setting aside decades of rivalry, the gangs' hundreds of members united under the leadership of Arnold "Arnie" Gonzales, a key leader of the Mexican Mafia serving a life sentence in Pelican Bay, and Jorge Grey, Frogtown's leader or "shot caller," according to the indictment.
Grey and Frutoso "Drowsy" Mendoza and a third defendant remain at large.
The groups unified under a "peace treaty" with Grey -- also known as "Bouncer" -- serving as the alliance's leader, authorities allege. Together, the gangs controlled the narcotics business and collected so-called taxes from street drug dealers operating in the area.
Using coded language, the gang arranged for shootings, drug deals and punishments for those who opposed their reign.
"You had three rival gangs coming together as one criminal enterprise," said Carlos Canino, special agent with the Bureau of Alcohol, Tobacco, Firearms and Explosives in Los Angeles. "I haven't seen that since the riots."
Chief Assistant U.S. Atty. Robert Dugdale said that early in the unification of the gangs, one leader who wouldn't go along with the plan was shot eight times and later joined the enterprise. Dugdale said that ATF, the Los Angeles Police Department and Glendale police worked together to take "decisive action that will eradicate this new organization."
Dugdale said that one gang member described the new organization of "United Nations" and the "New World Order" of gangs.
In one case, Grey is believed to have shot a drug dealer who failed to comply with a requirement to pay "taxes" on the narcotics they sold. The message sent, Dugdale said, was "you don't pay, you get killed."
Dugdale said the new organization attempted to fill a vacuum created by prior federal indictments.
Homeboy Industries, Dugdale said, was a location that was utilized by several defendants. Some gang members were utilizing that charitable organization to hide their "criminal stripes," he said.
They also discussed where to arrange "tax" revenue collection points and where they could trade weapons. According to the indictment, Santos Zepeda, a.k.a. "Slim," spoke with a fellow gang member about meeting a man who owed $5,000 in taxes at Homeboy Industries in March 2013.
Prosecutors also claim Grey gave one of his co-defendants a .38-caliber gun at Homeboy Industries in May 2013. The gun was wrapped in one of the organization's tan shirts.
"As a gang rehabilitation center, we exist to support all those who want to turn away from criminal pasts and transform their lives," Homeboy officials said in a statement. "We understand that while we successfully help a majority of our clients, a small percentage attempt, but fail, to make that transformation.
"When people relapse we are truly heartbroken, but we remain committed to creating healthier and safer communities through our work," the statement continued. "We are also saddened by the allegations that inappropriate activities may have taken place in the safe haven we have created. We will vigorously investigate these items and when contacted by law enforcement, we will fully cooperate with any inquiries."
The indictment lists 22 people under the federal RICO Act, all of whom face up to 20 years in prison if convicted. Two other men are charged with federal drug offenses, authorities said. Three suspects are still at large.
Toonerville is by far the largest of the three gangs, with an estimated 450 members, according to the indictment. The Rascals and Frogtown have an estimated 120 and 90 members, respectively, authorities said.
The Mexican Mafia allegedly launched its plan to unite the gangs after it seized control of northeast L.A. in 2010.
For breaking California news, follow @JosephSerna and @LAcrimes.
---
The stories shaping California
Get up to speed with our Essential California newsletter, sent six days a week.
You may occasionally receive promotional content from the Los Angeles Times.