Inglewood city councilman faces fine for taking free Rams tickets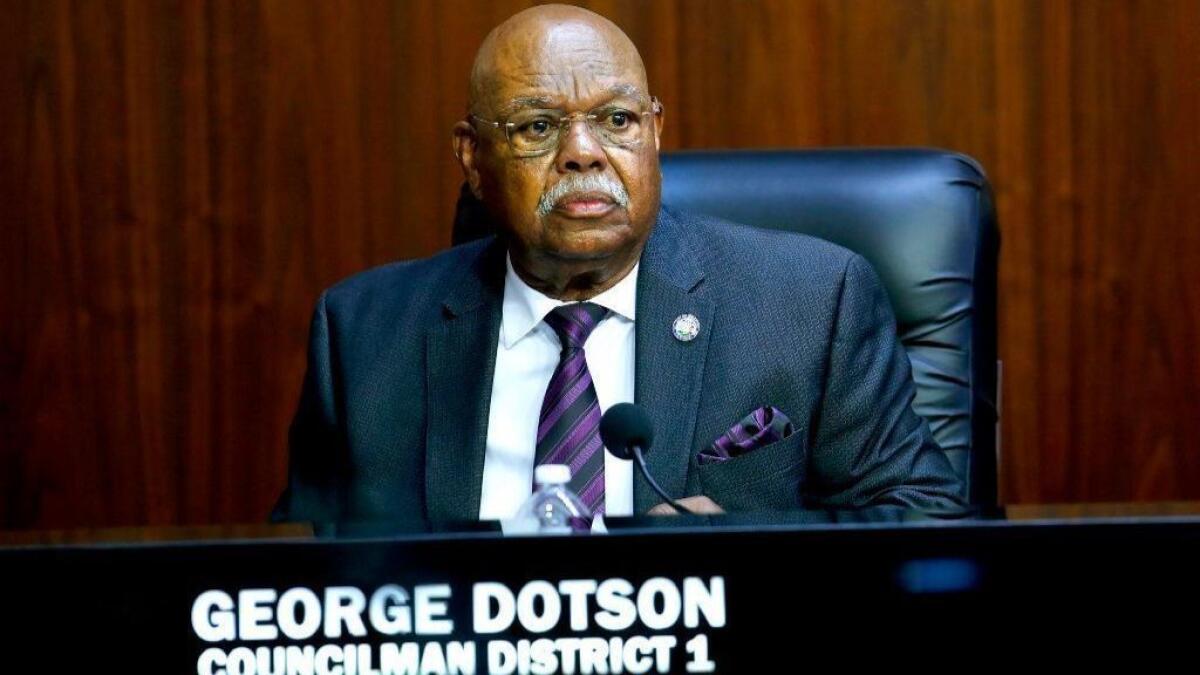 The state's top political watchdog has proposed fining a member of the Inglewood City Council $2,000 for taking free Rams tickets from the team.
Councilman George Dotson reported the gift on his disclosure forms in September 2016. The tickets were valued at $750, and the limit for gifts that politicians were allowed to receive in 2016 was $460.
The ruling from the California Fair Political Practices Commission, a bipartisan committee that oversees campaign finance, conflicts of interest and government ethics, notes that the team "didn't have any business before the Inglewood City Council" in the year following the gift.
Still, the team's owner and the developers of the multibillion-dollar stadium have become political heavyweights in the city since the new home for the Rams and the Chargers was first proposed for Inglewood in 2015.
They have been key political backers of Mayor James T. Butts and his allies on the Inglewood City Council, including Dotson. Last year, The Times reported that Dotson's campaign committees have received nearly $160,000 in loans from Butts' campaign committees since 2012. At the time, none of the money had been repaid.
The 78-year-old Dotson is a longtime businessman in Inglewood and was reelected in 2017. After being contacted by the FPPC in June 2017, Dotson cut a check for $300 to the Rams. The payment brought him back into compliance with the gift limit.
"In this case the enforcement division found no evidence that respondent intended to conceal, deceive or mislead the public," the ruling reads.
"Respondent paid down the subject's gift amount over the limit shortly after contact from the enforcement division and stated he was unfamiliar with the act's gift limits."
Dotson has agreed to pay the most recent fine. Still, the commission's four members must formally approve the penalty at their next meeting.
Dotson did not immediately respond to a request for comment Tuesday.
Sign up for Essential California for news, features and recommendations from the L.A. Times and beyond in your inbox six days a week.
You may occasionally receive promotional content from the Los Angeles Times.