5 Inglewood officers who killed couple in parked car are now off police force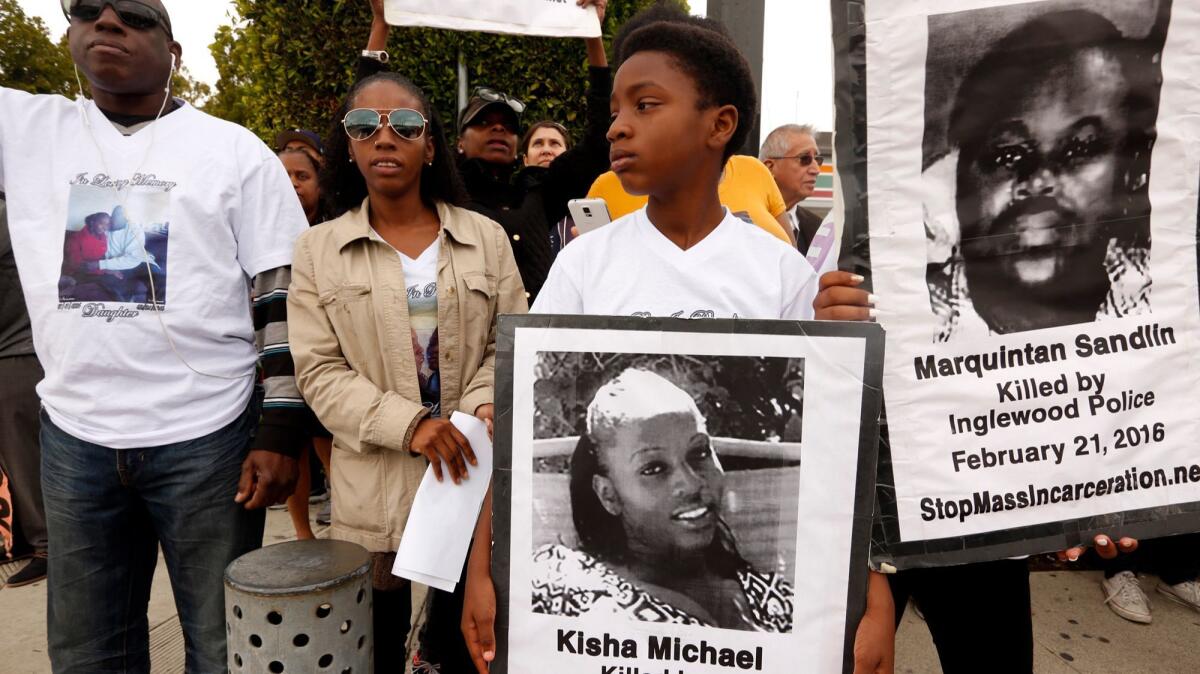 The five Inglewood police officers who fatally shot a young couple, firing 20 bullets into them as they appeared to be unconscious in a parked car, are no longer police officers in the city, Mayor James T. Butts said Tuesday.
The announcement marked the end of an internal probe of the Feb. 21, 2016, slayings of Marquintan Sandlin and Kisha Michael, but it offered scant information about the incident, which has stoked protest and calls for greater transparency in the Inglewood Police Department.
The Los Angeles County district attorney's office is continuing to investigate the shooting.
"The officers involved in the incident are no longer members of the Inglewood Police Department," Butts said in his statement. "The department's report and any discipline that results from the report are confidential."
Butts said the internal investigation into the fatal shooting of Sandlin, 32, and Michael, 31, was completed on Friday. His statement did not specify the number of officers or whether they were fired or had resigned.
The mayor's spokeswoman, Jasmyne Cannick, later said that the five officers were "separated from service" after firing their weapons during the encounter with Sandlin and Michael.
All five held the rank of police officer, and four had been with the Inglewood Police Department for two years or less. One had been with the department for five years, Cannick said.
Cannick said the mayor was unable to comment further.
Although Butts did not name the officers, they were previously identified by the city, which initially refused, after a public records request. The five officers involved in the shooting were identified as Michael Jaen, Richard Parcella, Jason Cantrell, Sean Reidy and Andrew Cohen.
To the families of Michael, a mother of three boys, and Sandlin, a father of four girls, the news was overwhelming.
"Finally, finally. Some kind of justice for them," said Trisha Michael, the twin sister of Kisha Michael. "To hear that these officers are off these streets verifies everything that I've been feeling and everything I've been standing up for."
But she said questions remain unanswered. So far, the shooting has been shrouded in mystery, but The Times has gleaned information from autopsy reports conducted by the Los Angeles County coroner's office. The city has not released a timeline of events or further information beyond a statement summarizing the incident.
According to autopsy reports and the prior police statement, officers approached Michael and Sandlin in a car at Manchester Boulevard and Inglewood Avenue shortly after 3 a.m.
The couple appeared "unconscious" and Michael, who sat in the passenger seat, had a gun on her lap, authorities said.
An autopsy report reviewed by The Times said only that there was an "unknown exchange" between police and the couple before officers fired several rounds into the car.
Police have never said whether Michael or Sandlin pointed the handgun at them.
Days after the shooting, Butts told KNBC-TV Channel 4 in an interview that officers "retreated, isolated the vehicle and spent about 45 minutes attempting to rouse the occupants and to de-escalate the situation."
Earlier this year, Butts would not corroborate that account to a Times reporter.
"Any timeline that has been given was based upon preliminary information in an attempt to provide basic information," he said in an earlier email.
The autopsy report shows that Michael's blood-alcohol content was 0.185%, more than twice the legal limit for driving. Traces of methamphetamine, which the coroner's report said can be used to treat attention deficit disorder and obesity, were found in her blood.
Sandlin's blood-alcohol content was 0.13%, over the legal driving limit. No drugs were found in his system.
Ed Obayashi, a sheriff's deputy and legal advisor for Inyo County who is an expert on use-of-force incidents, said the outcome of the internal inquiry was extraordinary.
"It is very unusual for them to be gone so quickly," Obayashi said of the officers, adding that it is "unheard of" for a police department to not provide explanations about what the officers thought and what guided their decisions in the shooting.
Attorney Milton Grimes, who is representing Michael's family in a civil lawsuit filed against the city, said the news that the officers no longer work for the department shows that the shooting was "out of policy" and an "unconstitutional, bad shooting."
"For the city to come out now and say these officers are no longer employed with the Inglewood Police Department is an admission of guilt to me," Grimes said. Still, he was concerned over the lack of information about what led to the shooting.
"I cannot settle this case until I can tell this mother how and why her daughter was shot 13 times. [We] still have not gotten that information yet," Grimes said. "But we're getting closer. I can feel it."
Melina Abdullah, a Cal State Los Angeles professor and organizer with Black Lives Matter, said the officers' dismissal provides a "huge victory" in the quest for justice in the shooting death of Michael and Sandlin.
"It's gives some satisfaction to the family that something is moving," Abdullah said. "We will never get justice unless we transform things so nothing like this ever happens again. And that's a long road but we have to celebrate the small victories along the way."
Times staff writer Richard Winton contributed to this report.
Twitter: @MattHjourno
ALSO
Authorities identify 2 men who died in roaring Kern River over holiday weekend
Shooting suspect is tracked down, shot by deputies in Apple Valley
Deputies' union asks L.A. County sheriff to publish additional data on use of force
---
UPDATES:
11:05 p.m.: This article was updated with comments from a law enforcement expert.
7:45 p.m.: This article was updated with comments from Trisha Michael, Melina Abdullah, and further details about the employment status of the five officers involved in the shooting.
This article was originally published at 6:25 p.m.
Sign up for Essential California for news, features and recommendations from the L.A. Times and beyond in your inbox six days a week.
You may occasionally receive promotional content from the Los Angeles Times.