Trial opens in Irvine crash that killed 2-year-old girl and her grandmother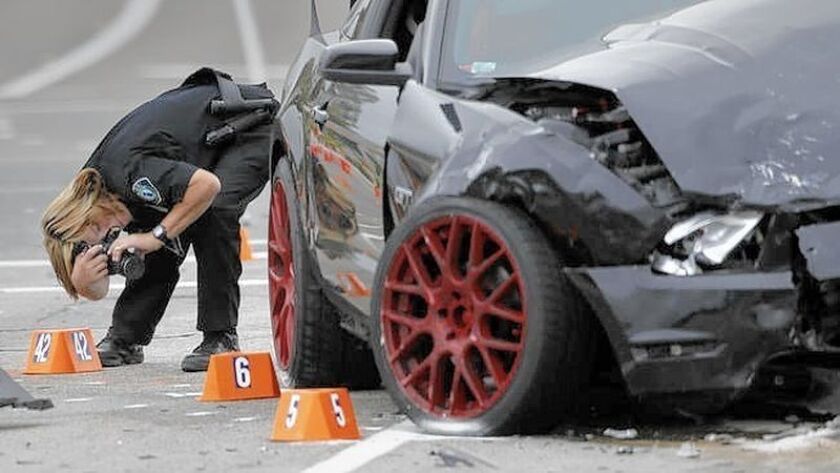 Jurors heard opening statements Tuesday in the case of a Costa Mesa man accused of speeding through an Irvine intersection and killing a 2-year-old girl and her grandmother in a hit-and-run crash.
Whitney Bokosky, an Orange County senior deputy district attorney, argued that Alec Scott Abraham recklessly raced another car in his Ford Mustang through a red light and broadsided a family in a Chevrolet Cruze headed home after an evening of shopping in Costa Mesa on June 10, 2015.
Katherine Hampton, 54, of Lake Forest died at the scene and her granddaughter Kaydence later died in a hospital.
Abraham could face 30 years to life in prison if convicted of two counts of murder.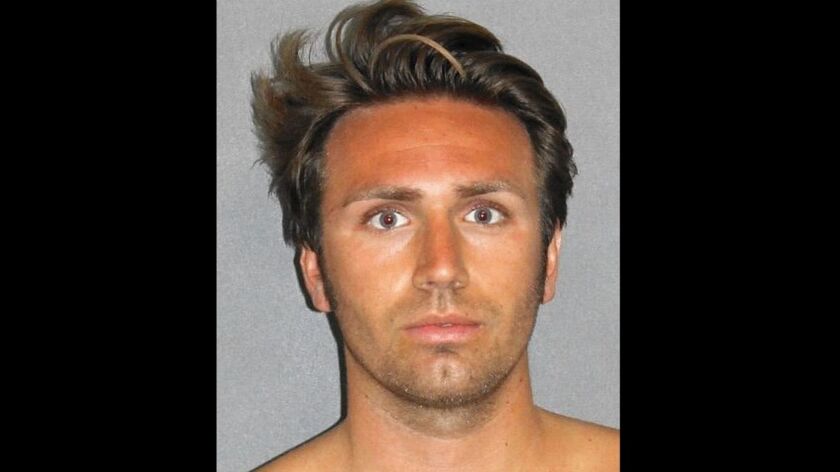 "In no world is this an accident," Bokosky said in Orange County Superior Court in Santa Ana. "In no circumstances is it an accident to go 76 mph through a red light."
Megan Hampton, Kaydence's mother, led the prosecution's list of witnesses Tuesday, crying on the stand as she looked at a photo of her own mother holding the 2-year-old. Hampton was sitting in the front passenger seat as her mother drove her, Kaydence and her then-7-year-old son, Nathaniel, home after going wedding dress shopping for her two soon-to-be sisters-in-law.
Megan Hampton said the last thing she remembers before the collision was her mother asking whether Kaydence was asleep in the back seat. She turned around to see her daughter in her booster seat looking out the window.
Megan Hampton suffered a fractured jaw in the crash, and Nathaniel suffered a broken collarbone, according to prosecutors.
Defense attorney Houman Fakhimi acknowledged that the Hampton family's pain will never go away.
"Everything that I will put forward to you through the next week is not in any way meant to diminish what happened … or minimize the two lives that were lost," Fakhimi said.
But he also challenged an eyewitness' statement about seeing the car Abraham is accused of racing, adding that there were no skid marks, security camera footage or other corroborating evidence.
Jurors also heard from a motorist who said she was stopped at a red light at Barranca and Alton parkways on her way to her night job as a security alarm dispatcher when her car was hit by the Mustang. She said she got out to help and noticed that Abraham's hand was bleeding. Through the Mustang's onboard collision alert system she asked a 911 dispatcher to send an ambulance.
Irvine Police Officer Kevin Von Luft, the first officer on the scene, testified that the Mustang's airbag was deployed and drops of blood were spattered throughout the interior. Bystanders called him to the Cruze, where he found Megan Hampton crying in the front passenger seat.
The 20-year Irvine Police Department veteran wiped tears from his face when he described trying to help Katherine Hampton.
"Her eyes were open but she wasn't responsive when I tried to communicate with her," Von Luft said.
He said someone offered to let Abraham borrow a cellphone after the crash and then reportedly watched Abraham walk away toward a strawberry field.
Investigators said they quickly identified Abraham as a suspect in the hit-and-run when they found four traffic citations with his name on them in the wrecked Mustang. Abraham was arrested at a Costa Mesa park the day after the crash.
Bokosky closed the prosecution's opening statement by playing a cellphone video that police said Abraham texted to friends in November 2014. In the video, the Mustang's engine revs as it's driven and the speedometer hits 140 mph before the camera pans to Abraham's face as he shouts "Wooo!"
"Katherine and Kaydence had to pay with their lives because of his stupidity," Bokosky said.
Abraham is out of custody on $1 million bond, according to court records.
Daniel Langhorne is a contributor to Times Community News.
---
The stories shaping California
Get up to speed with our Essential California newsletter, sent six days a week.
You may occasionally receive promotional content from the Los Angeles Times.