Jahi McMath family, Oakland hospital to enter mediation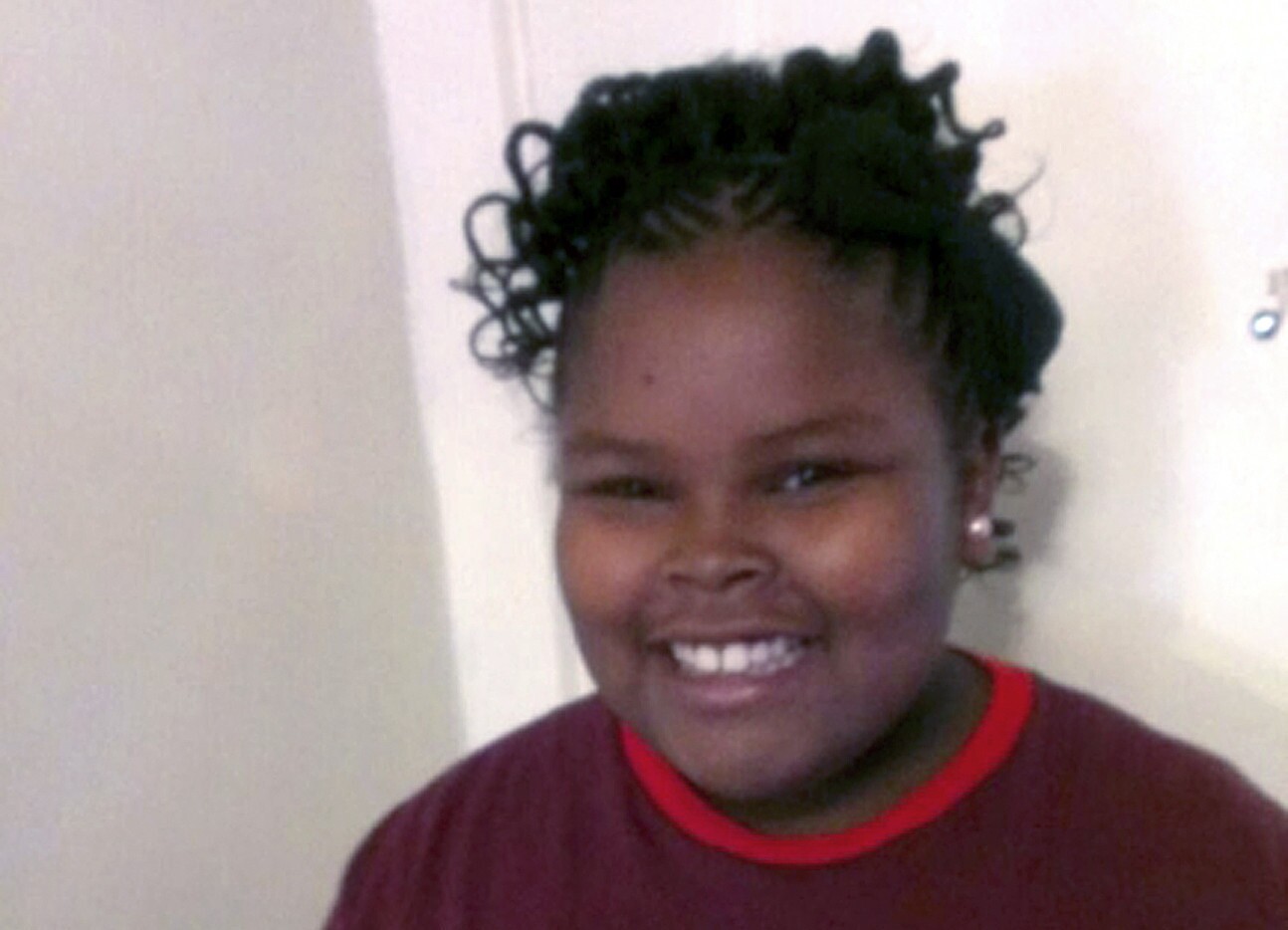 Jahi McMath, shown in an undated photo provided by her family.
(Associated Press)
Nailah Winkfield, mother of 13-year-old Jahi McMath, is comforted by brother Omari Sealey as she talks to the media outside Children's Hospital Oakland.
(Associated Press)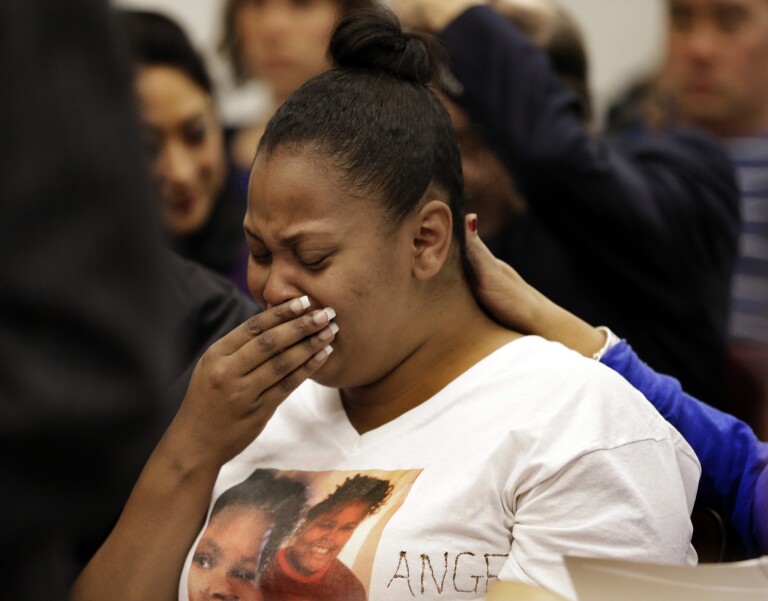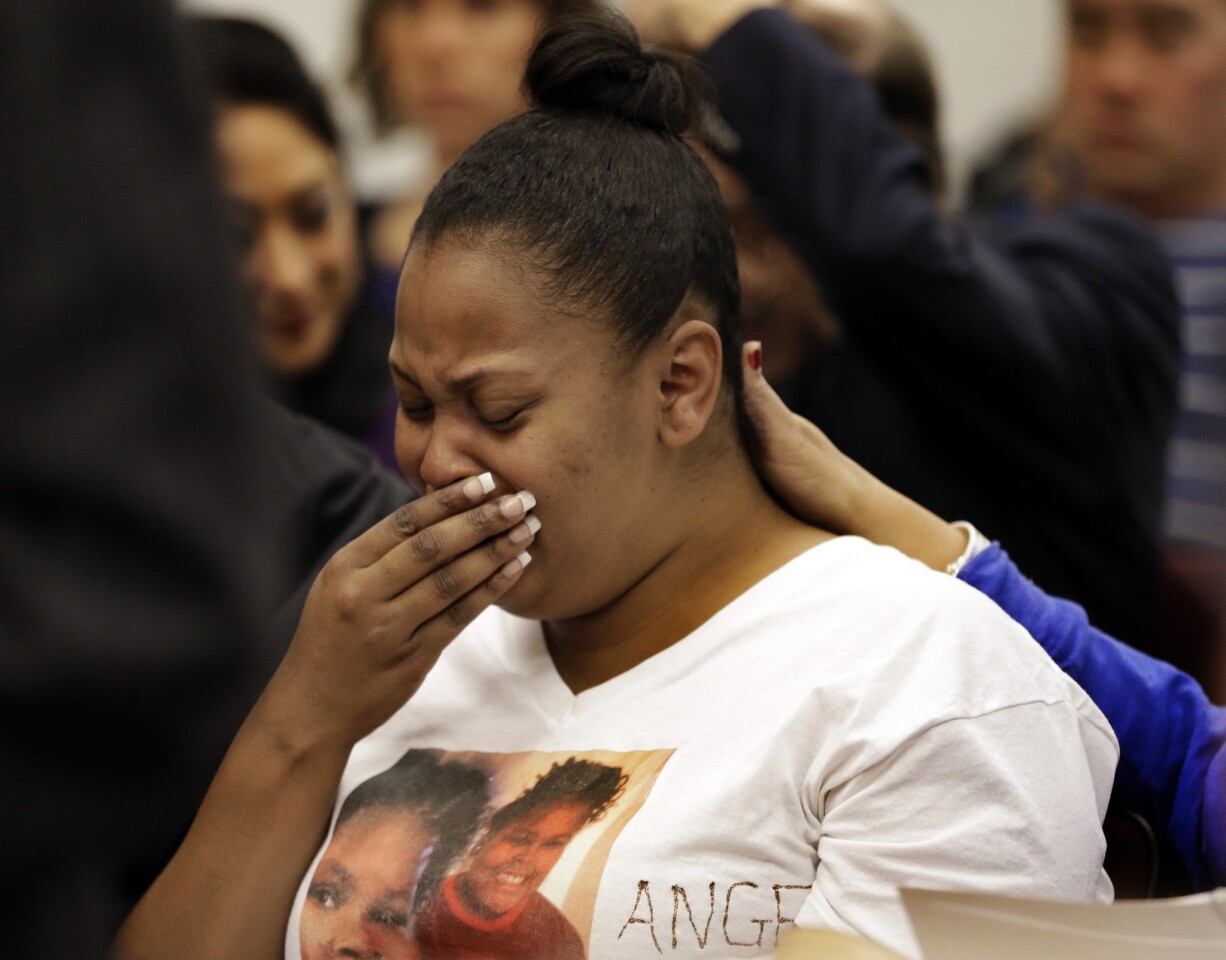 Nailah Winkfield, mother of 13-year-old Jahi McMath, cries before a courtroom hearing regarding McMath, on Dec. 20, 2013, in Oakland.
(Ben Margot / Associated Press)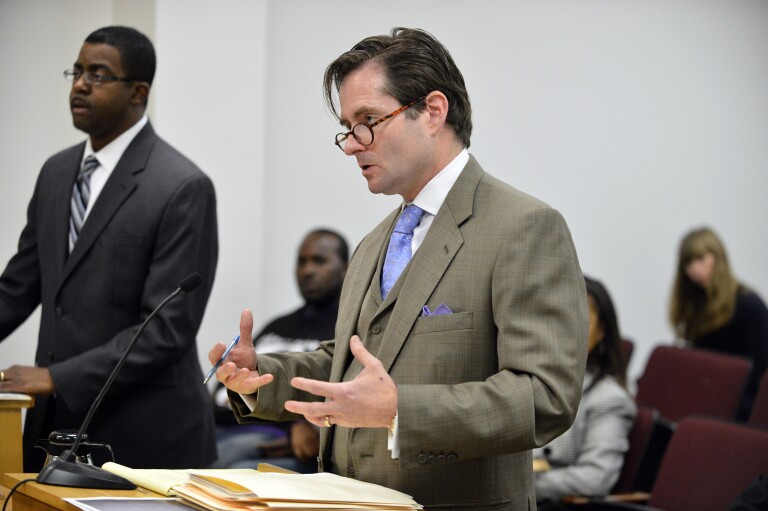 Christopher Dolan, attorney for Nailah Winkfield, mother of Jahi McMath, speaks during a court hearing in Oakland on Dec. 23, 2013.
(Kristopher Skinner / Associated Press)
Nailah Winkfield, center, mother of Jahi McMath, receives hugs and support from family.
(Susan Tripp Pollard / MCT)
Marvin Winkfield places his arm around his wife, Nailah Winkfield, mother of 13-year-old Jahi McMath, as they wait outside a courtroom Friday.
(Ben Margot / Associated Press)
Omari Sealey makes a statement to the media on the condition of his niece Jahi McMath on Monday.
(Marcio Jose Sanchez / Associated Press )
A federal magistrate is scheduled to mediate talks Friday between the family of 13-year-old Jahi McMath and the Oakland hospital where the brain-dead girl continues to be kept on a ventilator per a court order.
Each side is slated to present its case to the magistrate during the session. Children's Hospital Oakland argues that Jahi is legally dead and opposes performing medical procedures on a "deceased person." Jahi's family insists that she is still alive, and wants her transferred to a long-term care facility despite a consensus among neurologists that she is dead.
"When I go in there and touch her, she moves her whole body, her legs, her shoulders," Jahi's mother, Nailah Winkfield, told reporters outside the hospital last week. "How can you possibly say my child is dead if she responds to my voice?"
After hearing both sides, the magistrate will try to craft a solution that each can agree to.
Sam Singer, a public relations consultant retained by the hospital, has said repeatedly that to proceed on the course they're pursuing, the family must find an outside physician willing to insert breathing and feeding tubes, a way to transport Jahi and a nursing care facility that is willing to accept "a deceased body."
"We understand the suffering and grieving that is occurring right now, but their attorney and the family have been unable to produce a physician, transportation or a facility that would accept a deceased body on a ventilator," he told NBC Bay Area outside the hospital.
Chris Dolan, who represents the family, said in court papers that New Beginnings Center in Medford, N.Y., had agreed to take Jahi in, and that Medway Air Ambulance submitted a quote of or $27,950 to transport Jahi and an attending physician to the facility.
However, the family has reportedly had difficulty finding a physician willing to perform the procedures necessary for the breathing and feeding tubes.
Jahi suffered heavy bleeding, cardiac arrest and "whole brain death" -- defined as an irreversible cessation of all functions of the entire brain, including the brain stem -- on Dec. 12, three days after complex tonsillectomy surgery.
Two hospital physicians and three outside doctors requested by the family deemed her brain-dead, court records show, and the county coroner was notified of the death. But the family protested the hospital's intention to remove Jahi from a ventilator.
An independent physician named by Alameda County Superior Court Judge Evelio Grillo last week corroborated the determination that Jahi is legally dead, saying that testing showed no blood flow to the brain, no ability to breathe without the ventilator and no sign of electrical activity in her brain.
A judge's order keeps Jahi on the ventilator until 5 p.m. Jan. 7.
ALSO:
Marine pleads not guilty to off-base shooting incident
City College of San Francisco to remain accredited pending trial
Mother left son with transients to celebrate New Year, deputies say
---
Get breaking news, investigations, analysis and more signature journalism from the Los Angeles Times in your inbox.
You may occasionally receive promotional content from the Los Angeles Times.