Three West Hollywood council members urge mayor to resign amid harassment allegations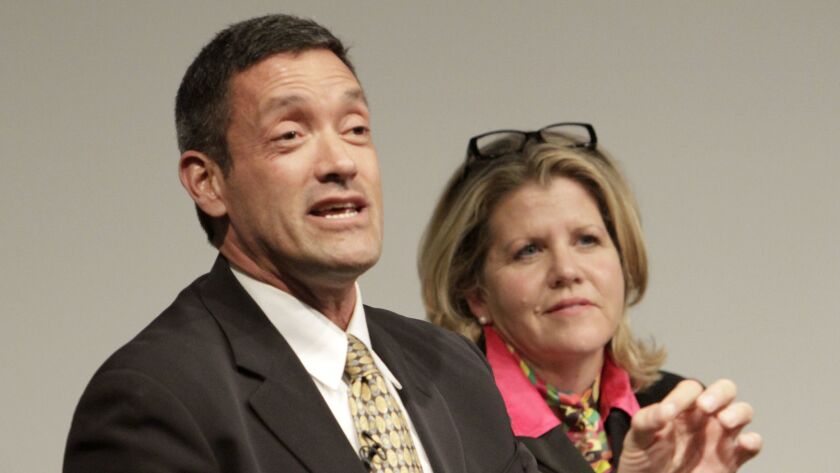 Three of West Hollywood's five City Council members on Tuesday called for Mayor John Duran to resign amid allegations that he sexually harassed fellow members of the Gay Men's Chorus of Los Angeles.
In similar statements posted to their individual Facebook pages, Lindsey Horvath, Lauren Meister and John D'Amico said that the accusations, reported by The Times last week, have been divisive and that Duran should give up his title as mayor so the city can focus on other issues.
"West Hollywood as a city is suffering as a result of the numerous and repeated allegations against Mayor Duran.… I believe that Mayor Duran should do what's best for the city — in this case, it would be to step down from the position of mayor, and perhaps, step away from the council position so that he can focus on these issues and the city can focus on moving forward," Meister wrote.
Duran told The Times on Tuesday that he will do no such thing.
"I haven't done anything wrong. I'm not going to resign," he said. "They're going to have to wait for the investigation to occur and reasonable minds to go through the accusations and draw conclusions."
In interviews with The Times, three current or former chorus members accused Duran of inappropriate touching and comments.
Jason Tong said he left the chorus after Duran slipped his hand inside the waistband of his underwear in a changing room before a show. Chorus member Brian Phillip Nichoalds also said Duran slipped his hand inside his waistband and made sexually charged comments. Joey Firoben, a former member, said Duran made inappropriate comments to him too.
Duran, the chorus' longtime board chairman, said he will be leaving the chorus after 20 years at the end of the current season but added that he had been planning to do so anyway.
In an email Tuesday, Joshua Schare, a West Hollywood spokesman, said Duran's "participation in the Gay Men's Chorus of Los Angeles is distinct and unrelated to his service as mayor of the city of West Hollywood."
The council members' statements calling for Duran to step down came one day after Robert Oliver, vice chairman of the city's Public Safety Commission, resigned in protest after other commissioners declined to condemn Duran.
"I have been honored to serve on this commission with you … but I cannot continue to serve on a commission that stays silent on issues of such importance," Oliver said at a meeting Monday night, Wehoville reported.
D'Amico, Horvath and Meister could not be reached for additional comment.
Councilman John Heilman, the only council member who has not publicly addressed the allegations, also could not be reached.
Duran has been on the City Council since 2001 and has served four terms as mayor — a largely ceremonial title that rotates annually among council members.
This is not the first time Duran has been involved in allegations of sexual misconduct.
In 2016, West Hollywood agreed to pay $500,000 to settle a sexual harassment lawsuit against the city and Duran. The suit was brought on behalf of Ian Owens, whom Duran had hired as his deputy after meeting him on Grindr, the smartphone dating app for gay and bisexual men, and having sex with him.
Owens said Duran solicited him for sex and showed him nude photographs on his phone of men he'd slept with. Owens said Duran regularly made objectifying comments about his appearance.
As part of the settlement, neither Duran nor the city admitted wrongdoing.
At that time, D'Amico, who like Duran is gay, said he often looked over during public meetings and saw Duran "trolling for men on Grindr."
"This is not gay-life excuse time, or 'This is how we do it because we're gay,' " D'Amico said at a council meeting. "This is we-live-in-the-21st-century time, and treating people with respect and care, and following not just the letter of the law but the spirit of the law is ... part of who we are as a city."
In her Facebook statement Tuesday, Horvath wrote that the city "cannot focus on the work of the people when we have to address new and numerous allegations of sexual misconduct, including whether our mayor used his title to solicit sexual favors. It is not fair to the people of this city to continue seeing 'West Hollywood' in the same sentence as these allegations."
City Atty. Mike Jenkins said state law does not allow the council of a general-law city to remove one of its members.
Both Meister and D'Amico wrote on Facebook that they could not force Duran from office. D'Amico, the mayor pro tem, said the council has a "limited set of actions" it could take, including demoting Duran from the position of mayor, censuring him or removing his travel budget.
"I have genuine love for John and know that he would never want to harm our city, the city he has helped to invent, serving for nearly 20 years," D'Amico wrote. "I hope he will do what's right."
Duran told The Times that he was suspicious of his colleagues' posting of the Facebook statements about the same time. He said that doing so shows that they must have coordinated their efforts and that they could have violated California's open meeting law, the Ralph M. Brown Act.
"If the three of them are talking about this, and it sounds like they are, that's a violation of the Brown Act, and the district attorney should investigate," Duran said. "You can't have meetings outside of public view.… Do I think that they all got the idea to put up their statements, all three, at the exact same time without talking to each other? No."
Facebook time stamps show that D'Amico and Horvath posted their statements at 1:59 p.m. and that Meister posted hers at 2:03 p.m.
Jenkins, the city attorney, said in an email that "the statements reflect the individual views of each council member and are not the result of a coordinated effort."
Duran said he thought D'Amico, Horvath and Meister were playing politics, noting that all three are up for reelection in next month's at-large race. Heilman, who has not commented, is not up for reelection.
Duran said people are unfairly rushing to punish him in light of accusations that have not been proven true.
"I think, unfortunately, one of the problems with the #MeToo movement is that any accusation against somebody is treated as truth without any investigation," he said. "I think every accusation of sexual misconduct has to be taken seriously to protect victims. But once the accusation is made, there has to be an investigation to determine what the truth is."
He said he did not know his colleagues were going to post the statements and learned of them only when his phone started ringing nonstop Tuesday afternoon.
"Look, I am a creature of the sexual liberation of the 1970s," Duran said. "I have never hidden that about myself. I live out loud. I'm very colorful. I'm very flamboyant. I'm very sexual. I know all these things.
"Somebody I am not is somebody who would assault somebody. That's a crime."
Twitter: @haileybranson
---
The stories shaping California
Get up to speed with our Essential California newsletter, sent six days a week.
You may occasionally receive promotional content from the Los Angeles Times.