LAPD assistant chief was accused of improper sexual relationships before sudden retirement, officials say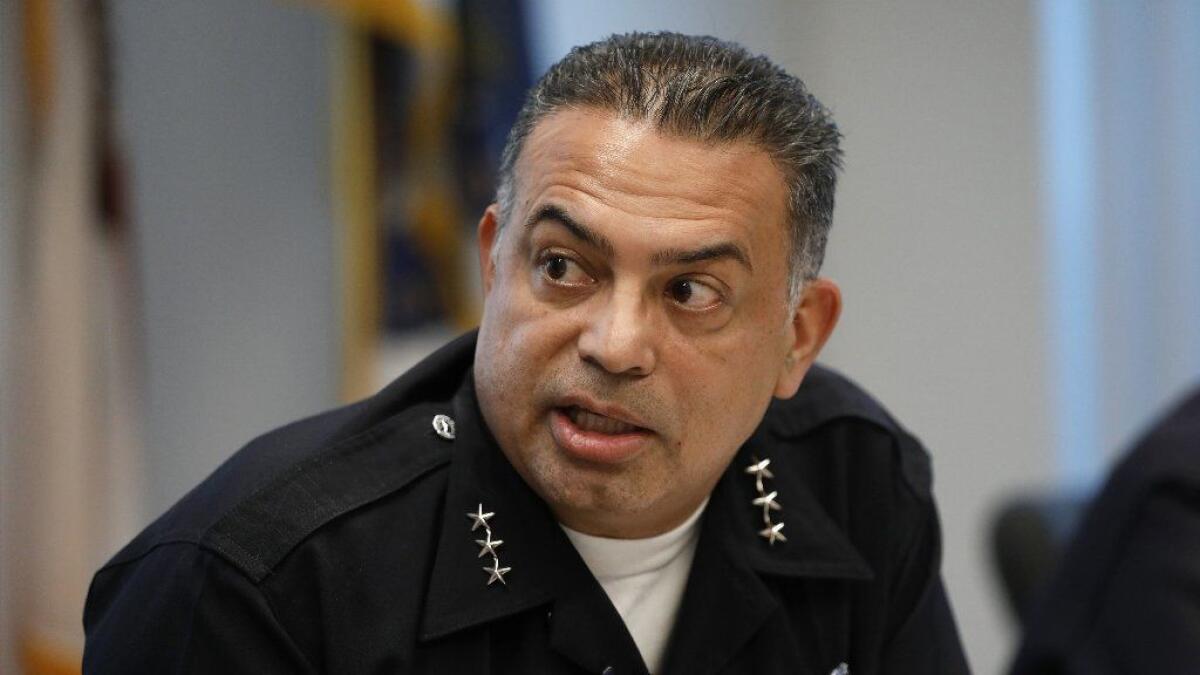 A high-ranking Los Angeles Police Department official was accused of having improper sexual relationships with officers under his command shortly before his sudden retirement last week, sources told The Times.
The allegations against Assistant Chief Jorge Villegas, a 29-year veteran of the department, were referred to LAPD's internal affairs unit for an investigation this month, according to three law enforcement and city officials with knowledge of the situation.
The officials requested anonymity because they were not authorized to discuss the case.
Villegas could not be reached for comment. The sources said the department had not yet determined whether the allegations were true. It was also unclear whether Villegas' announced retirement was related to the allegations.
Los Angeles Police Chief Michel Moore declined to comment.
Josh Rubenstein, an LAPD spokesman, said Villegas "has indicated that he is planning on retiring, and state law prohibits me from saying anything about personnel matters." His retirement is supposed to take effect by the end of the year, Rubenstein said.
Steve Soboroff, president of the city's civilian Police Commission, said he received an anonymous letter this month accusing Villegas of misconduct. Soboroff declined to detail the alleged misconduct but said he referred the letter for further investigation.
The commission received notice Oct. 23 that Villegas was stepping down, Soboroff said.
"The next thing that I know, there's a retirement," he said.
In an email, the department's inspector general, Mark P. Smith, said he was "unaware of whether any other Commissioners received the referenced letter."
Some LAPD officials, also speaking on the condition of anonymity, said the allegations contained in the letter were "older in nature," though they declined to elaborate.
Villegas filed for divorce from his wife, a sergeant in the LAPD's Robbery-Homicide Division, in 2009, according to court records, though the divorce was never finalized. The filings in that case make no mention of any alleged improprieties by Villegas. Calls to attorneys involved in that case were not returned Wednesday. The two are still married.
Several LAPD officials also said Villegas told fellow senior police staff that he was departing to work on a family business venture.
Villegas, a longtime ally of Moore, was in charge of the office of support services, where he "effectively utilized new technologies to improve performance and reduce waste, implemented de-escalation training for all officers" and managed the LAPD's budget, according to his department biography. He also previously led the office of operations, where he helped update the agency's use-of-force policy, and served as the commanding officer over the Valley Bureau and as a captain in West L.A.
Villegas was also one of five semifinalists in a nationwide search to become chief of the Seattle Police Department this year.
The sudden retirement will prove costly to Villegas. He enrolled in the city's controversial Deferred Retirement Option Plan, better known by the acronym DROP, in 2015 and stood to gain nearly $1 million in additional pension funds had he remained with the department through 2020. DROP pays Los Angeles police officers and firefighters their salaries and pensions simultaneously during the last five years of their careers, even if they are not on active duty.
By retiring early, Villegas will have to forfeit nearly half of that money.
The LAPD has a long-enshrined policy that requires superiors and subordinates in "the same chain of command" to avoid potential conflicts. The policy notes that when such situations develop, the employees involved must immediately notify their commanding officer.
"If a superior enters into a personal or business relationship with a subordinate, the motive for decisions made by that superior relative to the subordinate may become suspect and compromise the integrity of those involved," the policy reads. "This could lead to a disrupted work environment, reduced production and a decline in morale."
Merrick Bobb, an expert on police reform who has conducted reviews involving the LAPD and the Los Angeles County Sheriff's Department, said sexual relationships between supervisors and subordinate officers can wreak havoc on a police agency, leading to accusations of favoritism.
"It is deeply corrosive to the morale of a department whenever subordinates are in sexual relationships with their superiors, consensual or otherwise," he said.
In 2006, the former head of the Los Angeles Police Department's internal affairs unit acknowledged in a sworn deposition that he had a three-year affair with a female sergeant under his supervision, raising new questions about how the watchdog unit operated.
In the deposition, Michael Berkow, who was a married deputy chief, said he met a female sergeant in 2003 and had sex with her over the next three years. Until January 2005, she worked for the internal affairs division as an advocate, a kind of internal prosecutor handling police misconduct cases, including those involving inappropriate sexual relationships.
Times staff writers Cindy Chang and Jack Dolan contributed to this report.
Twitter: @JamesQueallyLAT
Twitter: @lacrimes
---
UPDATES:
Oct. 31, 6:30 p.m.: This article was updated with additional background about Villegas' career and additional context about other allegations of sexual misconduct within the LAPD.
This article was originally published at 9:00 p.m. on Oct. 30, 2018.
Sign up for Essential California for news, features and recommendations from the L.A. Times and beyond in your inbox six days a week.
You may occasionally receive promotional content from the Los Angeles Times.