Joseph Gatto died of gunshot wound to abdomen, autopsy confirms
California Assemblyman Mike Gatto speaks to reporters near the Silver Lake home of his father, Joseph Gatto, who was found fatally shot there late Wednesday.
(Jae C. Hong / Associated Press)
Los Angeles City Councilman Tom LaBonge consoles Lauren Wayne, a friend of the Gatto family.
(Al Seib / Los Angeles Times)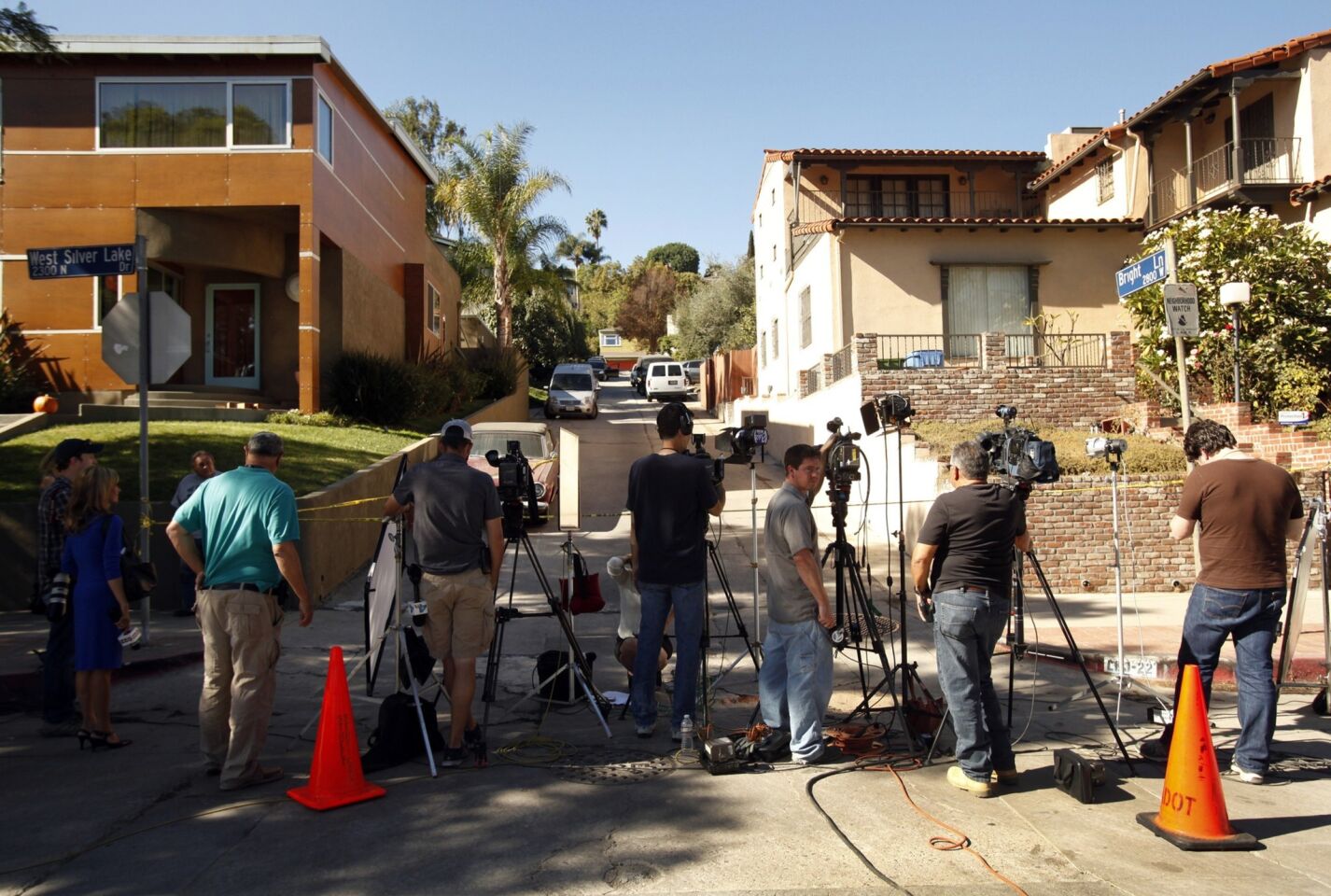 Members of the media gather at the place in Silver Lake where Joseph Gatto was killed. L.A. Mayor Eric Garcetti said the Police Department had started an "aggressive investigation" into his death.
(Al Seib / Los Angeles Times)
Investigators scour Bright Lane in Los Angeles' Silver Lake neighborhood for clues about the death of Joseph Gatto.
(Al Seib / Los Angeles Times)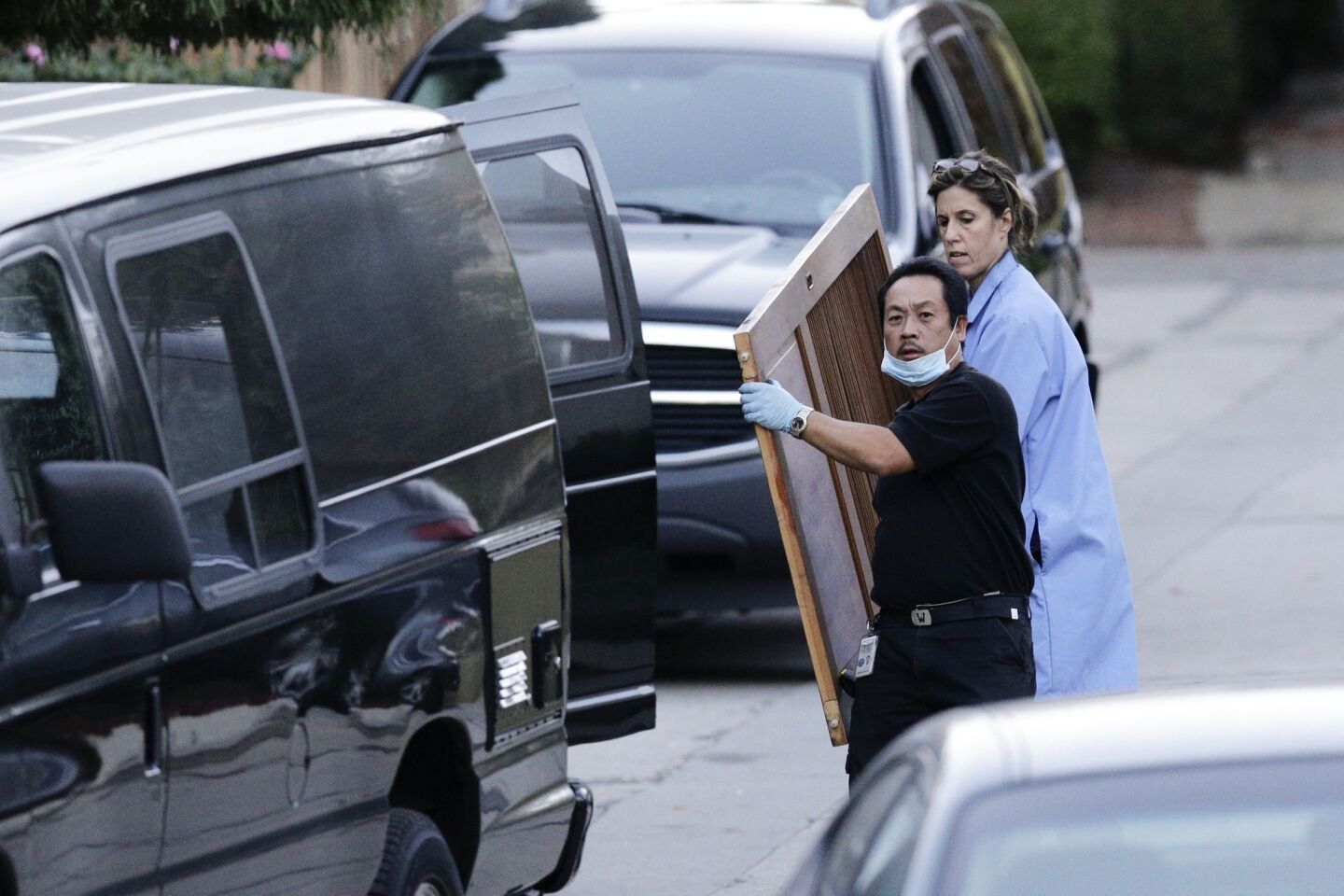 Crime lab personnel carry a door removed from Joseph Gatto's home in Silver Lake.
(Jae C. Hong / Associated Press)
Former teacher and artist Joseph Gatto, who is also the father of a state assemblyman, died from a single gunshot wound to his abdomen, an autopsy confirmed Friday.
Los Angeles County coroner's officials said the 78-year-old's death had been classified as a homicide. The time of death was listed as the time Gatto's daughter found his body at his Silver Lake home: Wednesday at 8:12 p.m.
The investigation into the slaying -- the first in Silver Lake since May 2012 -- stretched into Friday as detectives continued their search for Gatto's killer. Gatto was found slumped over a desk. He was shot with a small-caliber handgun and his home had been ransacked, Los Angeles Police Lt. Richard Parks said.
LAPD Deputy Chief Kirk Albanese said Friday that police were investigating "a number of different avenues," including whether the slaying was linked to an aggravated assault and vehicle theft reported Tuesday night not far from Gatto's home.
"We're obviously looking at it," Albanese said.
Albanese said detectives had "no information whatsoever" that Gatto's death "has anything to do with his son's politics." Assemblyman Mike Gatto (D-Los Angeles) represents a district that includes Silver Lake, the neighborhood where his father lived.
Albanese declined to comment further, citing the ongoing investigation.
Those who knew Joseph Gatto -- remembered as a valued mentor by former students and a fixture in the community he had longed called home -- said they were stunned by his death. Two of his three children echoed those sentiments to reporters late Thursday.
"I think a lot of people are still in a state of disbelief, including me," Mike Gatto said. "There's a number of different theories -- I've seen some printed. None of them quite sound right to me, but I'll leave that up to the pro."
One of Joseph Gatto's daughters, Marianna Gatto, the head of the Italian American Museum of Los Angeles, said her father was "loved by all. He had no enemies."
Marianna Gatto and her fiance ate dinner with her father every Wednesday night, a family friend said. When she didn't hear from him, she went to check on him and found his body, Mike Gatto told The Times.
"We are very close-knit family," Marianna Gatto told reporters Thursday. "I just can't imagine life without him."
ALSO:
'Batkid' fighting cancer captures hearts, saves San Francisco
WeHo Halloween burning death was accidental, sheriff's probe finds
Ex-Miramonte teacher pleads no contest to lewd acts, gets 25 years
kate.mather@latimes.com
richard.winton@latimes.com
---
The stories shaping California
Get up to speed with our Essential California newsletter, sent six days a week.
You may occasionally receive promotional content from the Los Angeles Times.