Justice Joyce Kennard to retire from California Supreme Court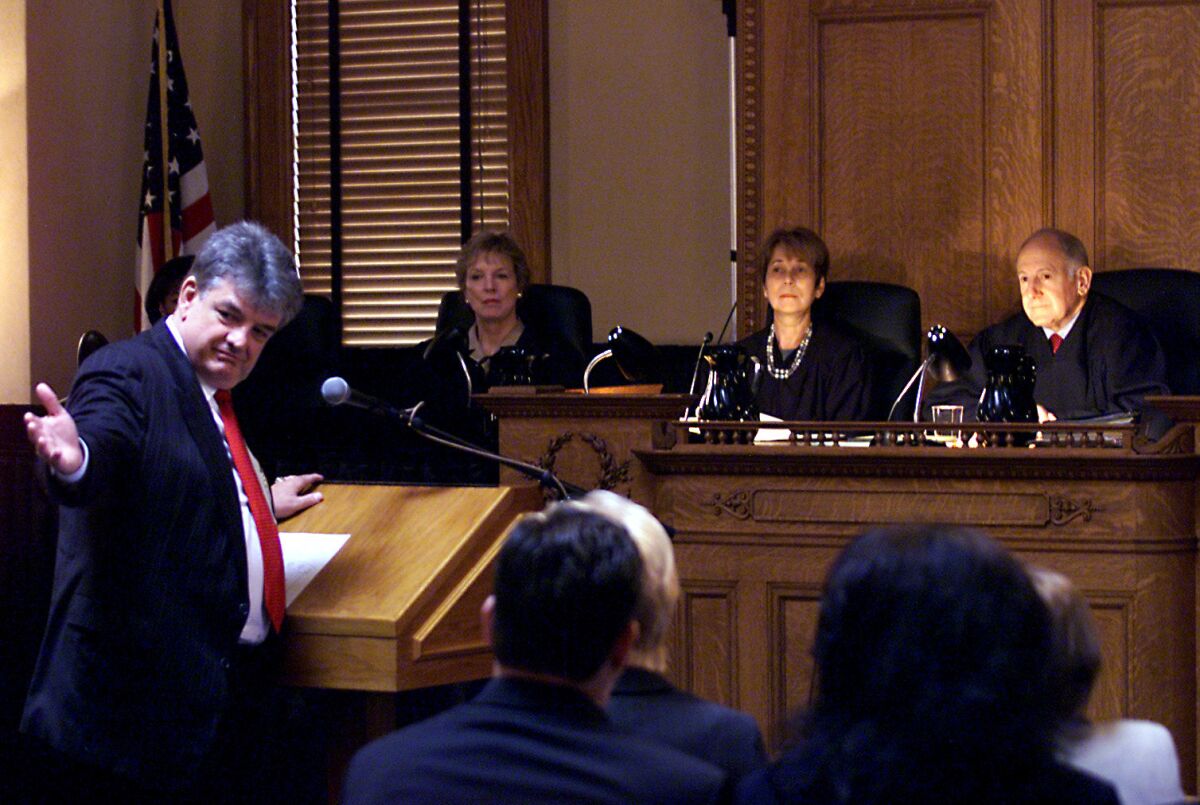 SAN FRANCISCO -- California Supreme Court Justice Joyce L. Kennard announced Tuesday she will retire April 5, giving Gov. Jerry Brown a second appointment on the state's highest court.
Kennard, 72, one of the more liberal members of the seven-member court, is its longest-serving justice. She has been regarded as a highly independent judge, often siding with the underdog, and is one of the court's most vocal members during oral arguments.
Kennard was born in Indonesia to parents who were of Dutch, Indonesian, Chinese and German descent and suffered an impoverished childhood. She was confined to an internment camp on the Indonesian island of Java during the Japanese occupation of the region. A tumor required doctors to amputate her right leg above the knee when she was in her teens, and she walks with a prosthesis and a cane.
At 20, she moved to the U.S. and landed work as a secretary. With a $5,000 bequest from her mother and scholarships, she started her formal education at Pasadena City College and earned her law degree and a master's degree in public administration from USC. She was hired as a deputy attorney general for the state before being appointed as a jurist, moving from Los Angeles County's Municipal Court to Superior Court to a court of appeal and finally to the California Supreme Court.
Former Gov. George Deukmejian appointed Kennard to the court after he helped spearhead a campaign to oust Chief Justice Rose Bird and two other liberal justices. But Kennard's decision-making did not reflect Deukmejian's conservative views. She enjoyed a behind-the-scenes friendship with the late Bird and voted so often with the liberal late Justice Stanley Mosk that the pair were dubbed "the odd couple."
She frequently ruled in favor of gay rights, joining the 4-3 majority that overturned California's ban on same-sex marriage in 2008. She also showed a willingness to rule for defendants over prosecutors and workers over employers.
Brown currently has one appointee on the court, Justice Goodwin Liu, a former law professor at UC Berkeley. The governor is likely to face pressure to appoint a Latino or African American justice.
maura.dolan@latimes.com
Twitter: @mauradolan
The stories shaping California
Get up to speed with our Essential California newsletter, sent six days a week.
You may occasionally receive promotional content from the Los Angeles Times.