Signs of second missing couple found as crews plan recovery of Thai students' bodies in Kings River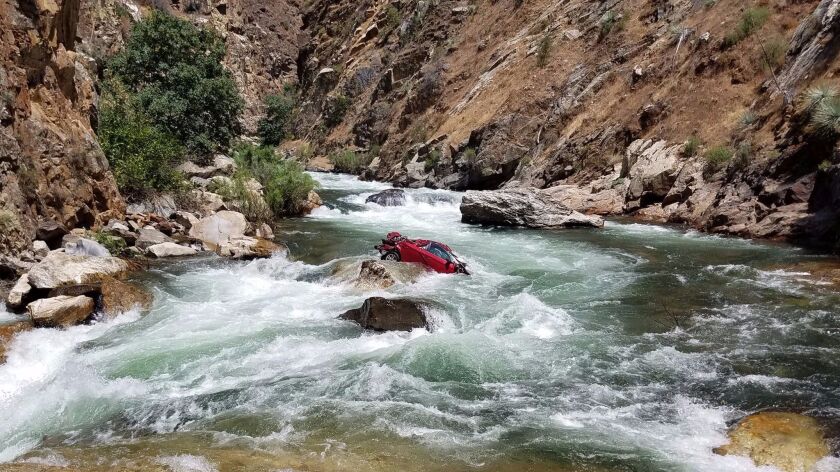 A complicated effort to recover the bodies of two missing Thai exchange students who are thought to be trapped in a car that plummeted hundreds of feet into the raging Kings River has just become even more fraught.
The Fresno County Sheriff's Office announced this weekend that searchers have found evidence of another couple who disappeared recently from Sequoia National Park and may have also driven off the same section of Highway 180.
While watching a TV news clip on the missing Thai couple, a Fresno County search-and-rescue team member spotted a California license plate and car parts in some brush. Days later, the plate was linked to a missing husband and wife from San Diego.
"I think it's a series of bad coincidences," said Fresno County sheriff's spokesman Tony Botti. "That entire stretch of 180 is very winding. That curve is really no different than anywhere else on that entire drive."
The discovery has triggered a second, parallel investigation in the same area where University of South Florida exchange students Bhakapon Chairatanathongporn, 28, and Thiwadee Saengsuriyarit, 24, are believed to have perished in their red sedan. The wrecked vehicle was spotted July 26 in rapids at the bottom of a treacherous gorge some 500 feet below Highway 180.
Authorities say the stretch of river is extremely dangerous and inaccessible to helicopter crews. They have yet to determine a plan to reach the vehicle.
It was on Aug. 8, while watching a video clip about efforts to organize a recovery plan, that the search-and-rescue team member spotted the license plate and made a note of its number — 6XMM431.
The team member checked records on the license plate, but that didn't turn up any reports of a missing or stolen vehicle or a crash, sheriff's officials said. But team members submitted the license plate along with some other car parts found in the area — about 40 yards upstream from the Thai couple's vehicle — to the California Highway Patrol so it could create a report.
Three days later, the family of 31-year-old Yinan Wang and his 30-year-old wife Jie Song reported the pair missing. A relative explained that Wang and Song were last seen at Sequoia National Park's Crystal Cave on Aug. 6, and that they were expected to drive north and stay the night in Fresno before continuing on to Yosemite National Park.
The pair was due back in San Diego on Aug. 9, the relative told authorities.
But when Fresno County deputies followed up on the missing person's report Aug. 11 and called Sequoia National Park, they learned that the pair had been reported missing there, too, officials said. Wang and Song were last seen driving their white Ford Focus, license plate 6XMM431.
A flyover of the area where the license plate and other car parts were found turned up no signs of Wang or Song, officials said. No bodies have been found in the Kings River, but park officials down-river will continue to check. Skid marks that lead off the highway about 30 feet up from where the Thai couple is believed to have driven off the cliff may be connected to the San Diego pair, Botti said.
"At the time, it really didn't mean much because we all thought it was related to that one car," Botti said, referring to the red vehicle.
In the meantime, authorities are assessing plans to recover the bodies of the Thai students.
The vehicle's airbags deployed when their car crashed into the river, making it virtually impossible to see inside the vehicle from a distance.
The crumpled vehicle was first spotted in the river not far from Convict Flat Campground in Hume.
In a Facebook post last week, the Thai consulate explained its recent discussions with sheriff's officials, noting that the agencies involved were making the recovery efforts a top priority and would not allow any private agency or person to recover the bodies because such efforts could be fatal and illegal.
"The recovery must be very careful," the Facebook post read. "The torrents and rapids are about 30 feet away from the point where the car is stuck and there are three more rapids in the same manner."
Botti said authorities cannot use a helicopter to recover the car.
"You might rip it in half and get part of it," he said of the car. "There's also a wind factor. The canyon zigzags and creates strange wind patterns, so if you send a helicopter, it can joggle the aircraft and make it dangerous for personnel."
For breaking California news, follow @JosephSerna on Twitter.
Los Angeles Times staff writer Hailey Branson-Potts contributed to this report.
ALSO:
Couple who went hiking in triple-digit heat found dead in the Mojave Desert
Wildfire that triggered evacuations in Riverside now 30% contained
70-year-old man killed after getting struck by boat propeller in Newport Beach, authorities say
---
UPDATES:
4 p.m.: This article was updated with comments from the Fresno County Sheriff's Office.
This article was originally published at 1:25 p.m.
---
The stories shaping California
Get up to speed with our Essential California newsletter, sent six days a week.
You may occasionally receive promotional content from the Los Angeles Times.