Deputy kills innocent bystander during gunfight with wanted parolee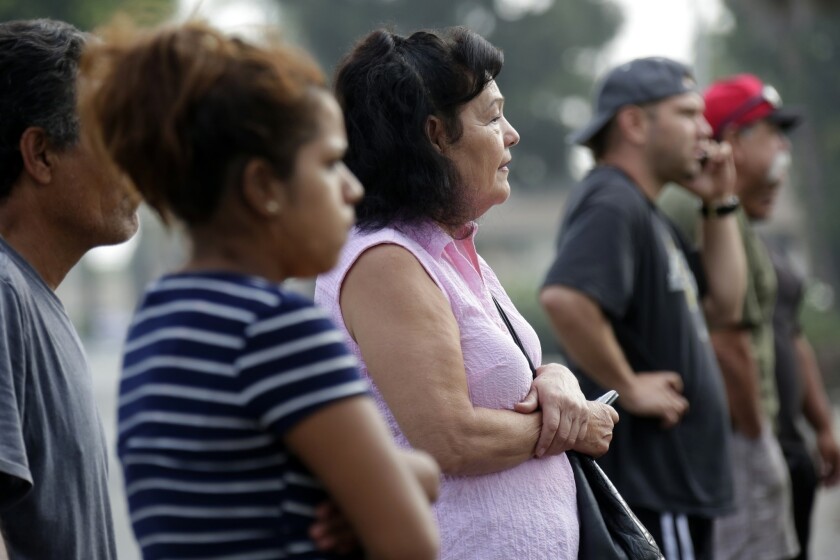 The family of an innocent bystander who was inadvertently killed at his Pico Rivera home by a Los Angeles County sheriff's deputy during a gunfight with a wanted parolee said they were stunned by what happened.
"My father-in-law was a great man, hardworking. He had eight children and he had 10 grandchildren and two on the way," Tanya Mendoza, daughter-in-law of Frank Mendoza, 54, told KABC.
Deputies were searching for 24-year-old Cedric Ramirez around 5 p.m. Friday at a house in the 9000 block of Reichling Lane, hoping to arrest him on parole violations, sheriff's department Chief of Detectives Bill McSweeney told The Times.
Ramirez spotted the deputies and fled, and when deputies tracked him to the driveway of Frank Mendoza's home, Ramirez opened fire on them, McSweeney said.
Ramirez broke into the home through a rear window. Deputies entered through the front door and rushed an adult and two children out of the house, while Ramirez continued firing at them, McSweeney said.
When Mendoza appeared in the doorway, a deputy mistook him for Ramirez and shot him twice, in the head and the leg, McSweeney said.
When deputies realized their mistake, McSweeney said, they tried to rescue Mendoza, but he was dead by the time paramedics reached him.
Ramirez took Mendoza's wife hostage and held her until 1:30 a.m. Saturday, when a tactical team entered the house and fatally shot him, McSweeney said. The woman was unharmed.
Ramirez was wanted on felony warrants alleging vehicle theft and being a felon in possession of a firearm, authorities said.
McSweeney said the deputy who fired at Mendoza was an 11-year veteran with "a very fine record." He declined to release the deputy's name.
The incident marks the second time this year sheriff's deputies have fatally shot a innocent bystander.
In April, deputies mistakenly shot and killed an aspiring TV producer who they thought was a stabbing suspect.
In fact, authorities said, John Winkler, 30, was one of three people who were allegedly being held at knifepoint by the suspect in a West Hollywood apartment. Winkler was shot when he and another victim rushed out of the apartment.
---
For reporting and exclusive analysis from bureau chief John Myers, get our California Politics newsletter.
You may occasionally receive promotional content from the Los Angeles Times.