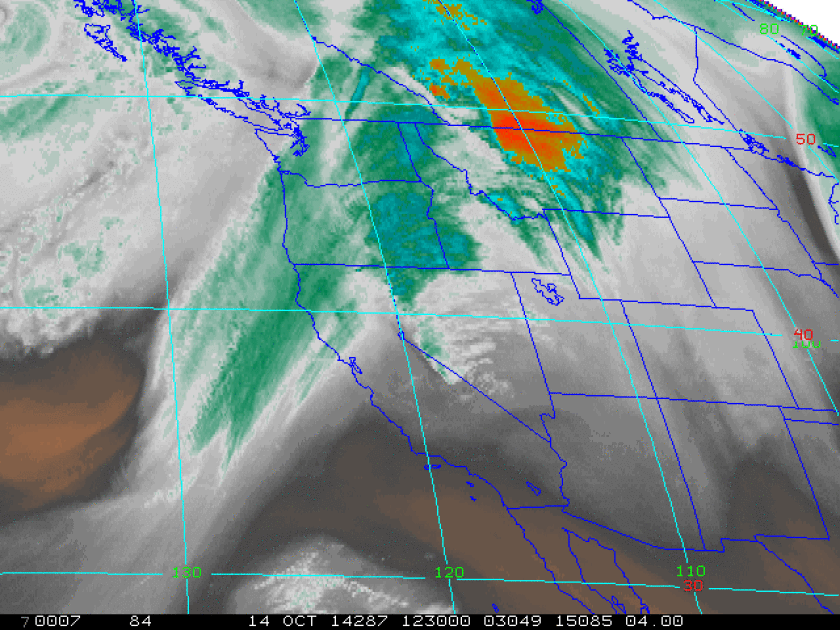 It's time to say goodbye to tank tops and hello to sweaters and, possibly, that long unused umbrella.
Not only are temperatures across the Southland expected to drop below normal for the rest of the week, but some areas could even see rain overnight Tuesday and into Wednesday morning, according to the National Weather Service.
The snap into more fall-like weather comes as a powerful weather system moving across the Pacific Northwest sends Southern California its first major trough of low pressure of the season.
Temperatures are expected to hover in the upper 60s at the beaches and the lower 70s inland as the marine layer is, for the first time in a long while, "behaving itself," the weather service said. The buildup of moisture will continue to produce early-morning drizzle in coastal communities, with some of that possibly producing light rain further inland, forecasters said.
There will be a 20% chance of rain in downtown L.A. Wednesday morning before a switch to partly cloudy skies in the afternoon, according to the National Weather Service. From San Fernando to Santa Clarita and the east San Gabriel Valley, daytime highs are expected to be above the mid-70s through the weekend.
It was little more than a week ago that the Southland sweltered under a record-setting heat wave as temperatures soared into the triple digits.
For news as it happens in California, follow @JasonBretWells
---