L.A. parking meters making more money from cards than cash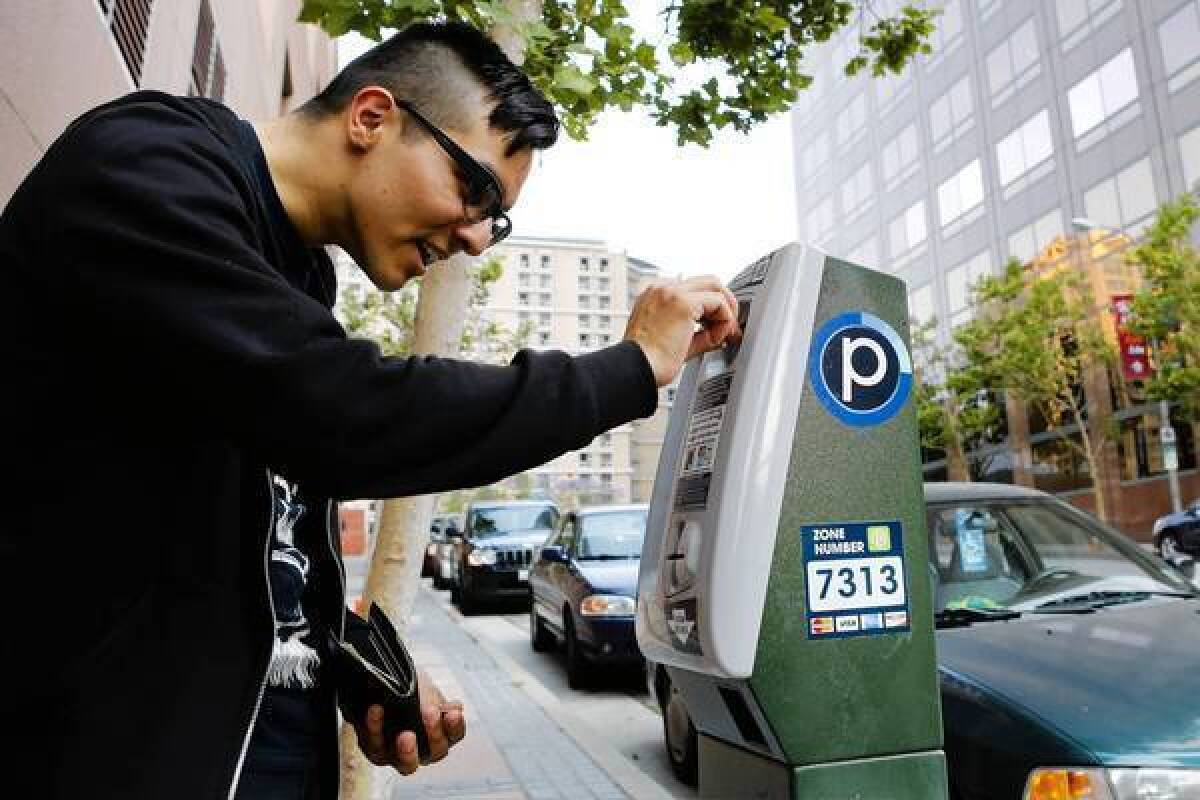 This spring, for the first time, the city of Los Angeles' parking department made more money from credit and debit cards than it did from cash.
In March, card payments at city parking meters and kiosks totaled $2.34 million, slightly more than half the $4.46 million collected that month.
Transportation officials spent three years, finishing in December, swapping out thousands of basic parking meters across Los Angeles for what are essentially miniature computers on poles.
So-called smart meters are more convenient for drivers and employees, the city says: They run on solar power, talk to credit card companies over the Internet and immediately text repairmen when parkers jam the coin slots.
In the same period, annual parking profits increased by almost half, to $49 million in 2012 from $33.6 million in 2010. Officials said the extra money comes from the city's first rate increase in nearly two decades and the proliferation of the credit-card meters, which now number more than 38,000.
Many drivers paid with cards as soon as the meters appeared, said Daniel Mitchell, a senior engineer who heads the city's parking meter division.
"They find it more convenient," Mitchell said. "So do we."
More than 99% of the meters are working at any given time, a 10% to 15% bump from earlier models.
Whether there is street parking and whether the meter takes cards can be a key factor in deciding where to go out with friends, said Ana Cosma, 22. She doesn't want to fumble in her purse for change after dark.
"I'm not used to carrying around a ton of cash, let alone coins," said Cosma, who lives near downtown and parks on the street multiple times a week while she runs errands. "I don't really notice the rate — the convenience is totally worth it."
The average charge is $1.60, 12% of which the city pays in fees to credit card companies. About 65% of card payments are debit transactions.
Profits from plastic could be a positive sign for other Southern California cities that have installed similar technology.
Beach cities in Orange and Los Angeles counties — including Newport Beach, Santa Monica and Hermosa Beach — have installed meters that read credit cards. And Long Beach has installed some electronic kiosks that handle multiple spaces.
Such meters enable flexible pricing, a plus for cities with a rising demand for parking and a limited amount of space. A similar experimental program is in place in downtown Los Angeles, where the price of street parking in a 4.5-square-mile area changes based on demand.
Meters can cost $5 an hour. The price can be so high that some drivers don't have the change they need, Mitchell said.
---
Life is stressful. Our weekly mental wellness newsletter can help.
You may occasionally receive promotional content from the Los Angeles Times.